Have you owned the most suitable poll plugin for your site yet? If not, let's go over the battle between Responsive Poll vs YOP Poll below to get more useful information and then make the right choice for your site.
How is the Poll plugin important for your site?
Many web experts have shown that polls are one of the most interesting ways to interact as well as collect opinions from your website visitors. You can use Polls for different purposes ranging from market surveys to build reader engagement. Although most polls only collect opinions from a small portion of the total population, so it may be not totally true for the rest of the population. However, there is no denied that using the polls plugin brings you a lot of luge advantage below.
Firstly, you have more chances to reach a wider audience. Because nowadays most people are using the internet for diverse demands. Thanks to that, your surveys will attract a wider audience, from mid to high-end even over worldwide.
Secondly, faster and high accuracy- After the readers submit the answers, you will receive the results immediately. In addition, Polls don't require visitors to enter any data, so there won't be any unexpected errors during the survey as well as when getting the results.
Thirdly, most plugins offer you to create a cool poll with various styles such as graphs, bar charts, diagrams, graphics, and much more. As a result, your polls will become more attractive, encouraging more people to participate in.
For these reasons, in today's blogs, we picked out the two most outstanding poll plugins based on users' viewpoints. They are Responsive Poll vs YOP Poll. We will compare 4 main points including main features, ease-to-use, price, pros, and cons. Now, don't waste your time, let's dive into the following sections to get insight.
Responsive Poll Vs YOP Poll: Introduction
With over 6.0000 active installations, Responsive Poll is considered one of the most significant plugins that allow you to create polls and surveys. By using this plugin, you have the ability to design an unlimited number of polls and put them in any area on your site. One of the remarkable things is that it comes with an impressive drag and drop interface. Therefore, you can choose elements and drop them at any place you want. Moreover, it enables you to add images, videos, or even mp4 videos for each poll question.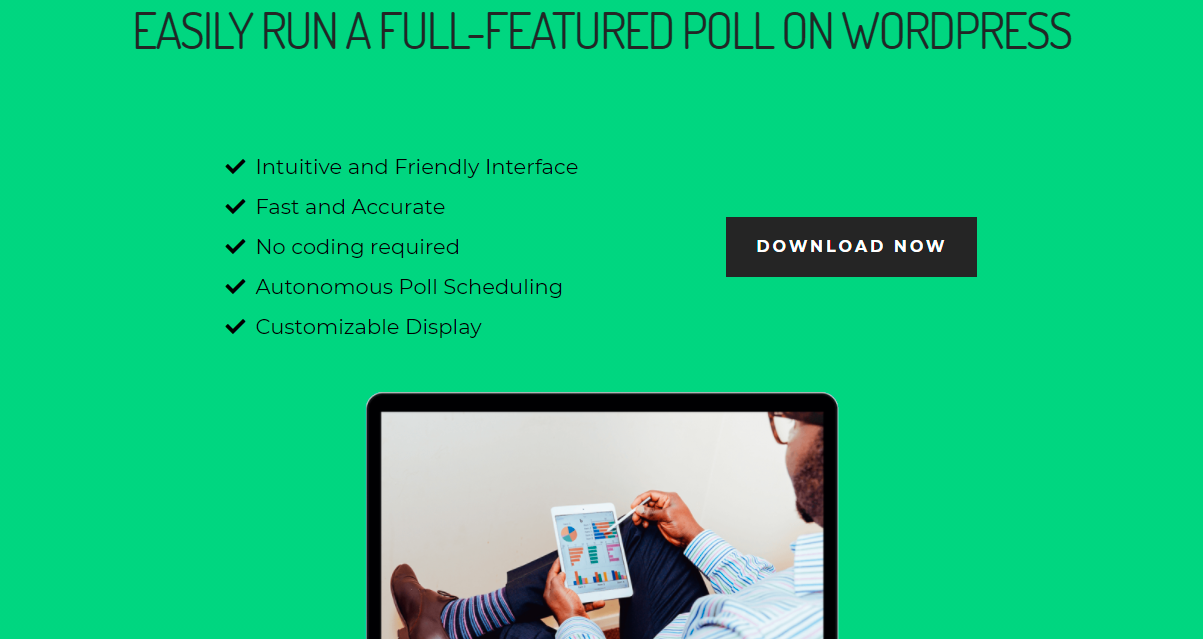 YOP Poll is another strong rival of the Responsive Poll. This plugin enables you to easily add polls and surveys to your post/page. In addition, you can create a poll with unlimited questions, multiple answers, and a wide range of options to make your survey more interesting. Moreover, it allows you to make schedules for your polls, so it is easy for you to manage and keep track of multiple polls effectively. Plus, it also provides a wide range of powerful features to bring the best users' experience on your website.
Main features
Responsive Poll
This plugin offers a wide range of creative and powerful features below:
Define color from predefined colors or define your own color for each answer
Ability to add images, vides, mp4 videos
Create, edit, trash, and delete polls
Edit answers and questions
Allow you to upload an image for each option of the answer
Add an unlimited number of answers in one poll
Drag and drop interface
Clone button to duplicate polls and a theme
YOP Poll
There are numerous useful features and functionality that are available including:
Create, edit, clone, delete the poll
Display polls by adding the corresponding poll ID
Set poll scheduling
View lists all your polls
Offers great flexibility when displaying the results
Limits the voting accessibility to guests registered users
Displays answers and results tabulated, vertically or horizontally
Key differences
YOP Poll offers you this useful function that allows you to easily choose from pre-made templates to save much time and effort. In contrast, Responsive doesn't provide any such feature. It is a bit difficult for you to start with a blank poll if you are a beginner.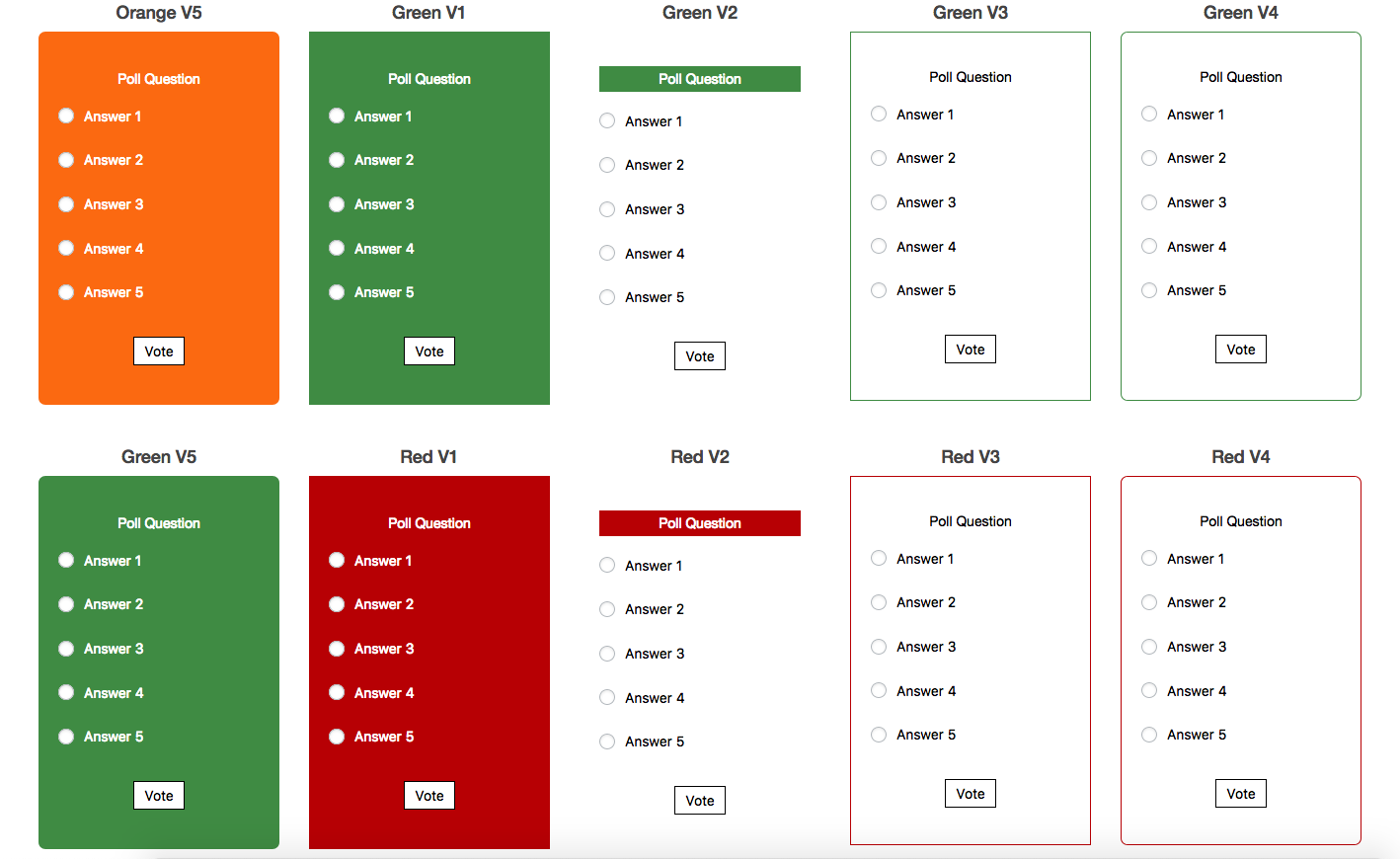 A collection of pre-built templates on YOP Poll
Add videos, images for each question and each answer
Responsive Poll allows you to upload videos and images from your files or videos from Youtube or Vimeo as well. This feature makes your poll more lively and attractive than ever. While YOP Poll only enables you to add image and video questions when upgrading to the premium version.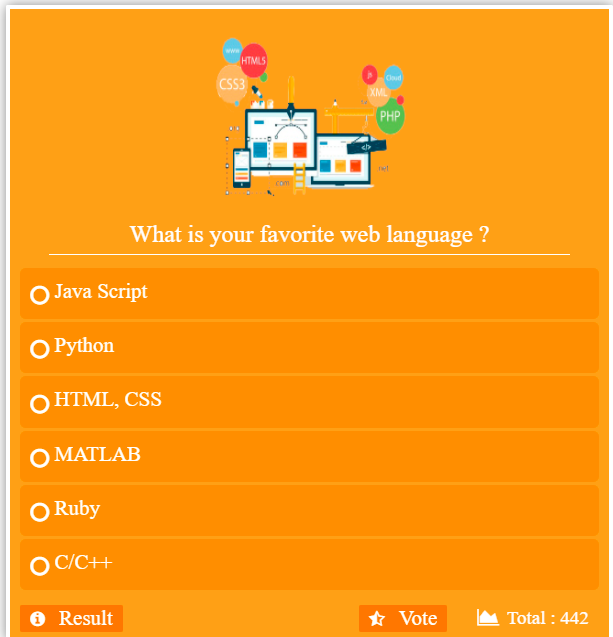 Ease of use
Responsive Poll
This plugin enables you to generate unlimited polls quickly. You can also add video, images and select theme styles for each question.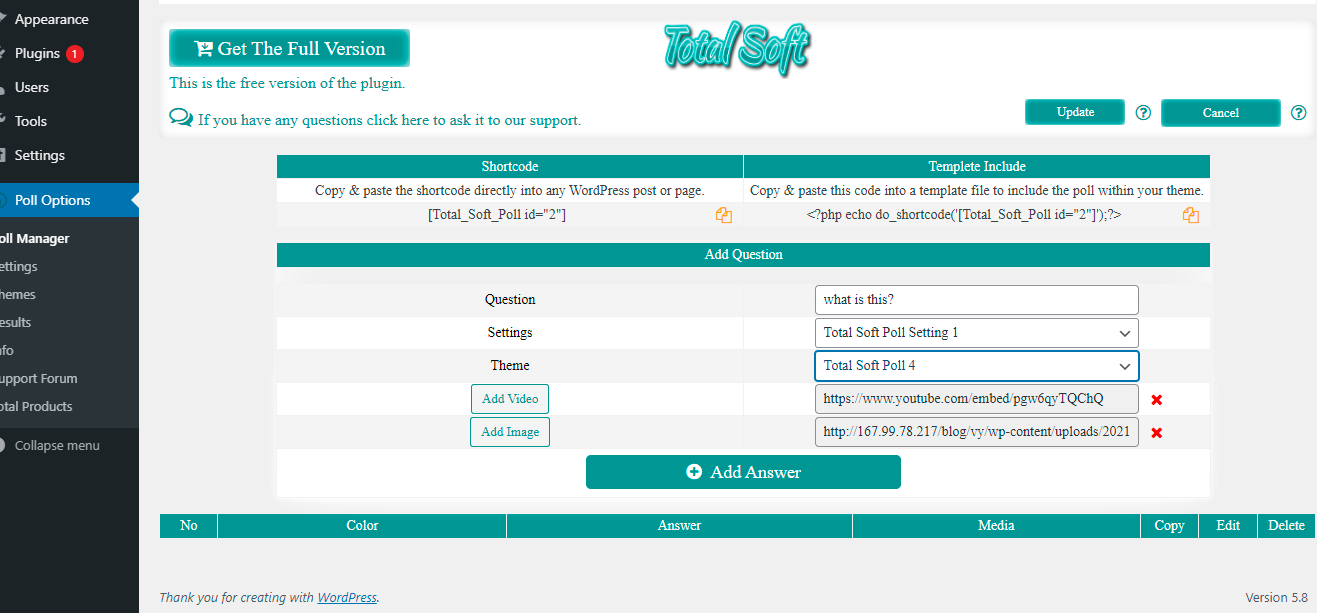 Responsive Poll allows you to view a list of your poll results on the WordPress admin panel.

POP Poll
After finishing the installing, you only need to Add New section on the dashboard. At here, you can create your own poll with multiple answers.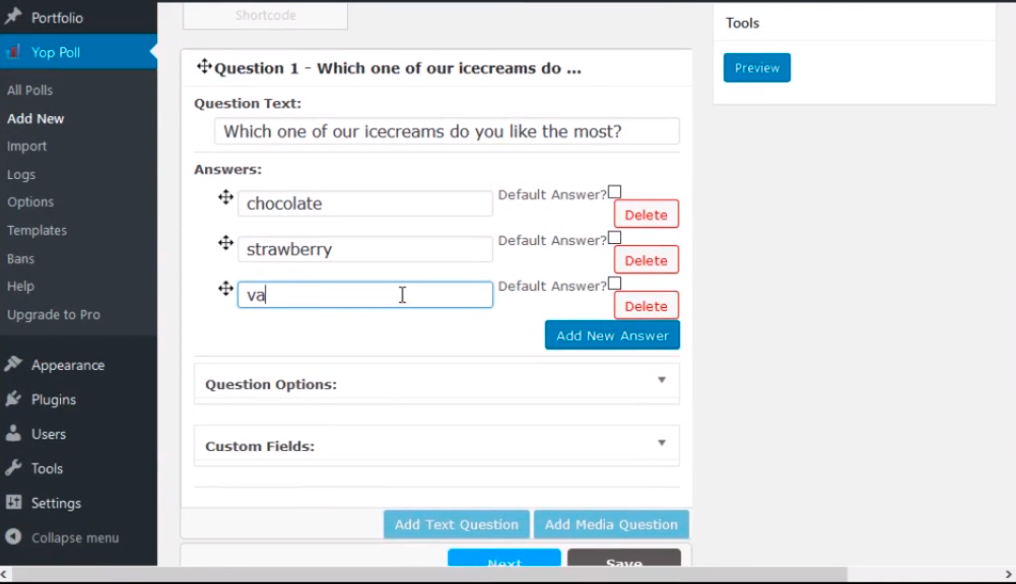 Else, you are able to choose from a library of nice templates to start your poll.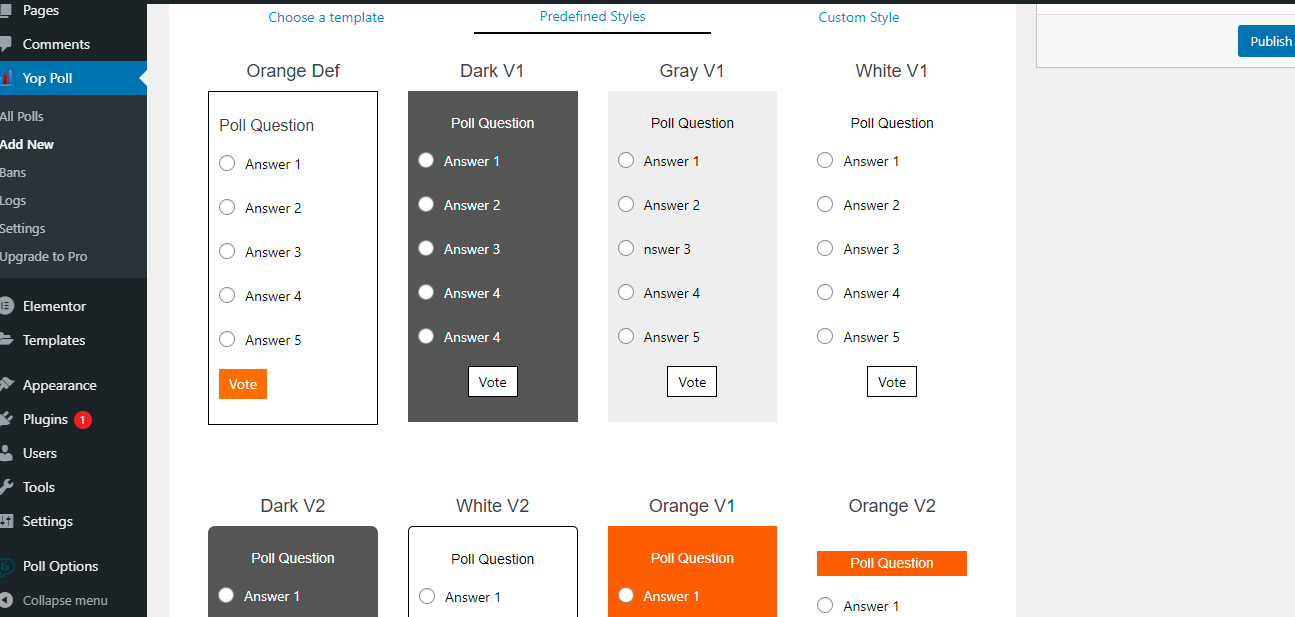 And then customize it by changing some settings for each section such as change background color, border thickness, padding left/right, and much more to suit your preferences.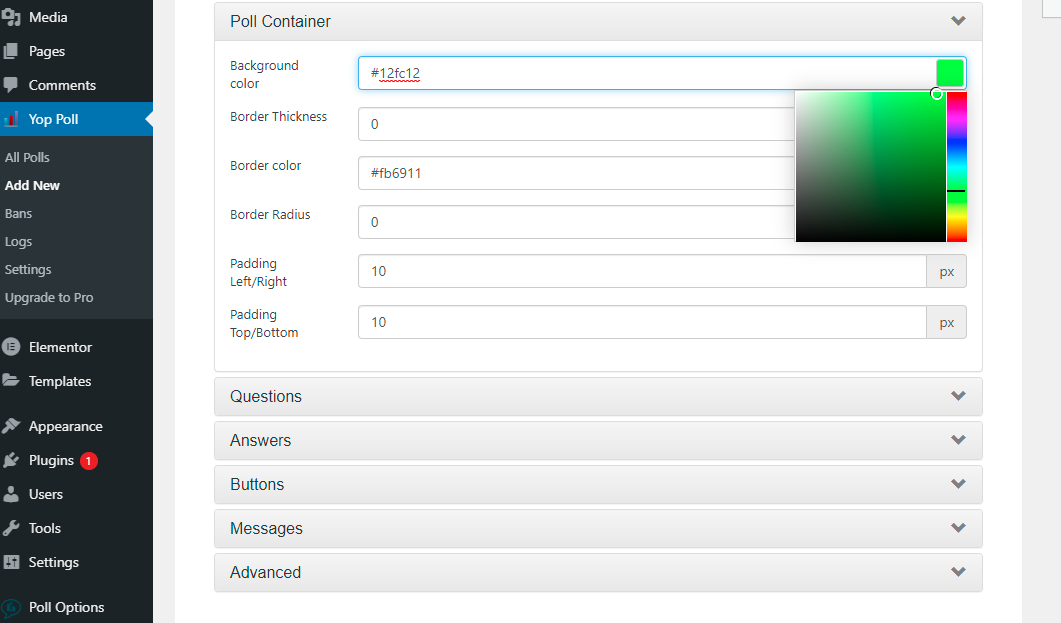 Price Plans
Responsive Poll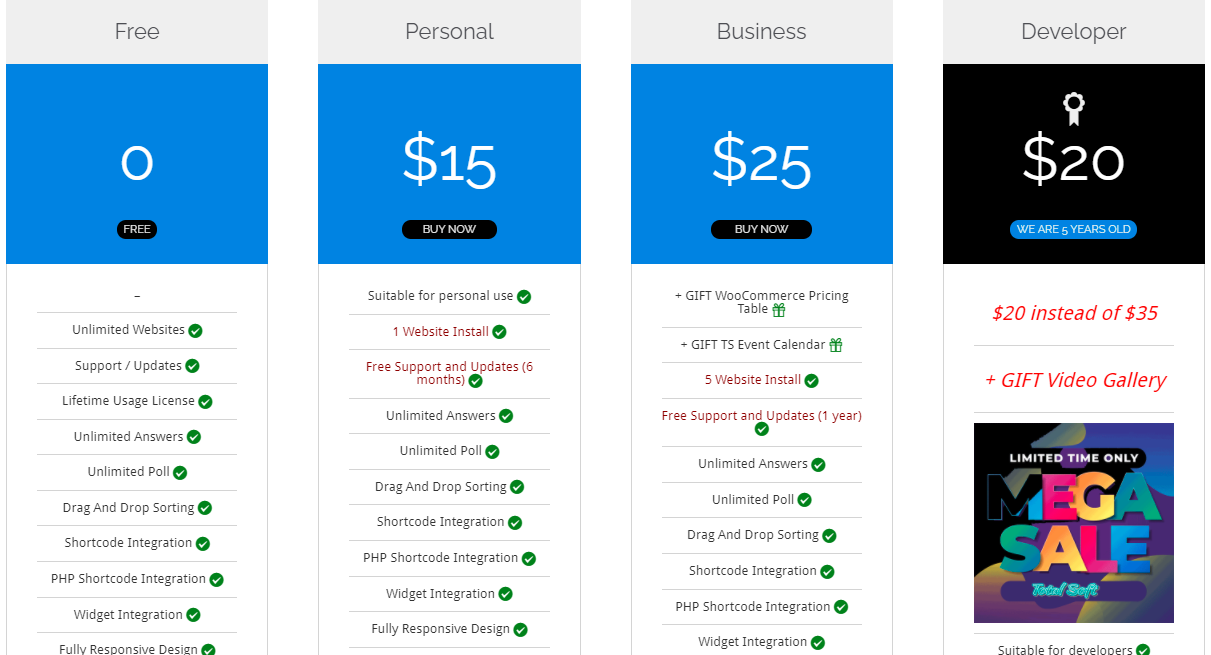 In addition to the free version, Responsive Poll also offers other 3 packages including Personal, Business, and Developer. As its name, the personal package is only suitable for personal use and 1 website installation. This version starts at $15 and however, you can enhance your website capability with a lot of advanced features such as: define the start and end date for polls, use 125 font styles, show results after voting, and much more.
Moreover, you are running multiple websites, the developed plan is a perfect choice for you. You can use it for unlimited websites and get free support and updates for 2 years. Especially, the cost only is $20.
YOP Poll

The pricing plans of this plugin seem to be a little more expensive than Responsive Poll. The Pro version starts at $17 and uses on 1 site. Besides, it offers other flexible packages such as Plus and Expert. Unfortunately, there are no plans that support unlimited site use. Therefore, in case that you have more than 7 websites, this plugin is not suitable for your site.
Pros and cons
Responsive Poll
Pros
Cons

Easy to set up and use
Fully customizable themes
Allow you to add images, videos (YouTube & Vimeo) to its polls
Easy website integration
Fully responsive design
Drag and drop sorting
Show results after voting or no
Define start and end date

The free version has limited themes
Don't have pre-built templates
YOP Poll
Pros
Cons

Have Pre-made templates
Allow customizing templates to match website design and style
Poll restriction and security
Public poll statistics
Displays results in real-time
Easy to use

The free version has many limited features
Don't support multiple websites
Responsive Poll Vs YOP Poll: Which one is greater?
Overall, both Responsive Poll vs YOP Poll is worthwhile for your website in creating unlimited polls without effort. However, we have to admit that the Responsive Poll completely overshadows YOP Poll in terms of rich features, ease of use, and value for money. Therefore, for site owners, we highly recommend Responsive Poll as the most optimal for your website.
However, you can try to use the free version of the YOP Poll because it offers many pre-made templates that help you quickly create polls and save much time.
And what is your point of view? Do you prefer to use Responsive Poll or use YOP Poll? We expect that this blog helps you realize the differences between Responsive Poll vs YOP Poll. Whether you have any queries or need our assistance, don't hesitate to mention them in the comment section below.
Moreover, there are still other helpful options for your site, let's take a look at WordPress Poll Plugin. By the way, are you going to build a modern and stunning website? Luckily our Free WordPress Themes also offers a wide array of top-notch, elegant, and appealing designs that are totally suitable for multiple purposes and work well 2 mentioned plugins.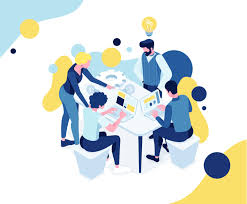 Latest posts by LT Digital Team (Content & Marketing)
(see all)