Today, I'll introduce the basic operations in Akeeba Backup which contains the most common functions you will need on your daily Akeeba Backup usage.
Profiles Management
Profiles Management page
The Profiles Management page is the central place from where you can define and manage backup profiles .Each backup profiles can be regarded as a container holding Akeeba Backup configuration values and filter settings.
There are the operations buttons on the page's toolbar: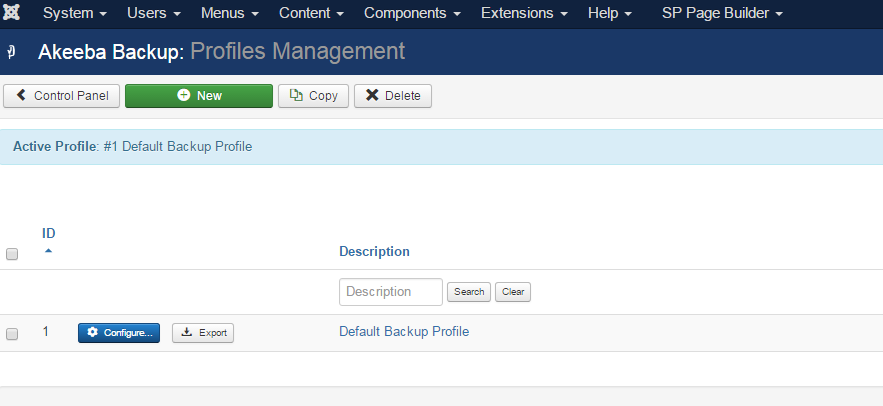 New: Creates a new, empty profile. Clicking on this button will lead you to the editor page, where you can define the name of the new profile, or cancel the operation if you've changed your mind.
Copy: Creates a prostine copy of the selected backup profile.
Delete: Permanently removes all selected backup profiles. You should consider before you want to delate something. Because this is an irreversible operation; once a profile is deleted, it's gone forever. Please not, you can only delete one profile at a time. If you select multiple profiles, only the first one (topmost) will be removed.
Configur: Clicking this button makes that profile current and opens the Configuration page.
Export: Clicking this button will ask you to download a file with all of the profile settings.
The Edit Profile page: Clicking on Save applies the settings and gets you to the main Profiles Management page. Clicking on Apply applies the settings and returns you to the editor page. Finally, clicking on Cancel will disregard any changes made and get you to the main Profiles Management page. 
You click in the words Default Backup Profile , then get the page like image below:

Configuration Wizard
If you want to fine tune a different profile, you have to select it from the drop-down list in the Control Panel page before clicking on the Configuration Wizard button. First, when using the Configuration Wizard it help Your backup type is switched to "Full site backup". Second, it help the archiver engine is switched to "JPA (Recommended)"
The Configuration Wizard page
The Configuration Wizard will automatically fine tune the following configuration parameters:
AJAX method (use AJAX or IFrames)
Optimize the minimum execution time so as to make the backup as fast as possible without your server throwing 403 Forbidden errors
Adjust the location and/or permissions of the output directory. Useful if you just transferred your site to a new server or location.
Optimize the database dump engine settings to make database dump as fast as possible, while avoiding memory outage errors
Optimize the maximum execution time so that as few steps as possible are performed during the backup, without causing a timeout
Automatically determines if your server needs archive splitting.
Thanks for your reading. If you have any question with this blog, don't hesitate to leave a comment. I will reply to it as soon as possible.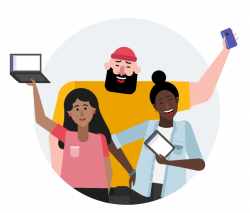 Latest posts by Document Team
(see all)