Do you want to distinguish 3CX Live Chat vs Help Scout? What are the differences between them? In today's article, we will give you a parallel comparison between 3CX Live Chat and Help Scout to help you pick the best live chat system for your business. Now, let's check it out.
Introduction
Live chat plays a crucial role in helping your business easily communicate with your customer in real-time. This tool not only helps you keep in touch with your customers but also boosts your business revenue efficiently. In addition, using live chat is more convenient to satisfy your customers' requirements than contacting your customers via email or phone number.
Moreover, your business cannot hire support staff working 24/7. Whereas installing a live chat can allow you to provide an auto responder feature that can help you handle your customers' problems timely when customer support staff is on break.
The launch of live chat systems has brought plenty of significant benefits to improve the quality of your customer service. However, which is the leading live chat tool among a wide range of ones in the market?
In today's blog, we will introduce to you the two most outstanding live chat systems that have received many mixed reviews for the best live chat tool position. They are 3CX Live Chat Vs Help Scout. If you are wondering which option to choose between these tools, we are now going to give you a head-to-head comparison based on some criteria including main features, ease of use, pricing plans, and integrations.
Now, let's dive into our comparison blog to get an insight into these systems.
3CX Vs Help Scout: Background

3CX is one of the top-notch communications systems available for Windows, Linux, and as a cloud-based solution. It was launched by Nick Galea in 2005 and since then it has established itself as a global communications leader. It's famous for its intuitive design and advanced features, including chat, calls, videoconferencing, FB & SMS integrations, and more.
3CX Live Chat stands out in particular with its potential to improve the relationship between customers and agents. With the assistance of 3CX Live Chat, it is even possible to audio or video call directly from the chat box to reach the same agent and avoid any unnecessary repetition altogether. Who wouldn't want that, especially for $0 per annum?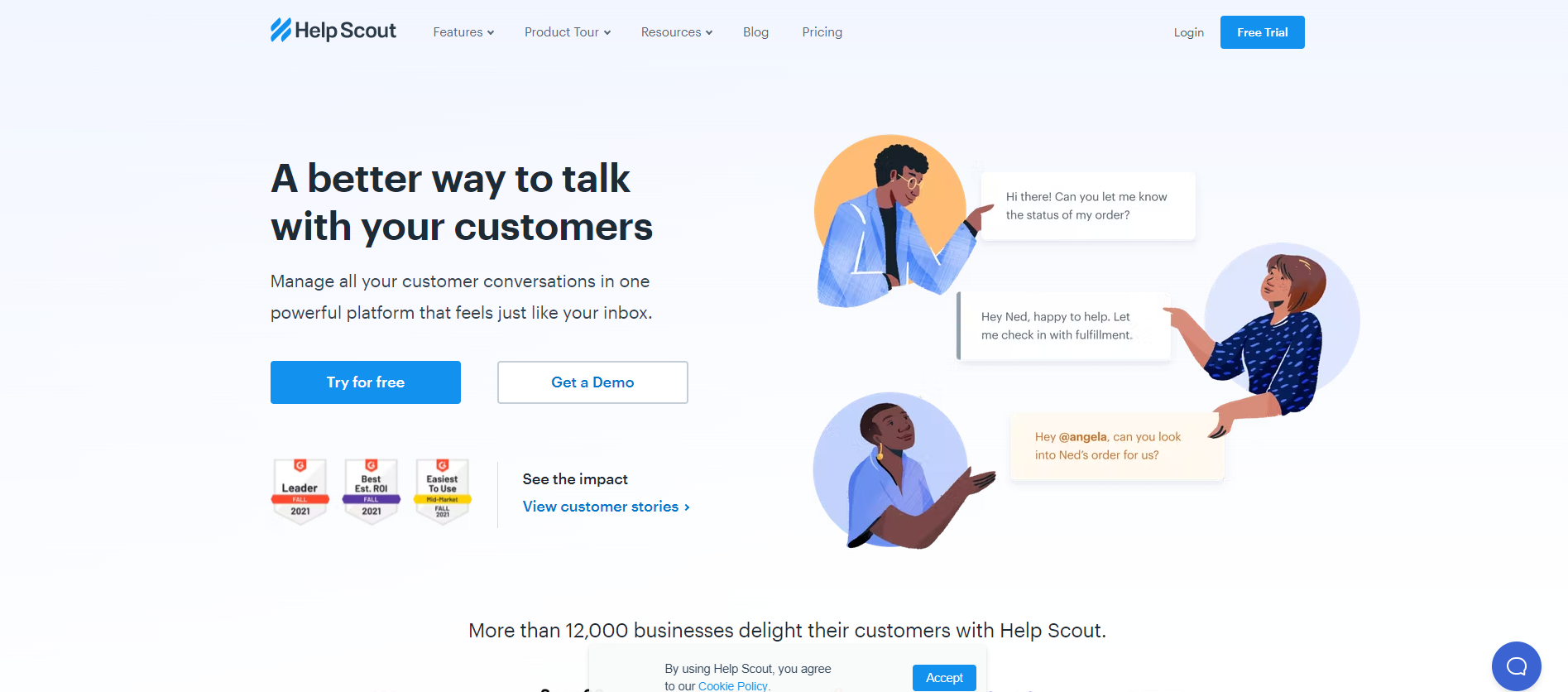 Help Scout is one of the well-known companies specializing in providing help desk software. This was founded in 2011 and is specially designed for small and mid-sized businesses and freelancers. At present, the company is serving more than 12,000 customers in over 140 countries throughout the world. This system allows you to use shared inboxes and an available knowledge base to provide support to your customers. Thanks to that, you can improve your customer's satisfaction effectively.
Moreover, Help Scout also provides you with plenty of useful features such as ticketing, knowledge management, customer satisfaction surveys, and much more.
Main features comparison table
Both 3CX Vs Help Scout comes with a wide array of amazing functions. However, we will only compare the outstanding features built into 3CX vs Help Scout via a detailed table below.
| | | |
| --- | --- | --- |
|  Main features |  3CX |  Help Scout |
| Customizable branding | ✔️ | ❌ |
| Desktop Apps |  ✔️ |  ❌ |
| Routing rules |  ❌ |  ✔️ |
| Canned responses |  ✔️ |  ✔️ |
| Visitors details |  ✔️ |  ✔️ |
| Chat transcript |  ✔️ |  ✔️ |
| Video and audio calls |   ✔️ |  ❌ |
| Call forwarding |  ✔️ |  ❌ |
| Real-time statistics and monitoring |  ✔️ |  ❌ |
| Call & Queue Reporting  |  ✔️ |  ❌ |
| Knowledge base |  ❌ |  ✔️ |
| CRM integrations | ✔️ | ✔️ |
| Screen sharing | ✔️ | ❌ |
| IVR / Voice Recognition | ✔️ | ❌ |
| Multi-language translation | ❌ | ✔️ |
| Zapier integration | ❌ | ✔️ |
Ease of use
Another important factor in deciding the best customer service software is simplicity. Regardless of whether your business is small or large, using easy-to-use software will be more manageable and save much time learning how to use it. Now, we will analyze the ease of use of each software below.
3CX
The process of installing 3CX Live Chat is as easy as pie. In order to get started with 3CX, you only need to sign up for a 3CX StartUP account and download the 3CX WordPress Live Chat plugin. The configuration process will take you a few minutes to complete and handy guides and documents provided by 3CX to help in case you come across any issues. It also comes with an easy-to-use Web Client from where all the configuration is made. It also acts as a central interface from where all your calls and chats are handled.
Help Scout
Help Scout also has a clean and friendly interface, making it easy for you to navigate. This is one of HelpScout's advantages, receiving a lot of positive reviews. From Help Scout's dashboard, agents can easily do their job with a single click. In addition, the screen and menus have an uncluttered layout.
Integrations
It is also an essential aspect that you need to consider how easily it integrates with your existing apps before choosing the customer support software for your website.
3CX
3CX offers integrations with numerous top-level CRM systems such as Bitrix24, Freshdesk, Hubspot, Zendesk, Zoho, SQL Database, and much more. As a result, you are able to log calls and keep track of customer interactions and records from various channels and between employees. Thanks to that, you can handle all customers' services quickly by accessing customer service records.
Further, you can also integrate 3CX with Facebook and business SMS to centralize all of your communications through the Web Client. That means you will not have to switch between the apps or tabs to check the messages or respond to calls and it helps to avoid any confusion.
Help Scout
Currently, Help Scout offers a total of 93 integrations with plenty of apps which are divided into 7 categories including:
Analytics: Mixpanel, Kissmetrics, Fullstory, Databox, Clockify, Fivetran, Plecto, Segment.io, and churn Buster.
Communication: Olark, Facebook, Jira, Cloudtalk, Gmail, Weglot and etc.
Apps: Docs, Custom apps, Webhooks, Voicemail.
CRM: Hubspot, Salesforce, Highrise, OnepageCRM, etc.
E-commerce: Shopify, Ecommerce, Freshbook, Magento, etc.
Marketing: Mailchimp, Campaign Monitor, Constant Contact, etc
Support: WordPress, Gravity Forms, Intercom, Hively, Wufoo, AppFollow., etc
Utilities: Zapier, Google Apps, Google Sheets, MYSQL, and much more.
Even though Help Scout lacks a lot of integrations, many key integrations are included. In the future, we think that Help Scout needs to open more prevalent integrations to satisfy the demand of companies.
Pricing Plans
Pricing has always been an essential factor that you should be concerned about before purchasing it for your business. Now, we will have a look at the pricing plans provided by each live chat software.
3CX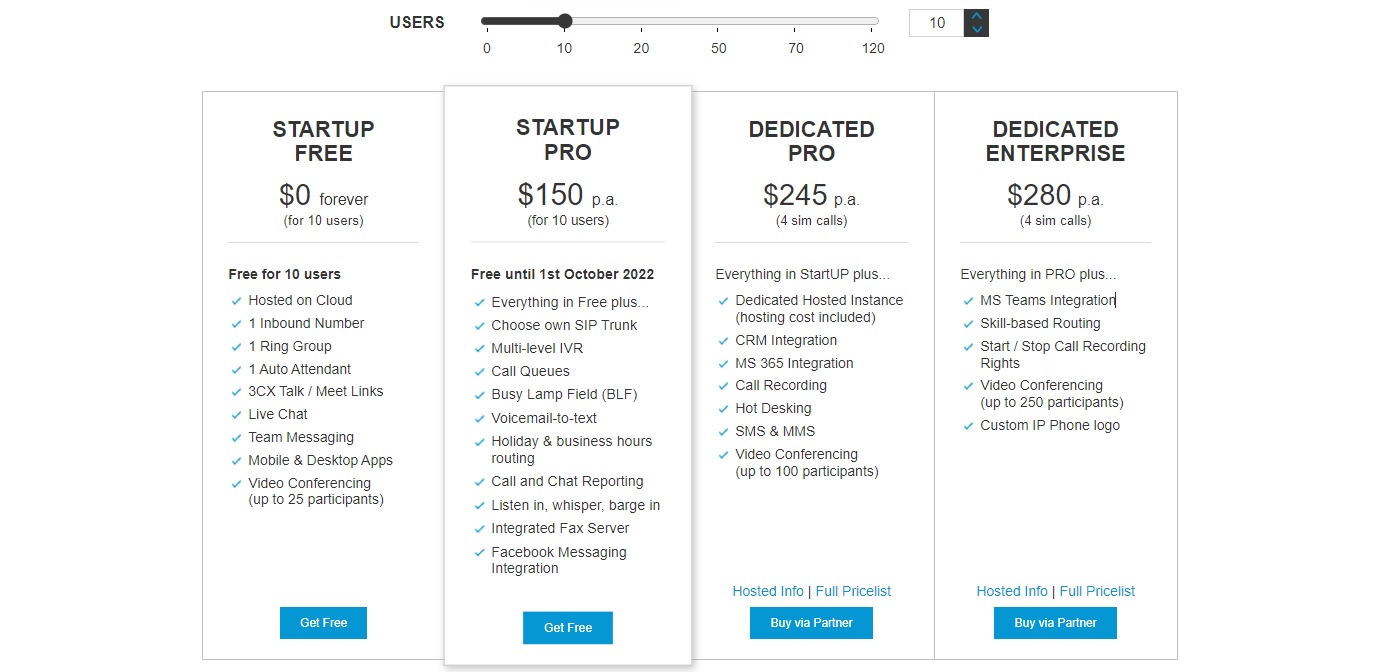 Since the recent release of the 3CX StartUP Free plan – you can entirely scrap costs! This free plan is able to cater for up to 10 users and is equipped with:
One inbound number, ring group & auto attendant
Personalized 3CX Talk / Meet links for customers to get in touch at no cost
Live chat & team messaging
iOS / Android Mobile apps & desktop apps
Video conferencing for up to 25 users
There are other options available to match larger and more demanding businesses. You can check out alternative pricing here.
Help Scout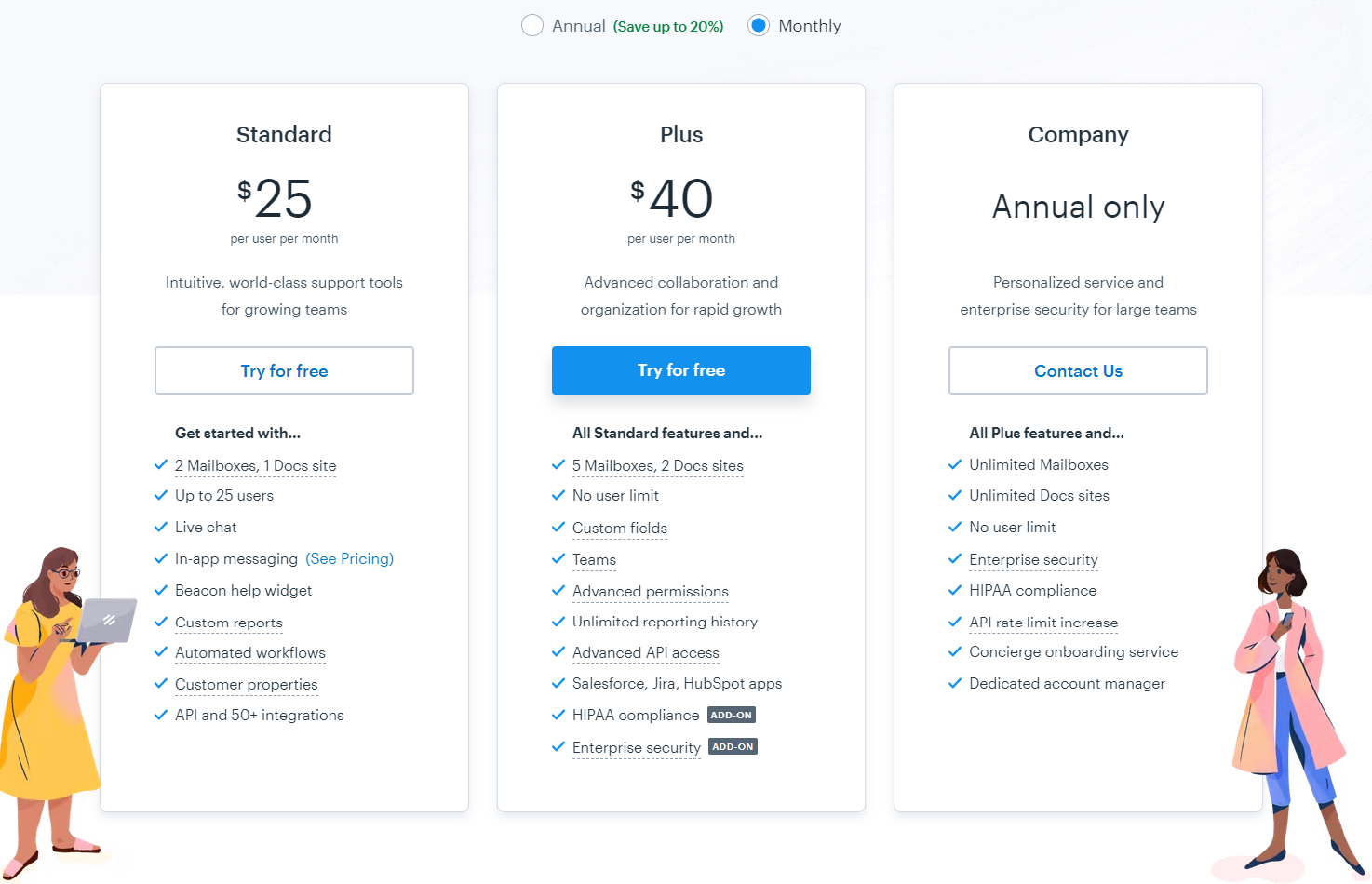 First of all, HelpScout only provides you with a 15-day trial for all packages whereas you can use 3CX for a one-year free trial. This system has three flexible plans including Standard, Plus, and Company.
Standard: This package starts at $25 per month and includes advanced features such as the Beacon help widget. However, this plan is only suitable for news companies as it only allows up to 25 users.
Plus: You need to pay $40 per month using this plan. This plan allows you to create teams to collaborate effectively, and categorize or prioritize conversations with custom fields. It also has integrations with Salesforce, Jira, and Hubspot. You should use this plan if you are running rapid-growth companies.
Company: This is HelpScount's highest plan. It is specially designed for large teams and companies of over 25 members. This plan only allows you to be billed annually. Currently, the certain price for this plan is not displayed on their website. If you want to know the details, you can contact their support team. By using this plan, you can get more amazing features such as unlimited mailboxes and document sites, enterprise security, and concierge onboarding service.
Advantages and Disadvantages
3CX
 Advantages
 Disadvantages

Ability to elevate a live chat into a live audio or video call
Easily manage all calls and messages in the one place
Intuitive, clean, and friendly interface
Many CRM integrations available
Advanced call-center features including chat and call reporting, and management
Offers forever free pricing model
Mobile and desktop apps available for remote and hybrid working

It is very easy to install but the configuration is not simple
There is no documented API
The pricing model is a bit confusing
Help Scout
 Advantages
 Disadvantages

Simple and clean design
Extremely easy to set up
Offer great support tickets and chats
Integrations with many eCommerce and marketing solutions
Shared conversation inboxes

Limited customization options
No telephone support
Too simple
Tickets do not have timers attached
3CX Vs Help Scout: Who is the winner
As you can see, 3CX completely beats HelpScout in this battle. Although Help Scout is very easy to use and has a reasonable price, it really doesn't provide enough advanced features for large companies. Therefore, from our standpoint, Help Scout is not a perfect choice for large and fast-growth businesses.
On the other hand, you can choose 3CX as the ultimate customer support solution for any size of business. The 3CX system is really advanced and convenient. In addition, it is packed with tons of innovative features to boost your business communication and improve agent productivity. It is definitely worth your investment to improve the quality of customer service instantly.
And what are your thoughts? We are happy to receive your point of view. Let's share it with us by leaving a comment below. We expect that our 3CX vs Help Scout helped you choose the best solution for your business. In addition, you might need to see our 3CX vs Olark comparison to get more useful information. Also, if you want to distinguish 3CX from Tidio, don't ignore our 3CX vs Tidio comparison blog.
Finally, we want to introduce to you a list of beautiful free WordPress themes and templates on our website. They will help you quickly create an eye-catching website without having professional coding knowledge.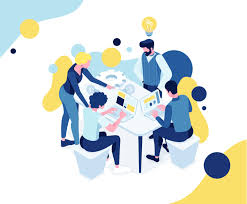 Latest posts by LT Digital Team (Content & Marketing)
(see all)