3CX Live Chat vs Tidio have been going head to head when it comes to earning the crown as the best live chat solution. If you are still struggling to choose between 3CX Live Chat vs Tidio for your business, luckily you have come to the right place. This blog will give a detailed comparison of these live chat solutions to help you easily figure out the best solution for your business. Now, give it a look.
Introduction
As you know, the success of a business will depend on numerous factors, and the quality of customer service is regarded as one of the most crucial factors directly affecting the long-term success of any business. When you provide your customers with good support, you are automatically improving your business standing by building a strong rapport with your clients. However, the number of staff in each company is limited, so it's not always possible to handle all customer problems and requests coming in at the same time. This is one of the significant challenges that many businesses face today.
Fortunately, the introduction of live chat software is a perfect solution to handle these troubles for businesses. A live chat system allows agents to manage and answer multiple messages at the same time, so agents can provide assistance and address issues immediately. Plus, using live chat tools will help your business remarkably lessen call expenses and assist more customers at the same time.
Nevertheless, which is the best live chat tool among innumerable ones on the internet? In today's blog, we are going to introduce to you the two most outstanding tools – 3CX Live Chat and Tidio. Both options provide you with loads of amazing features. But which is the perfect solution for your business? So let's deep dive into a head-to-head comparison of 3CX Live Chat vs Tidio.
This blog will compare the two based on various aspects including main features, ease of use, integration, and pricing plans, that will help you get a better understanding and easily choose the right software for your business requirements.
3CX Vs Tidio: History

Founded in 2005 by Nick Galea, when VoIP was an emerging technology, 3CX has gone on to establish itself as a global leader in business communications. Evolving from its roots as a PBX phone system to a complete communications platform. Offering customers an all-in-one solution for calls, video, live chat, and social messaging. To date, the company boasts over 600,000 installations which equate to roughly 12 million users.
3CX Live Chat is one of the prevalent features powered by the communication system. It is available as a free plugin on WP and together with 3CX StartUP, it helps connect your customers not only via live chat but via phone and video calls for better assistance. Plus, you can integrate with both Facebook and SMS and all your messages will be managed in the same interface. 3CX offers pricing plans that start as low as $0 annually, so it's affordable even for the smallest startups.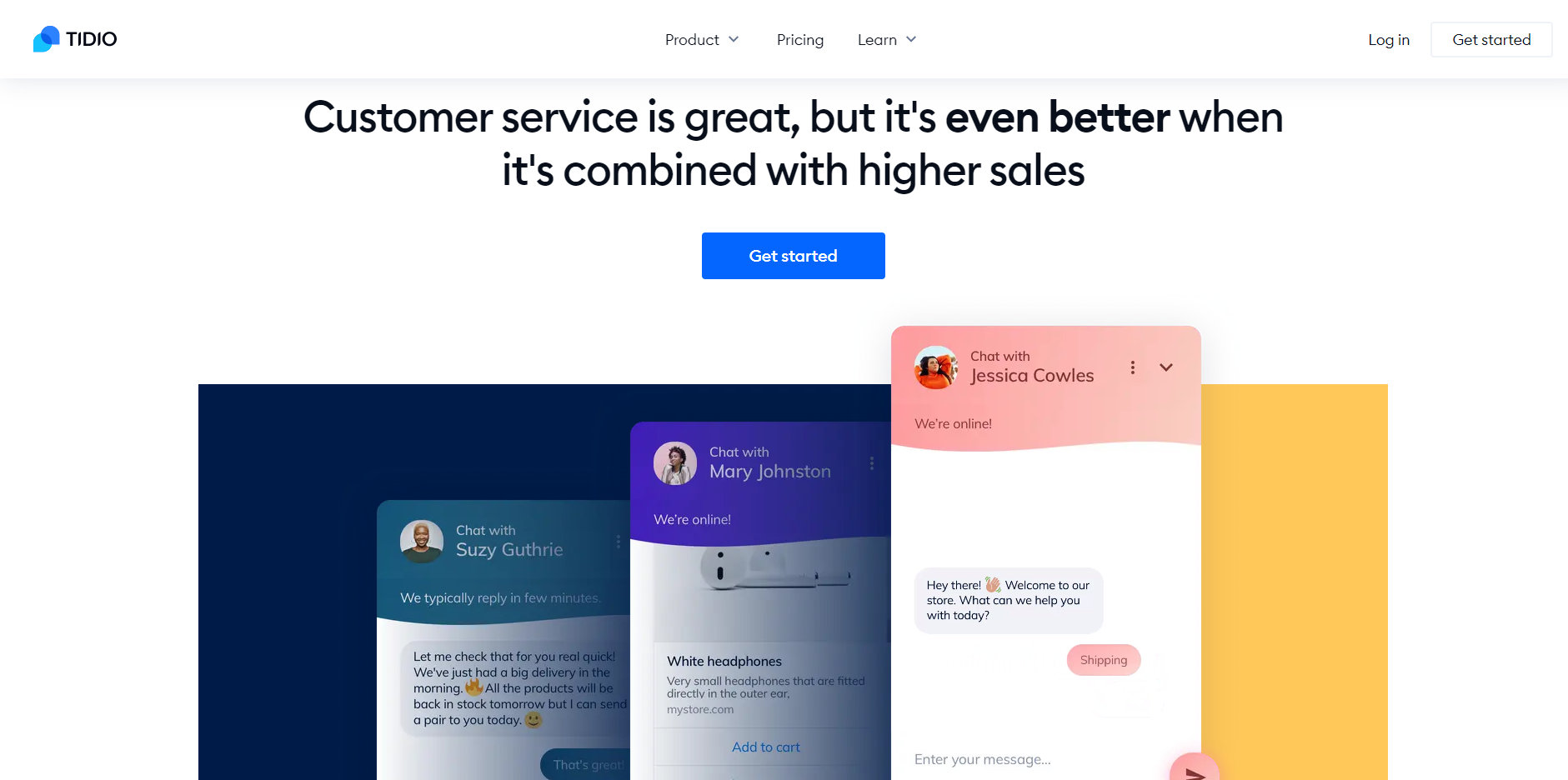 Tidio is considered a strong competitor of 3CX. Tidio is the ultimate customer-relationship building platform founded by Golas and Marcin Wiktor. This platform allows you to communicate with your customers instantly in real time, so you will have more opportunities to get more sales. In addition, it is also compatible with Windows, IOS, and Mac, and thanks to that, you can answer all questions of your customers without problems. Additionally, it allows you to use one of the 35+ pre-made templates to build chatbots, and send a message to your website visitors. At present, this software is used by 300,000+ websites worldwide.
Key features
Despite the fact that both live chat systems provide seemingly similar features, each platform also has its own unique functionalities. Thus, we provided you with a comparison table with top-notch features below.
| | | |
| --- | --- | --- |
|  Features |  3CX |  Tidio |
| Customizable branding |  ✔️ |  ✔️ |
| Offline form |  ✔️ |  ✔️ |
| Proactive chat |  ✔️ |  ✔️ |
| File transfers/ Routing |  ✔️ |  ✔️ |
| Screen sharing |  ✔️ |  ❌ |
| Website Visitor tracking | ❌ |  ✔️ |
| Audio/Video conferencing |  ✔️ |  ❌ |
| Report and analytics |  ✔️ |  ✔️ |
| Queue Management |  ✔️ | ❌ |
| Canned Responses |  ❌ |  ✔️ |
| IVR / Voice Recognition | ✔️ | ❌ |
| Chat rating |  ✔️ | ❌ |
Ease of use
3CX
The process of setting up 3CX Live Chat is pretty straightforward. All you need to do is install the plugin from your WordPress dashboard and then go to their website to sign up with your Google account or email for 3CX StartUP. Once you have completed all steps in the Web Client, simply copy the 3CX Talk URL provided in the StartUP Configuration Wizard. It enables calls to take place over the internet resulting in no additional charges for you or the customer. Then, you need to paste it into the options page of the plugin in WordPress.
From our point of view, it is not so complicated for you to set up the 3CX system. In case there are any questions, 3CX also provides additional instructions and a link to the help docs in the setup process, so you will not have any trouble adding the chat bubble to your website.

Additionally, you can manage all of your messages directly from the 3CX Web Client. Designed to centralize all communication including calls & Facebook messages. You can add users, set your business hours, and manage blacklist IPs directly from here too.
Tidio
Similar to 3CX, if you are going to use Tidio for a WordPress site, the process of setting up this live chat system will be extremely simple. It takes you a few minutes to install the plugin from the WordPress dashboard. Then, to start using Tidio, you need to create a free Tidio account on their website and implement some initial setups for your live chat.
If you get into any trouble during the setup process, you can go to Tidio's help center to refer to comprehensive documentation that will help you get started with Tidio live chat, chatbots, and other Tidio products.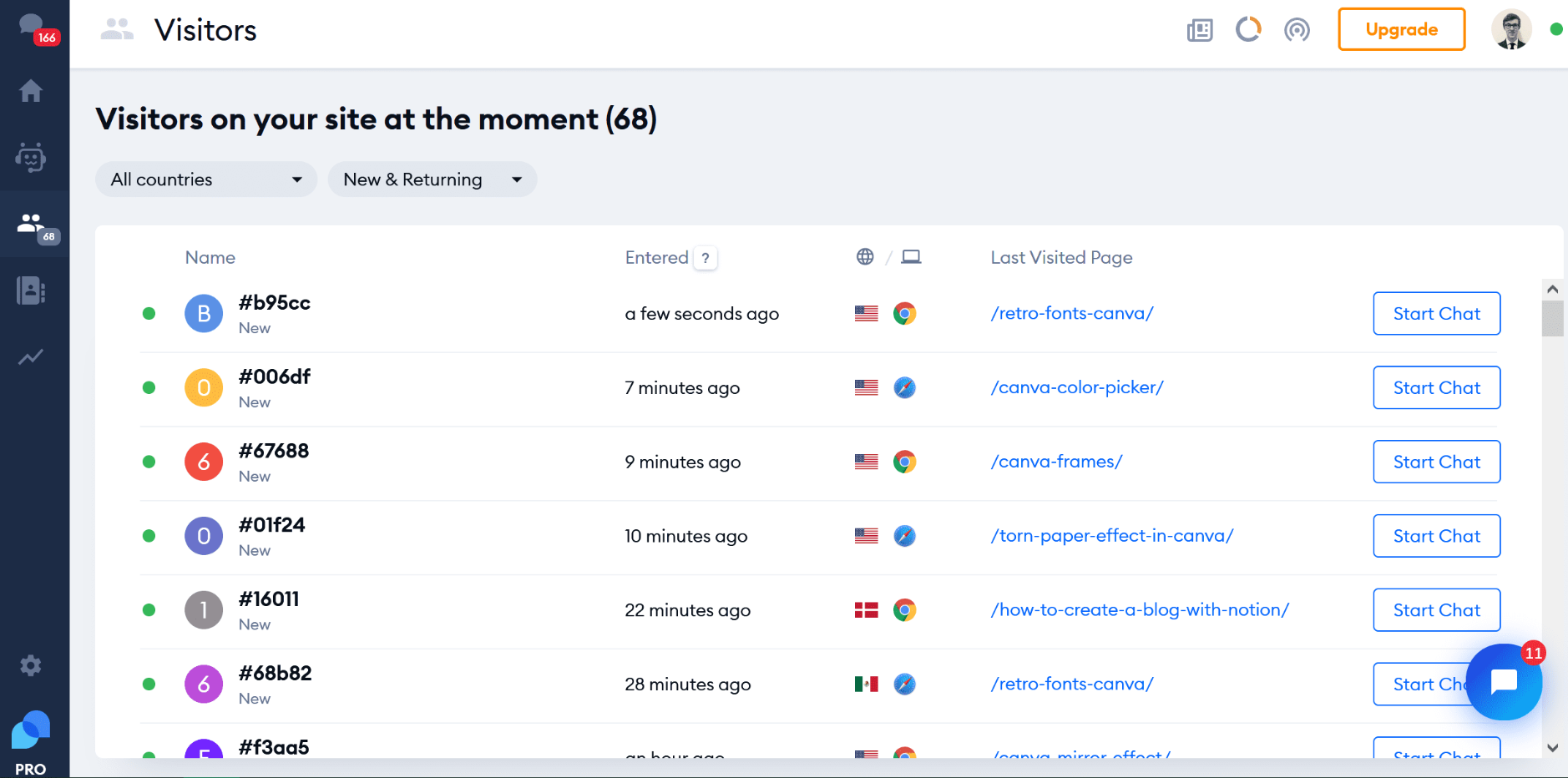 Besides that, Tidio's interface is very modern and clean. Plus, it provides a search bar to help you quickly look for contacts/conversations. You can also jump from chatting to contacts to send them an email and access chatbots, Facebook Messenger, and Instagram chats, all activities will be performed in the same window.
Integrations
It can not be denied that customer support software integrates with other useful tools to automate processes and cut your agent's workload effectively. While both offer plenty of integration options. So, which platform will take the crown for this aspect?
3CX
3CX Live Chat being part of an all-in-one unified communications solution supports many integrations. This includes integrations with SIP Trunks for calling, Facebook, and SMS that help centralize business communication all in one place.
It also integrates with several CRM systems such as Hubspot, Zoho, Vtiger, Freshdesk, Bitrix23, Zendesk, and much more. Therefore, you can easily expand the functionality of this platform and bring your customers an amazing experience.
Tidio
Tidio gives you the ability to integrate with a lot of apps and third-party tools. Although the number of integrations is not a great amount, the basic integrations are included.
Moreover, there are some remarkable integrations with prevalent eCommerce websites such as Salesforce, Magento, WordPress, Shopify, and Bigcommerce. Especially, it allows you to integrate with Google Analytics and CRM platforms to keep all information regarding your customers in the same interface.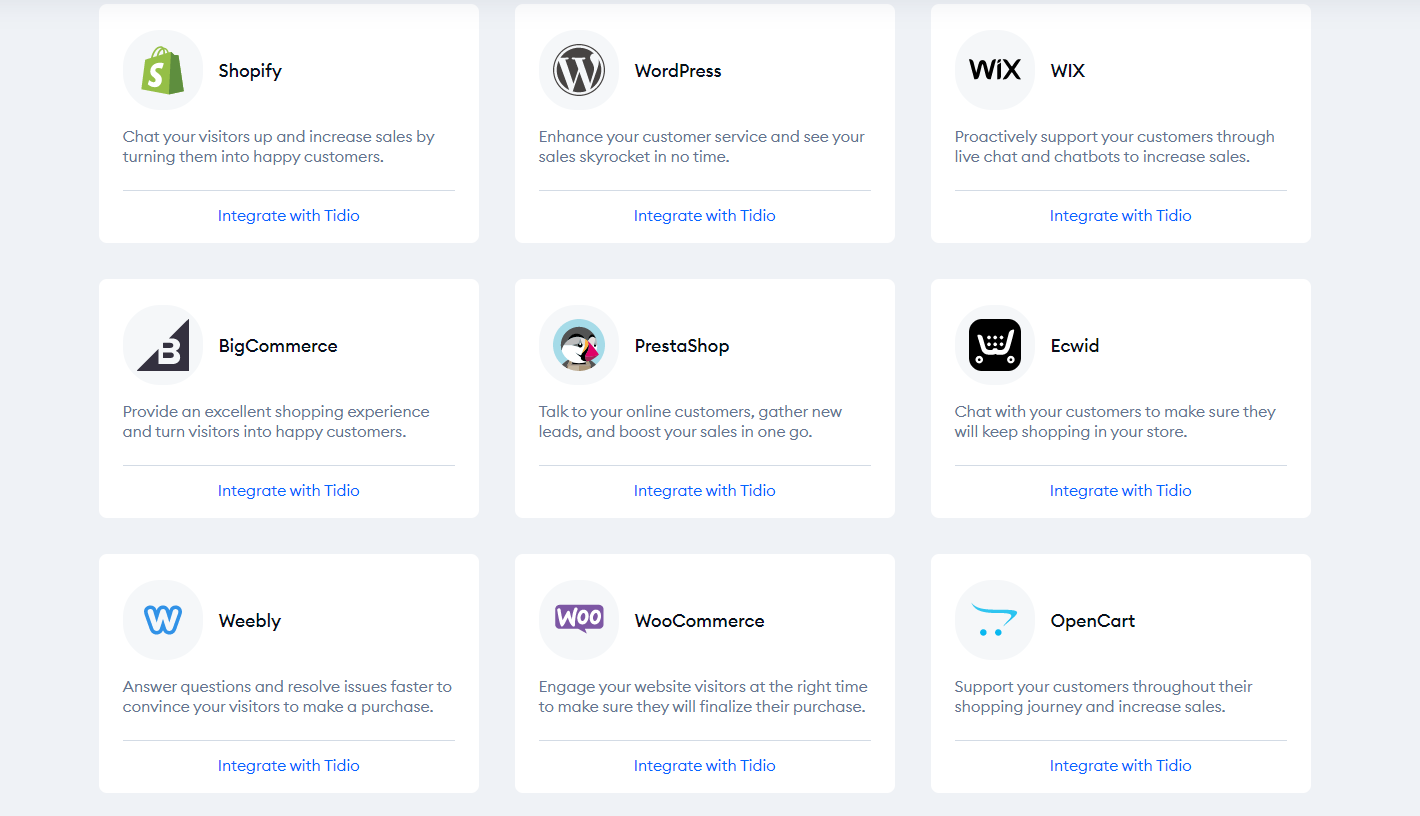 Pricing plans
3CX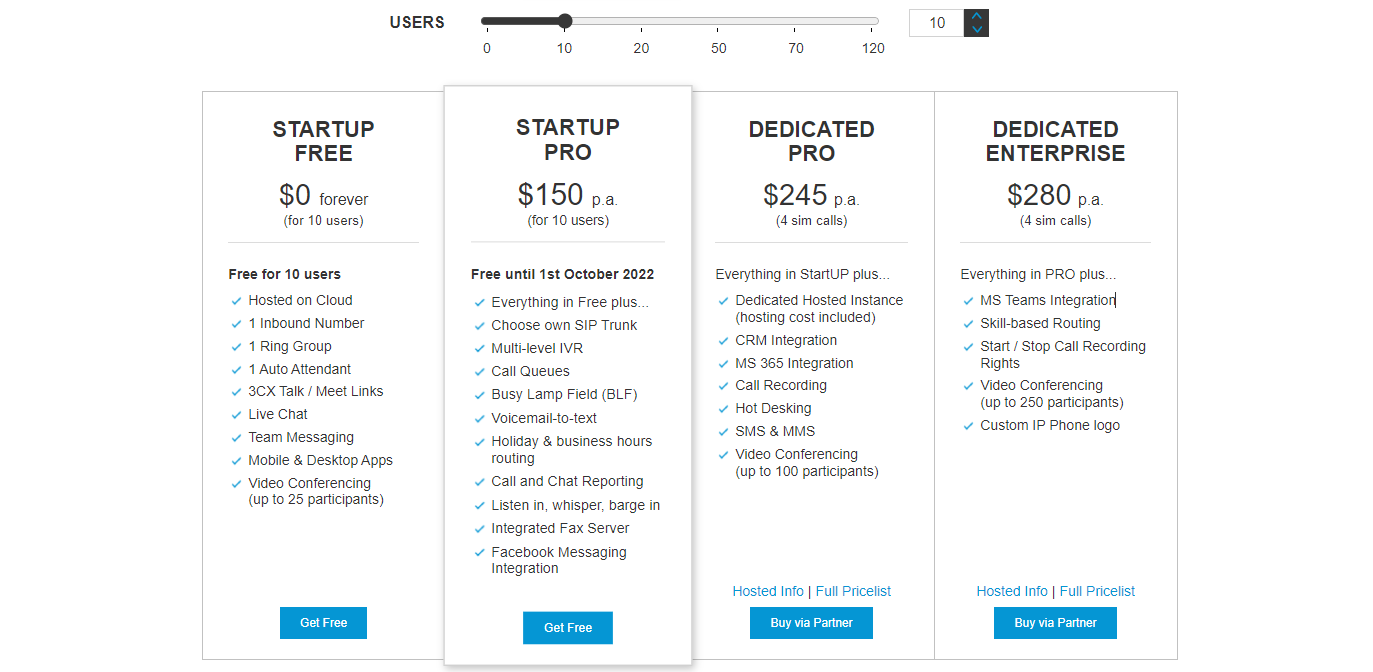 3CX Live Chat is included for free in all available 3CX editions both paid and free versions.
3CX StartUP Free is a free version that allows for up to 10 users and costs $0 per year to implement. It also comes with various communication features such as:
One inbound number, ring group & auto attendant
Personalized 3CX Talk / Meet links for customers to get in touch at no cost
Live chat & team messaging
iOS / Android Mobile apps & desktop apps
Video conferencing for up to 25 users
Live chat features include:
Fully customizable chat box
Elevate chat to call or video
Create custom offline message forms & store messages offline
Access historical live chat records
View missed live chats
Chats are sent and received at lightning-fast speed via 3CX Live Chat Servers
Compatible with all caching plugins (live chat window loaded via Ajax)
Enable/Disable sound when a new live chat message is received
Ban visitors from chatting to you based on IP Address
Quick responses (insert a predefined response to your live chat box)
Add your photo to the live chat window
Include/exclude the live chat from appearing on certain pages
Tidio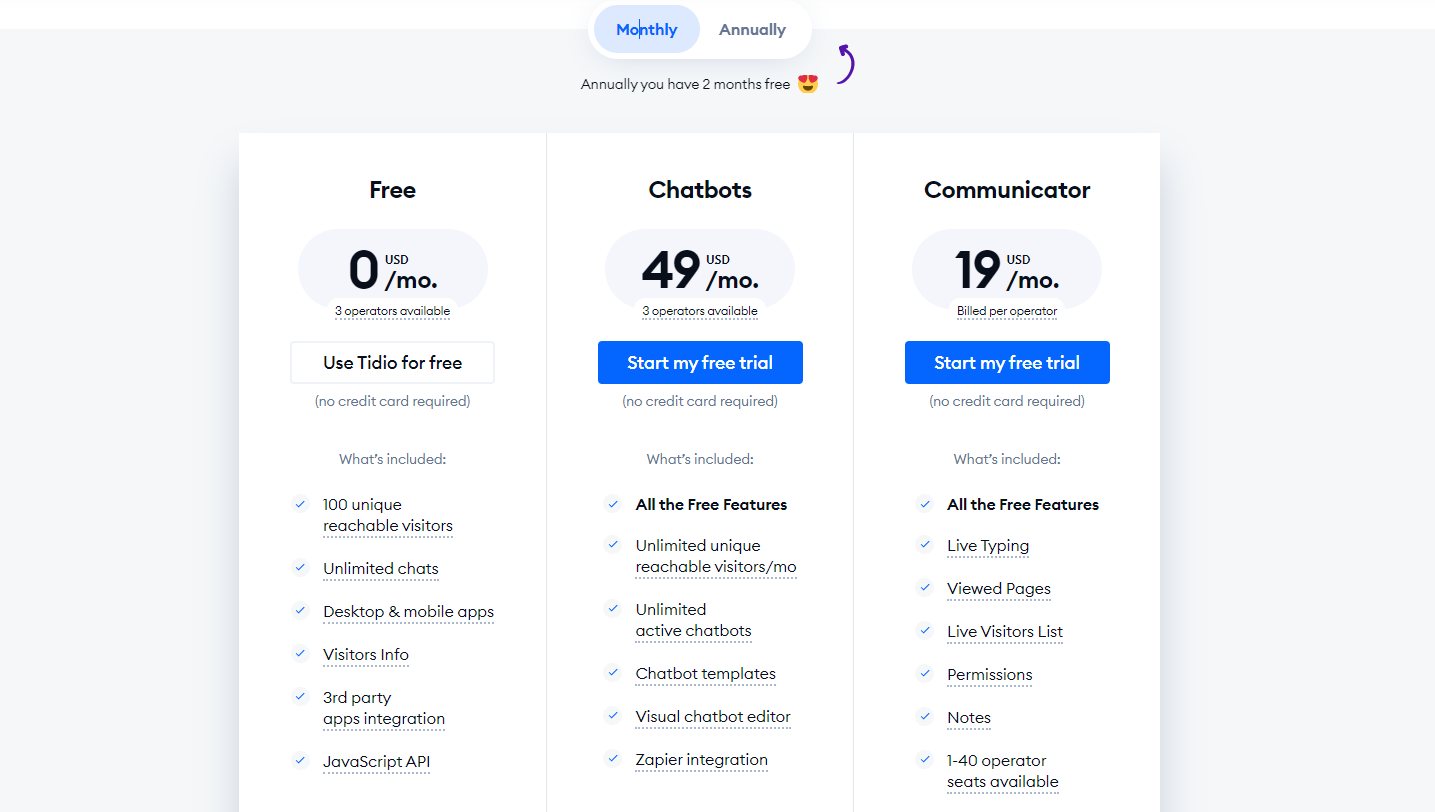 The free version of Tidio comes with plenty of valuable features for small and start-up businesses. This version allows up to three chat operators and additional operators can only be added if you purchase the Communicator plan for your account. In addition, you can send automated and scheduled email campaigns to your customers. However, the number of emails will be limited to 500 emails/ per month by using this plan. And you will be limited to the number of chats with 100 unique visitors per month.
In addition to the free plan, Tidio also provides you with the pro version that is divided into 2 packages including Chatbots and Communicators:
Chatbots: This plan will include all features that come with the free plan. Plus, you can use as many chatbots as you want to reach an unlimited number of unique visitors. Notably, this plan allows you to use pre-made chatbot templates to attract new visitors as well as generate leads effectively. Further, you can integrate the Tidio with Zapier which assists to save a lot of time implementing repetitive tasks such as exporting your contacts.
Communicator: Similarly, this package also includes all free features and plus advanced features such as Live Typing, Viewed Pages, Live Visitors list, Permissions, and Notes. Moreover, one of the great things is that this plan allows you to add extra chat operator seats at $10/seat/month.
Pros and cons
3CX
 Pros
 Cons

The user interface is easy to use
Offer many amazing features
Seamless integration with many third-party platforms
Easy to use web-based control panel
Flexible hosting options
Free forever pricing is available

There is no documented API
Support ticket costs up to $75
Tidio
 Pros
 Cons

A clean, robust, and customizable interface
Don't limit the number of users
Customer support is very quick
Allow use for multiple channels
Easy to install and use

A very limited free version
Can not switch between multiple conversations
A few integrations
3CX Vs Tidio: Who is the winner
Overall, both 3CX Live Chat and Tidio are powerful live chat platforms. But if you are waiting for the final verdict of this battle, 3CX clearly wins. 3CX Live Chat completely overshadows Tidio in terms of advanced features. However, just like with any business decision you should always consider your company's needs before making the final call.
We highly recommend using Tidio as a cost-saving solution for small and medium businesses. As this system is quite cheap compared to other providers and has a lot of essential features. However, it lacks many help desk functionalities, audio/video calling, and advanced team management features, so Tidio will not be a great option for large-size businesses.
In contrast, 3CX Live Chat can be used for any business size. The ease of use and competitive pricing are 3CX's advantages. And if you are looking for an effective solution that allows you to make audio/video conferencing with a large number of participants, don't hesitate to try to use 3CX Live Chat for your website.
And what is your opinion? Do you prefer using 3CX to using Tidio for your business? Don't hesitate to share with us your standpoint by leaving a comment below. Last but not least, we hope that through our blog, you can get valuable information about these live chat systems so that you can make the right decision for your website.
By the way, we would like to introduce a list of charming, responsive, SEO-friendly free WordPress Themes on our website. They can be used for multiple topics, don't miss them!.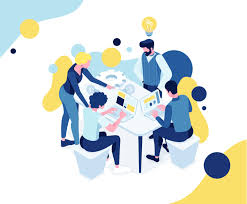 Latest posts by LT Digital Team (Content & Marketing)
(see all)