Choosing a high-quality hosting provider is a challenging task for beginners. So, if you are in two minds to choose between SiteGround vs WP Engine to grow your website, you are in luck. In this blog, we give you a detailed comparison to make it easy for you to choose the best one. Now, let's check it out.
The necessity of choosing a high-quality hosting provider
Hosting service is the ultimate solution allowing web owners to store a lot of vital data, files, documents,…which support you build a successful website on the internet. Unlike domain registration services, you can completely use domain services at a cheap price to save costs. In contrast, if you want to own a professional website, it requires you to choose a reputable hosting provider. Since it will have a lot of effects on your website later.
According to many technical experts, in order to choose a good web hosting service, you need to focus on the following criteria: quality, stability, customer service, and finally price. Since cheap hosting services commonly will have poor quality or you frequently get into a lot of troubles such as website is unaccessible and take a long time to load. As a result, your website will increase the bounce rate, get a lower ranking on search engines, and even lose plenty of clients in the future.
Nowadays, there is a wide range of hosting companies in the market. And SiteGround vs WP Engine is regarded as the two most outstanding and high-quality hosting services. Both are suggested by the WordPress website. If you are struggling to choose between SiteGround vs WP Engine to build your website, luckily in today's blog, we are going to give you a depth comparison of them. We will compare based on various aspects to assist you to get an insight, then you can make the right decision for your website. Now, let's dive into it.
SiteGround Vs WP Engine: History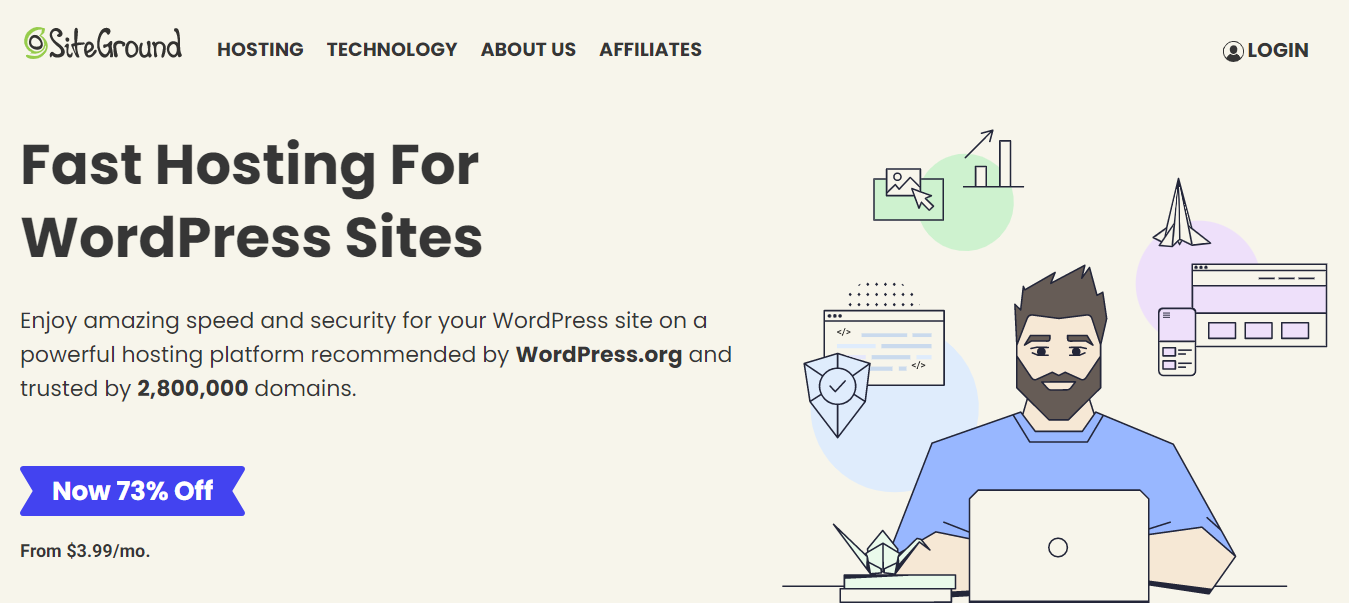 Siteground is one of the most outstanding WordPress Hosting companies was established in 2004 by a group of university students. This hosting provider is well-known for its top-notch customer services, reliable and fast hosting plans. Up to the present moment, Siteground has hosted over 2.000.000 domains. Siteground's offices are established in 5 different countries including Bulgaria, Italy, Spain, America, and the UK. SiteGround's WP-optimized hosting includes everything you need to generate and boost a successful website.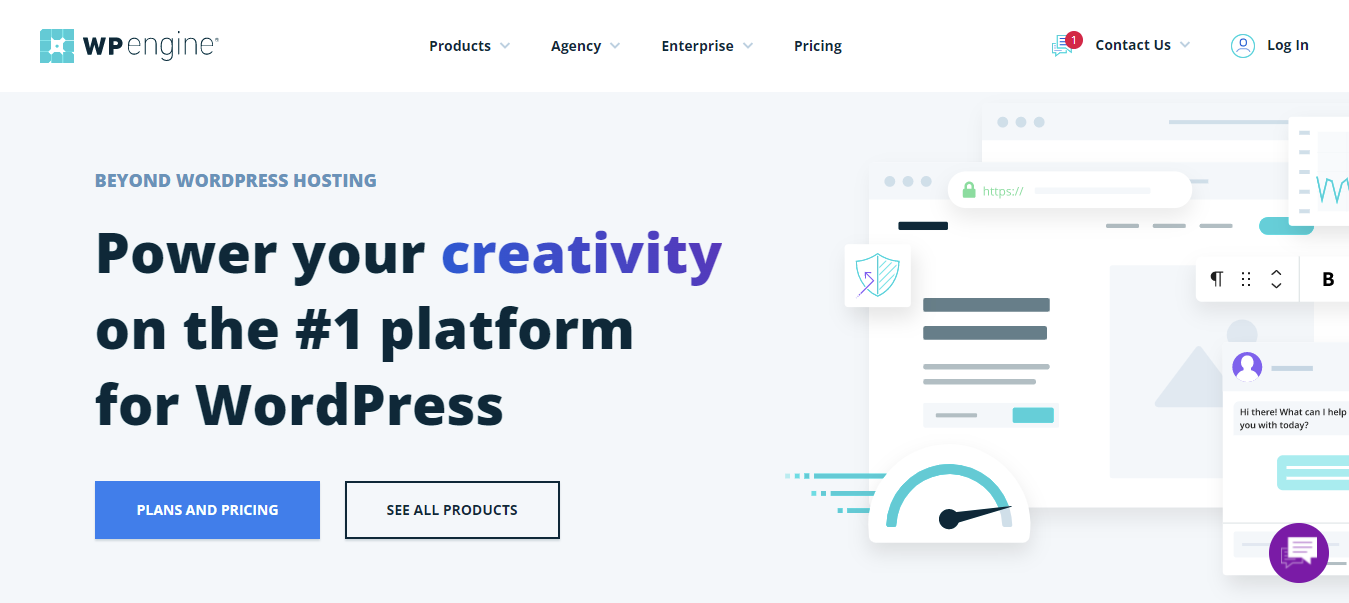 WP Engine is another serious competitor of Siteground. It is introduced in 2010 in Austin, Texas. WP Engine specializes in offering hosting services, especially for WordPress sites. Moreover, it provides you with various website management tools that give you the opportunity to build a successful website as ease as pie. Additionally, it also offers a lot of cloud hosting and multiple security solutions. The goal of WP Engine is to provide clients with the ultimate digital WP experience. This platform takes advantage of over 30 open-source technologies in order to accelerate and deliver innovation for your website.
Main Features
The feature is one of the vital factors that you can need to thoughtfully consider in advance of choosing the right hosting provider for your website. Below, we provide you with a feature comparison table to make it easier for you to determine which is better. Let's take a quick look.
| | | |
| --- | --- | --- |
| Features | SiteGround | WP Engine |
| Automated daily backups | ✔️ | . ✔️ |
| Server-level caching | ✔️ | ✔️ |
| Free SSL certificates | ✔️ | ✔️ |
| Available Staging environment | ✔️ | ✔️ |
| Free migrations | ✔️ | ✔️ |
| Pre-installed WP-CLI | ✔️ | ✔️ |
| Automatic WordPress core updates | ✔️ | ✔️ |
| Pre-installed WordPress | ✔️ | ✔️ |
| Email hosting | ✔️ | ❌ |
| Built-in CDN | ❌.(has a Cloudflare integration) | ✔️ |
| Elasticsearch | ❌ | ✔️(only Ecommerce plan) |
| Automatic plugin updates | ❌ | ✔️(Advanced plans) |
Ease to use
SiteGround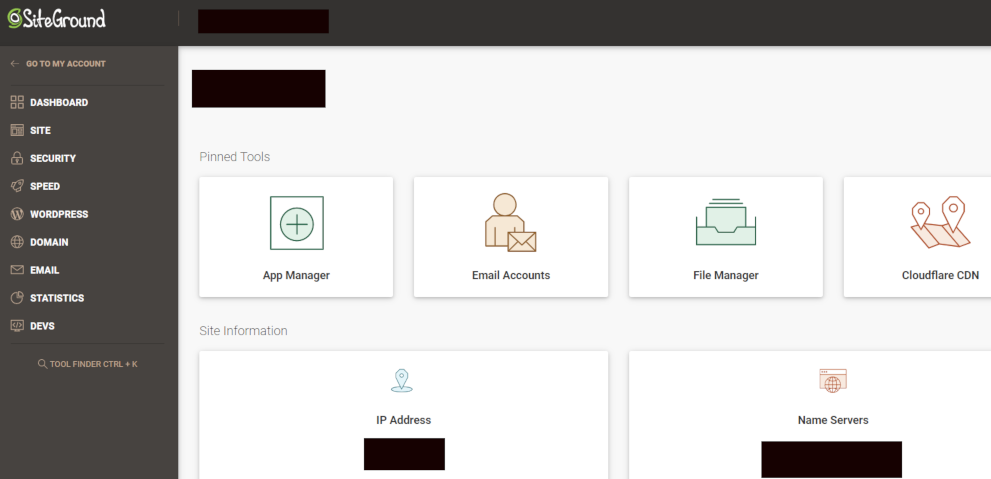 In general, SiteGround has simplified some of the complicated technical aspects of hosting management. Thanks to that, the dashboard of SiteGround looks more simple and more suitable for various users of all levels. Although its design doesn't make an impression on users in terms of good-looking appearance, it works effectively. Besides that, although SiteGround doesn't offer available documents, most of its managed hosting servers are very easy to use.
WP Engine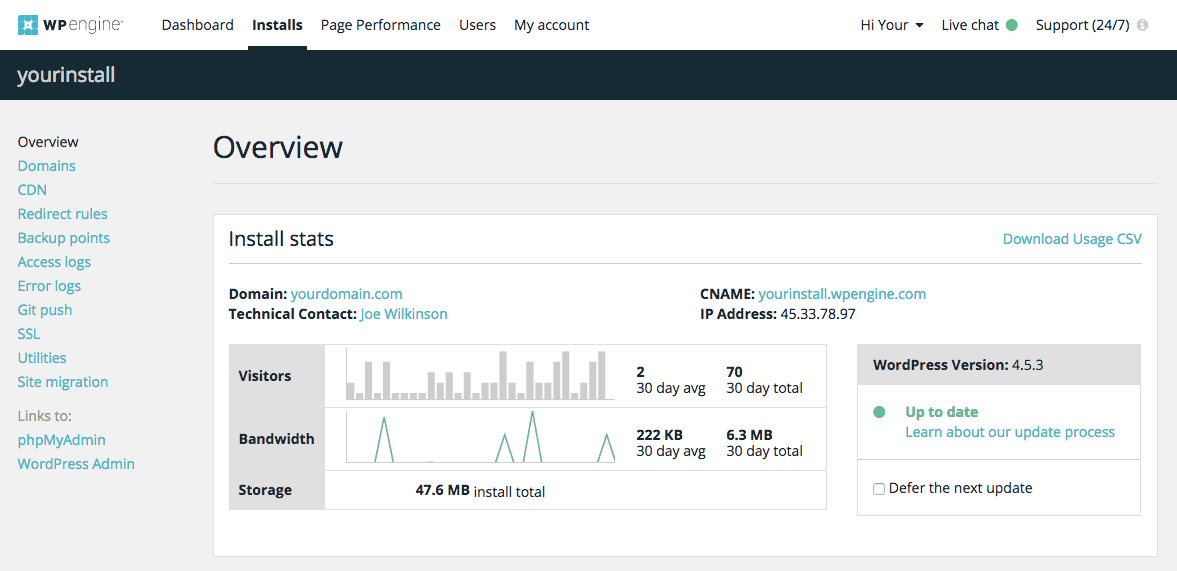 If you are getting used to using the WordPress Admin Dashboard, you will find WP Engine's dashboard very easy to use. The admin dashboard of WP Engine is specially designed with an intuitive interface to help users easily access and navigate to features such as Domains, CDN, SSL, Backup Points, and much more. While using other hosting servers, you can get into a little trouble. Besides, WP Engine also allows you to migrate your WordPress site to its servers by using a site migration plugin.
However, from the beginning, WP Engine's design only focuses on developers. Therefore, if you are a beginner, a steep learning curve can take you a lot of time. Plus, WP Engine provides you with an official document to help handle your problems. For this reason, you don't hesitate to try this powerful hosting provider.
Speed and site performance
Owning a website with stainable performance is the desire of many site owners. Since the speed of a website will not only directly affect the experience of users on your website but also influence your site ranking on search engines. Thereby, you need to choose a high-quality hosting server with faster speed to make sure your site works effectively. We conducted a test on the Pingdom tool and the result is shown in the table below.
| | | |
| --- | --- | --- |
| Areas | SiteGround | WP Engine |
| New York | 0.645s | 1.61s |
| Melbourne | 1.563s | 1.67s |
| Stockholm | 1.39s | 1.60s |
As you can see, SiteGround really has excellent performance for its price. This hosting service will load fast if you use it for websites such as low-traffic blogs, portfolio websites, etc. On the other hand, WP also holds up better in load test situations. So, it will be better for high-traffic websites, eCommerce stores, membership sites, etc.
Customer service
SiteGround
According to many customers' experience, SiteGround's customer service never makes them be disappointed. SiteGround provides excellent customer servers via 24/7 live chat, mobile support, and ticket. The majority of 24/7 live chat is commonly used by many users. Whenever you get troubles, you easily contact them via live chat. And of course, clients never had to wait too long and problems were usually resolved quickly.
In addition, if a live chat service is not available, you can make a call to directly contact a consultant. You will never have to wait longer than 5 minutes to connect with them. Plugin, If you submit a ticket, your problems will be responded to within 10 minutes.
WP Engine
The customer service of WP Engine is available 24/7 via live chat support for all clients. However, 24/7 phone support is limited to the Startup plan. If your problem can not be quickly handled via chat or phone, you can use an internal support ticket. Especially, enterprise customers can get access to 24/7 ticket support via email.
In addition, WP Engine also has a collection of knowledge base blogs, how-to guides,s and tutorials to help users easily resolve their own problems.
Pricing plans
SiteGround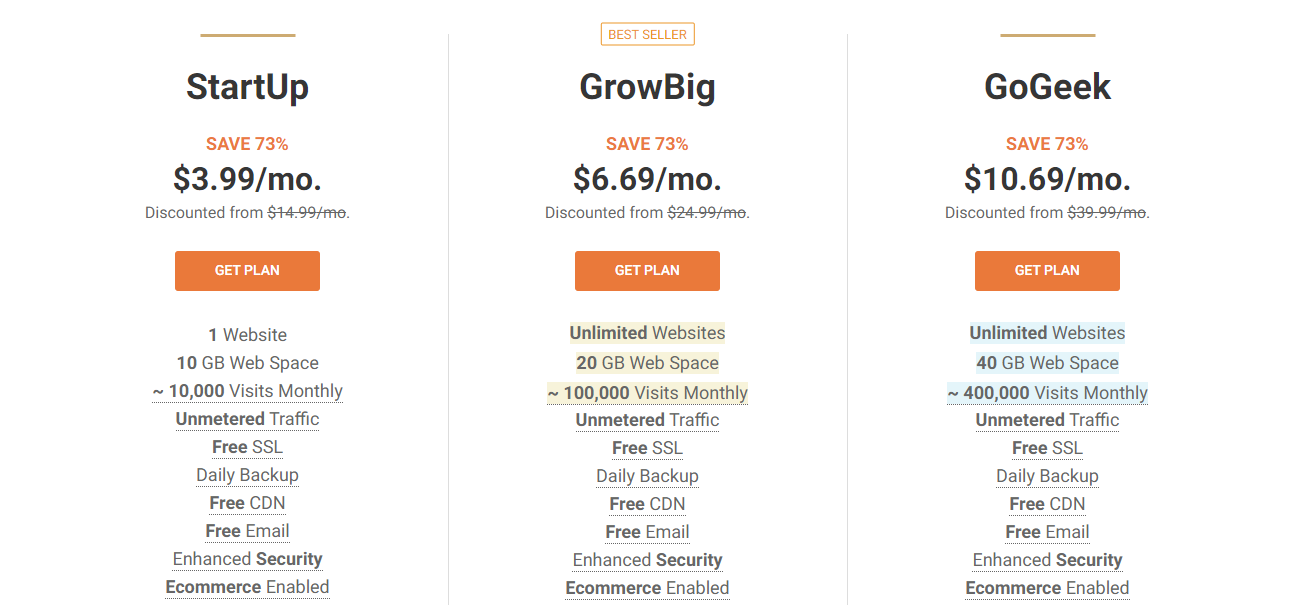 There are three flexible packages for you to choose from if you are going to use SiteGround. They are:
Start-Up: From $3.99/month for 1 website, 10 GB of storage, and ~10.000 visits Monthly. This package is a perfect choice for small-sized websites.
GrowBig: From $6.69/month for unlimited websites, 20 GB of storage, and ~100.000 visits Monthly. You purchase this plan if you are running large-sized websites.
GoGeek: From $10.69/month for unlimited websites, 40 GB of storage, and ~400 visits monthly.
Generally, SiteGround's plans have an affordable price. Even they may seem lower compared to other hosting providers in the market. However, these special prices only apply to your first term of hosting and then they will increase significantly.
Especially, SiteGround offers you a 30-day money-back guarantee which gives you a great chance to experience all hosting services. If you are not satisfied with the quality of services, you can easily delete your account and get a refund without contacting support staff.
WP Engine
| | | | | |
| --- | --- | --- | --- | --- |
| Plan Name | Diskspace available | Bandwidth | Sites include | Monthly prices |
| Start-Up Plan | 10 GB | 25.000 visits/mo | 1 | $24.00 |
| Professional Plan | 15 GB | 75.000 visits/mo | 3 | $47.20 |
| Growth Plan | 20 GB | 100.000 visits/mo | 10 | $92.00 |
| Scale Plan | 50GB | 400.000 visits/mo | 30 | $232.00 |
Start-up: This plan is suitable for small businesses, affiliate websites, and blogs.
Professional: This option will be perfect for your website if you are unsatisfied with your current host.
Growth: This plan is a great choice for a growing business. When purchasing this plan, you can get 24/7 phone support. By using this plan, all your complex issues will be handled quickly.
Scale: WP Engine advertises that this is the best value option. You can perfectly use it for a fast-growing business or blog. Additionally, you can get 24/7 live chat and 24/7 phone support.
There is no denying that WP Engine's packages are quite expensive than other hosting providers in the market. But they are really worth the money you pay. Since they provide numerous features and plenty of room for your site to grow efficiently. One of the disadvantages is that all packages of WP Engine don't include a free domain. However, if you are going to migrate your website to its servers, this company will pay money for your domain name and privacy for the next term.
Pros and Cons
SiteGround
Pros
Cons

High-speed web hosting
Easy and intuitive to use
Excellent customer support and assistance
Server location: you can choose between servers in America, Asia, Australia, and Europe
Many advanced features: For example, staging, own caching, or Git repositories.
Unlimited traffic
Great Collaborators
Automated daily backup

More expensive than other hosting servers in the market
It supports you to migrate your website, however, you will be requested to pay $30
Each SiteGround plan comes with a maximum size for each database of 1 GB
WP Engine
Pros
Cons

Excellent load speed
High performance
Easy to install and use
Advanced security
60-day money-back guarantee
Automatic daily backup and plugin updates
Automated site migration plugin

WordPress only Hosting
No free domain or email hosting
Inflexible pricing plans
Unaccessible to .htacess file directly
US only server
SiteGround Vs WP Engine: Who is the winner
We have just provided you with a depth comparison based on 6 aspects. Overall, both hosting providers have their own strengths and weaknesses. Although WP Engine was introduced in 2010, it has gained loads of significant achievements. While SiteGround is a famous hosting company that has had a long time working in the web hosting business field. Therefore, it is difficult for us to exactly which one is better for your website, since it largely depends on the demands of your website.
If you are finding better traffic management, user experience, and performance, SiteGround is a perfect choice. In contrast, if security measures, dedicated WP plugins, excellent speed, available storage are necessary features that you are looking for, WP is a clear winner.
What is your perspective? Which one will be better for your website? Let us know by leaving a comment below. In addition, you can refer to a list of top WordPress hosting. Moreover, don't miss a collection of beautiful, SEO-friendly, easy-to-use free WordPress Themes on our website.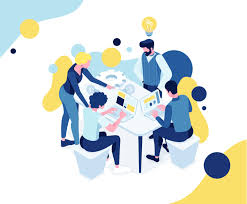 Latest posts by LT Digital Team (Content & Marketing)
(see all)