It's time to create new or re-design your websites to bring it to the next level.
Check out Top 110+ Best Free Joomla! templates Listing of 300+ Best Free WordPress themes
Read this article to get the most helpful Woocommerce coupon plugins for raise your sales and keep up your close customers!
Good Ecommerce depends on merchandise, shipment, and coupon. Countless clients love coupon cause they like to save money. So why not give them a way to keep their interest right on your site? By generating a coupon system with Woocommerce coupon plugins, you will give them the most ideal approach to look at your site frequently, buy your merchandise and continually be your close customers. Why not?
So, this article is for you. We have picked 9 professional Woocommerce coupon plugins for you to create coupon. Let's begin!
With the help of Ninja Popups, you can display coupon with your customers as a pop up. This plugin comes with professional functions (drag & drop, align, set up animation  and so on), 60 pop up themes and 74 animated effects!
Features:
Lock content using opt-in popup
Social locker
Custom style of coupon
Different pop up for each page
Responsive themes
Hit and conversion rate reports
And more
Highlights:
65+ popup design
Frequent update
This plugin provides you all types of discount to clients: coupon, voucher, offers, promotions and so on. Smart Coupons is a member of WooCommerce family, so you can trust in the quality of this plugin.
Features:
Fixed amount and percentage coupons
Bulk creation
Choose to allow free shipping
Shareable coupon on social media
Intergared coupons with products purchase
And more
Highlights:
Top-rated plugin
Good performance
Not only creating coupon, but this plugin can help you design your coupon in a most attractive way. You can use shortcode to custom coupon, display in aywhere you like, and share coupon on social media to get more interact and coversion rate.
Features:
10 coupon templates available
Multiple coupon box templates
Choose the position to show using shortcodes
Create like/dislike feedback system
Share button inside coupon
And more
Highlights:
Compatible with most of WordPress theme
External CSS support
Another plugin enables you to create affiliate coupon and boost your business – WordPress Coupon Plugin – WP Coupons and Deals. With this plugin, you can create three types of coupon: deal, coupon and image. In addition, you can show the coupon on sidebar or other widget areas as liking.
Features:
Insert shortcodes from post editor
Click to copy function
Live preview coupon
Widget to show coupon
Display coupon expiration
Share button
And more
Highlights:
Lightweight
Responsive interface
Good plugin
Coupon Generator for WooCommerce is a useful plugin that allows you to custom your own code and operate it. With this plugin, you can create tons of coupon for your site and satisfy your customers, and boost your sales.
Features:
Create unlimited numbers of coupon
Choose discount type
Allow or not free shipping
Set coupon expiry date
And more
Highlights:
Basic but effective plugin
Good support
The idea of YITH WooCommerce Gift Cards is creating a gift (coupon/discount) card, then helps users give their friends as a present. The gifted person can redeem that gift on your site, and you will have a new customer. Such a cool idea, right?
Features:
Create categories to organize the gift card images
Choose design for gift card
Upload custom images for gift card
Set fixed amounts or let customers choose amounts
Schedule delivey date
And more
Highlights:
Cool plugin
Beautiful designs of card
Most of customer are interested with coupon, so why you don't create some and satisfy them? Using Coupon Creator, in just a few clicks, you can set up and generate a huge of coupon as per the requirement. It allows you to create coupon quickly, create images in stead of coupon, create single coupon of loop of coupons.
Features:
Custom coupon setting
Create coupon using shortcode
Display coupon loop using shortcode
Assign categories for coupon
Coupon inserter with shortcode
And more
Highlights:
Good plugin
Highly customizable with color
WooCommerce Volume Discount Coupon is a plugin specially designed for WooCommerce. It will show the coupon box when customers check out. In addition, this plugin allows to show discounts directly on products when they're added.
Features:
Automatically add discount
Apply discount coupon with products
Change color of coupon using shortcodes
Directly display discounts when they apply to products
And more
Highlights: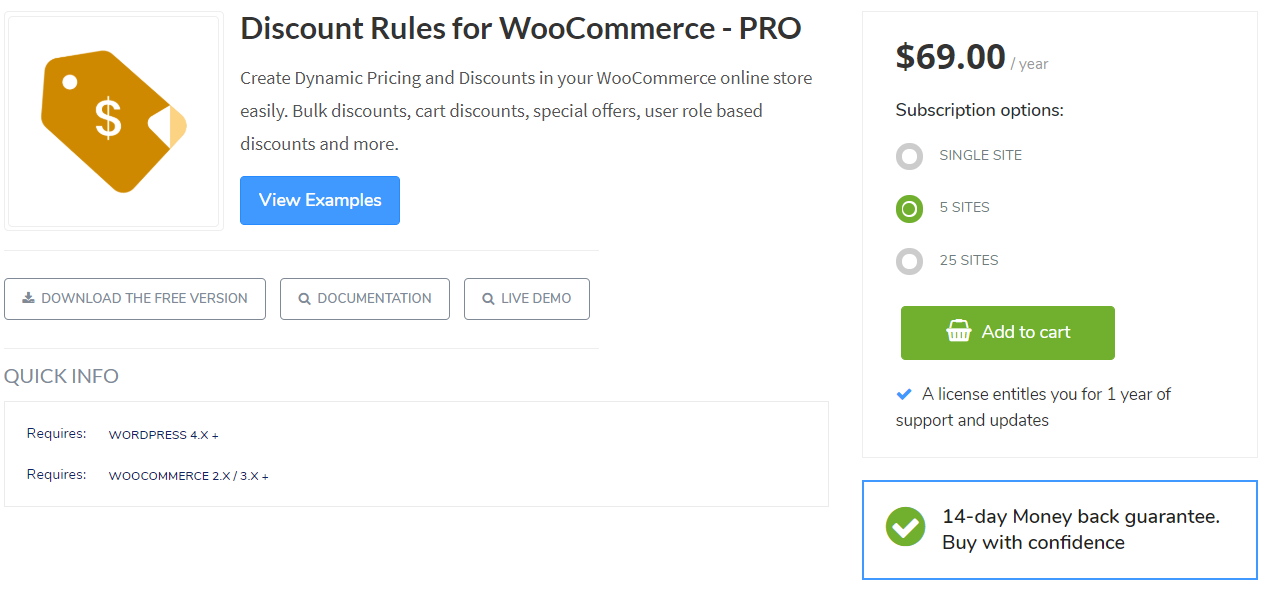 WooCommerce Discount Rules is really an amazing plugin, with amazing coupon features. It helps you to not only display coupon, but create dynamic coupon which interact perfectly with your Ecommerce activity. If you are looking for a proffessional solution for coupon, this plugin totally isn't a bad choice
Features:
Coupon on product pages
Coupon activated discount
Store-wide global coupon
Category-wide coupon
Percentage or price based
Bulk purchase discounts
And more
Highlights:
Great support
Plenty of features
Let's wrap up
We have recommended you collection of 9 significant Woocommerce coupon plugins. Feel free to come and pick the one you like best. Moreover, if you want a dazzling theme for your bussiness site, investigate our free WordPress themes!
If you have any idea or issue, connect with us. We really want to know!
Are you Web Freelancer or Web Design Company? Join our Club and Access our Resource!
Access 500+ PRO Premium Joomla! and WordPress themes with $19,200 just $149, Quickstart Package included!