In this tutorial, we will show you how to install VirtueMart 3.0.18. After you have installed the software, we recommend reviewing our other VirtueMart tutorials to help you in getting started, including:
The installation of VirtueMart will help you setup an online store right within Joomla 3.x! With VirtueMart, sometimes referred to as simply VM, you have control over many of the essential e-commerce features, including product and category configuration, taxes and shipping settings, and even the selling of downloadable products.
Before installing VirtueMart:
VirtueMart requires Apache, PHP, MySQL, and Joomla to be installed. All of InMotion Hosting's hosting accounts include these features, so configuring VirtueMart shouldn't be a problem. If you don't host with InMotion Hosting, please contact your web hosting provider and ask if your server meets these minimum server requirements. Also, if you haven't already, you'll have to install Joomla 3.x before you can add VirtueMart.
While the current version of VirtueMart is 3.0.18, the steps in this page still apply.
To install VirtueMart for Joomla 3.x
Step 1: Download VirtueMart
Visit http://virtuemart.net/downloads and click Download VirtueMart 3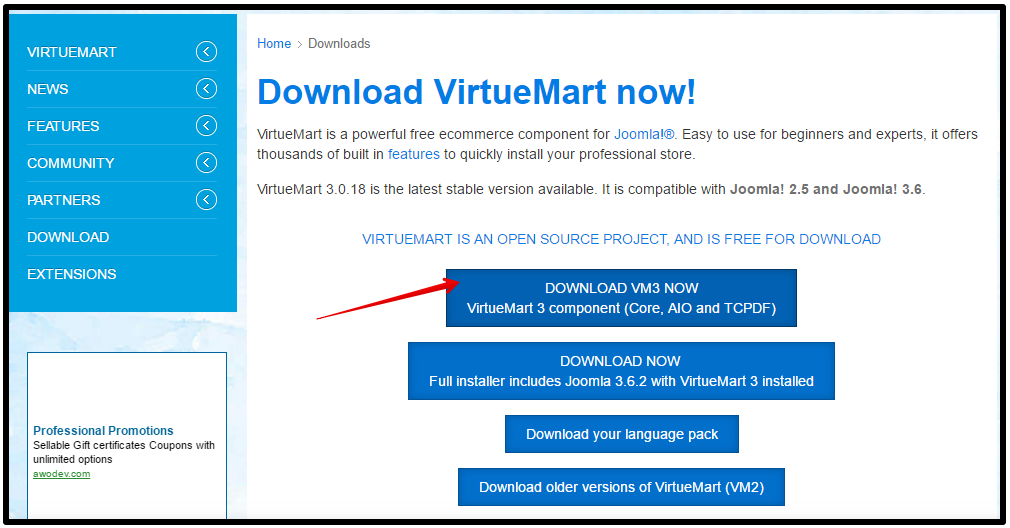 Step 2: Extract the zip file you just downloaded, com_virtuemart.3.0.18_extract_first.zip
You will end up with three files:
com_tcpdf_1.0.2.zip
com_virtuemart.3.0.18.zip
com_virtuemart.3.0.18_ext_aio.zip
Step 3: Log into your Joomla Dashboard
Step 4: In the top menu, hover over Extensions and click Extension Manager
Step 5: Under Upload Package File, click Browse. Find and select com_virtuemart.3.0.18.zip, then click Upload & Install.
Step 6: You should then see a page confirming VirtueMart has been successfully installed. At this point, you have just setup VirtueMart, but there are a few more steps. You will then be presented two options:
 Install Sample Data
Go to the Shop
In most cases, if software provides you with sample data, it is a good idea to install it. This sample data will include products, categories, etc. While you won't actually sell any of these sample products, if you configure VirtueMart to include them it will help you understand how everything within the shop fits together.
Click the Install Sample Data button. You will then see a success message stating Sample data installed!!
Step 7: In the last few steps, we walked you through the installation of the first zipped file, com_virtuemart.3.0.18.zip. VirtueMart is not fully installed however, we also need to install the contents of com_virtuemart.3.0.18_ext_aio.zip
Again, hover over Extensions in the top menu and click Extension Manager
Step 8: Click the Browse button under Upload Package File. Locate and select the com_virtuemart.3.0.18_ext_aio.zip on your computer, and then click Upload & Install.
You will then see a success message stating Installing Virtuemart Plugins and modules Success.
Congratulations, you have successfully installed VirtueMart for Joomla 3.x! Our next step is to create a link to our VirtueMart store front so users can get to our store.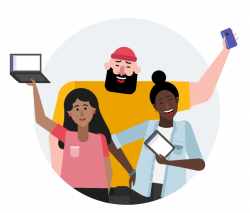 Latest posts by Document Team
(see all)