Are you planning to build a website for personal or business purposes? You've heard a lot about WordPress and Joomla! CMS but you are still wondering which is good in creating and developing a website of your own? If yes, we'll help you choose the right one by comparing Joomla! vs WordPress in many different aspects. So, it's time for you to explore the blog today. Let's get started!
Introduction
What is CMS?
According to Wikipedia:
A content management system (CMS) is a computer software used to manage the creation and modification of digital content (content management). A CMS is typically used for enterprise content management (ECM) and web content management (WCM).
Some of the main features of a CMS are indexing, search, and content retrieval. This means that users can easily and quickly find the content they are interested in, making your website more search engine friendly. Besides that, you can also update and customize the content after publishing simply. Moreover, thanks to it, you can design your site interface in your own way without any trouble.
Both WordPress and Joomla are popular and great content management systems. In other words, they are software programs that help you create a website without having much-specialized knowledge in computer coding.
The benefits when using Joomla! or WordPress
Both of them are open sources that are free to use.
The installation of Joomla! or WordPress is not much complicated.
SEO support.
There are many free themes/templates for you to select to use for your site. You can customize and design any of them without much coding skill requirement.
Although both of them have some same benefits, there are still differences. So, if you need to have an overview of the two platforms and the important differences, we would like to introduce them to you in the next part. Now, let's move on to the detailed comparison between Joomla! and WordPress.
Joomla! vs WordPress: Basic information
Joomla!
Joomla! was released in 2005. It has become one of the dominant CMS platforms on the market. Currently, many giant websites have been using Joomla! to manage and develop vital business activities. This open-source comes with many free and useful templates and extensions, supporting webmasters to design the website effectively.
This platform is built based on PHP and it uses a MySQL database for storage. Joomla! provides some database options, so it seems to be quite popular and useful for people with certain knowledge about technology. Now, on the internet, this open-source CMS powers about 3%-5% of the websites. The main website of Joomla! is joomla.org.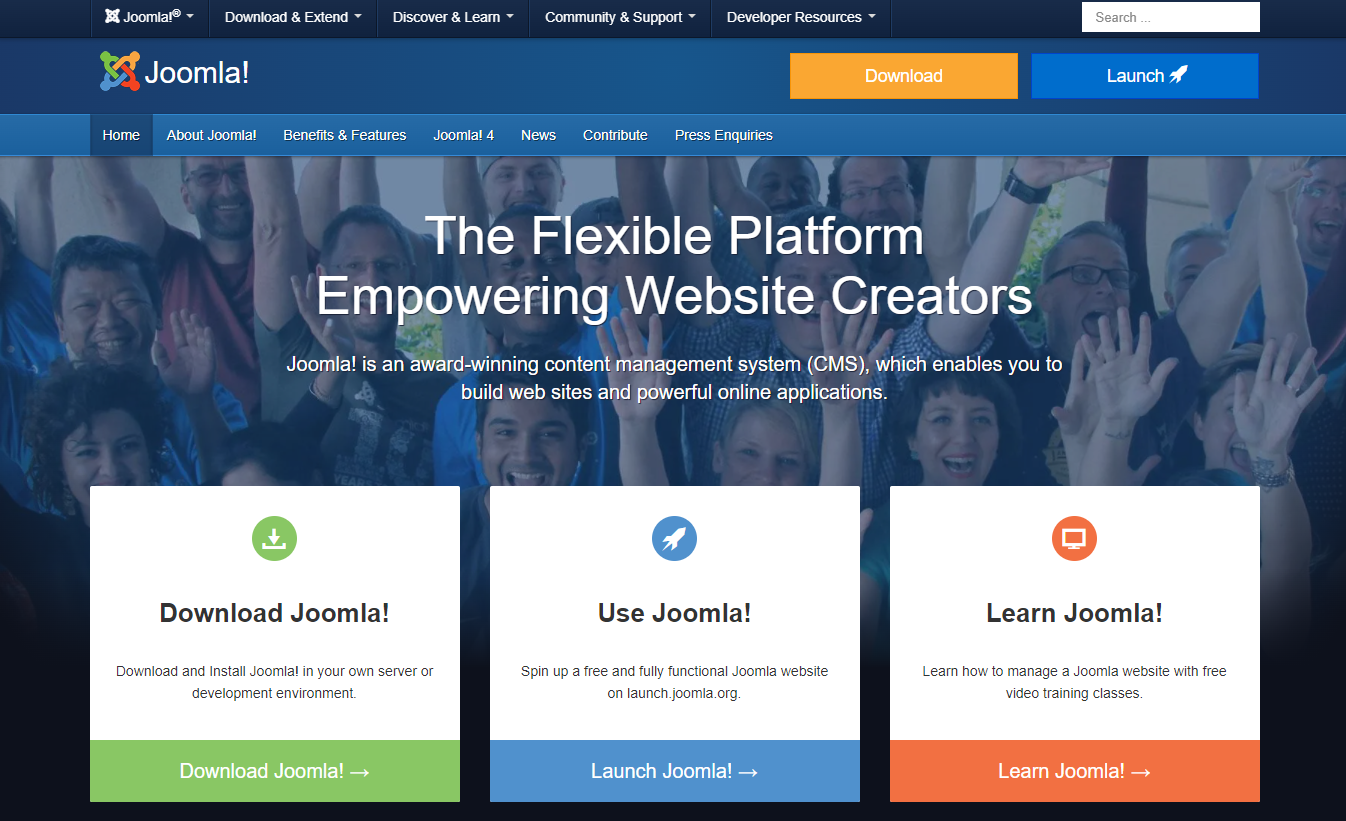 WordPress
First launched in 2003, WordPress has been going strong with great website content management and design features. Therefore, it is the most popular CMS to date. With more than 40% of websites using WordPress as their backbone, it is estimated that WordPress will continue to lead in popularity in the future.
Compared to Joomla!, WordPress is considered more user-friendly because it is not technically demanding. Therefore, those who are new to learning how to create a website often tend to choose WordPress to start.
There are two websites built by Automattic – the parent company of WordPress.
WordPress.com: It is a hosting platform. So, you are able to directly build a WordPress website and you needn't organize web hosting.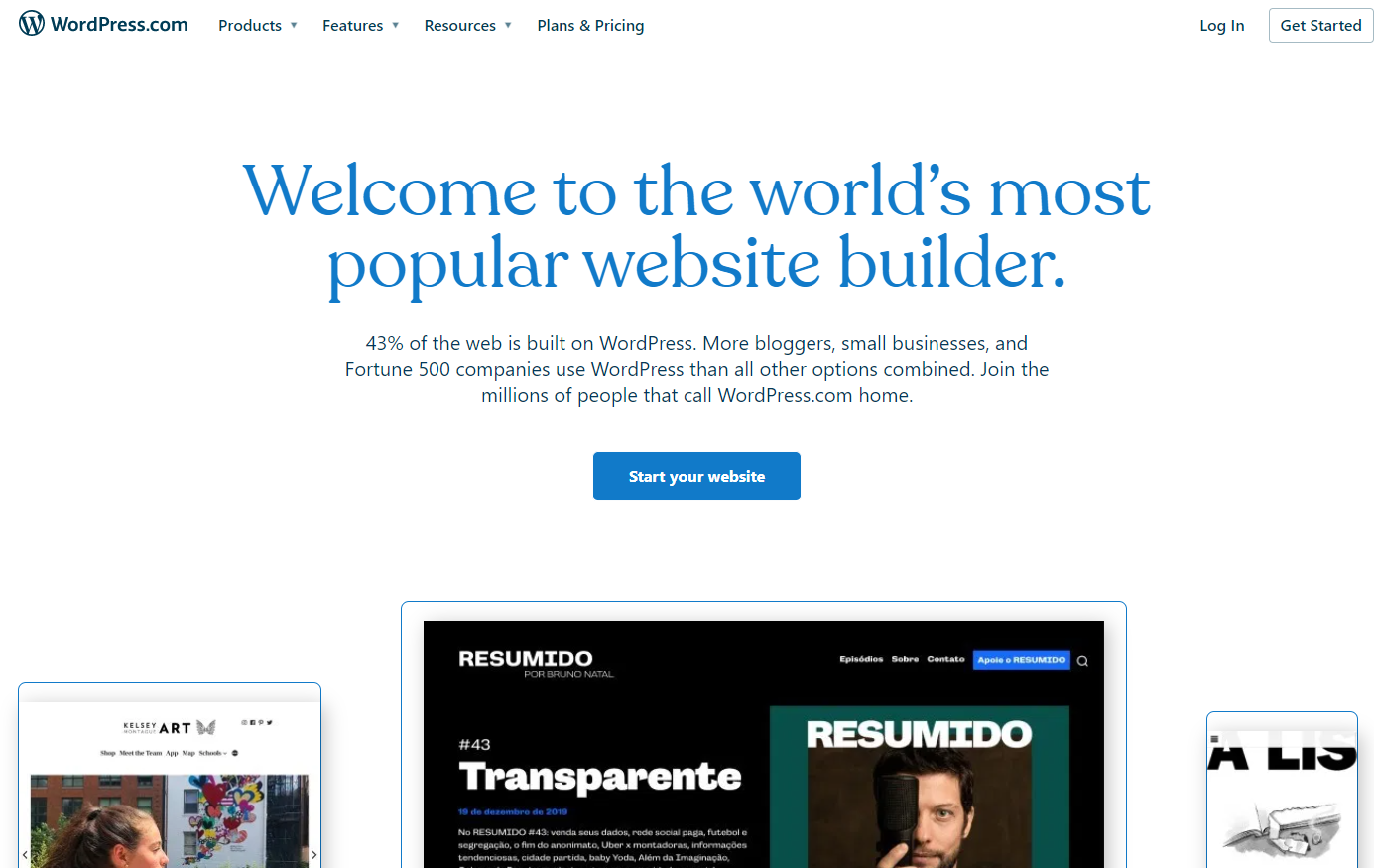 WordPress.org: It is a self-hosted CMS. That is the reason why you can effectively host your site on your own web host.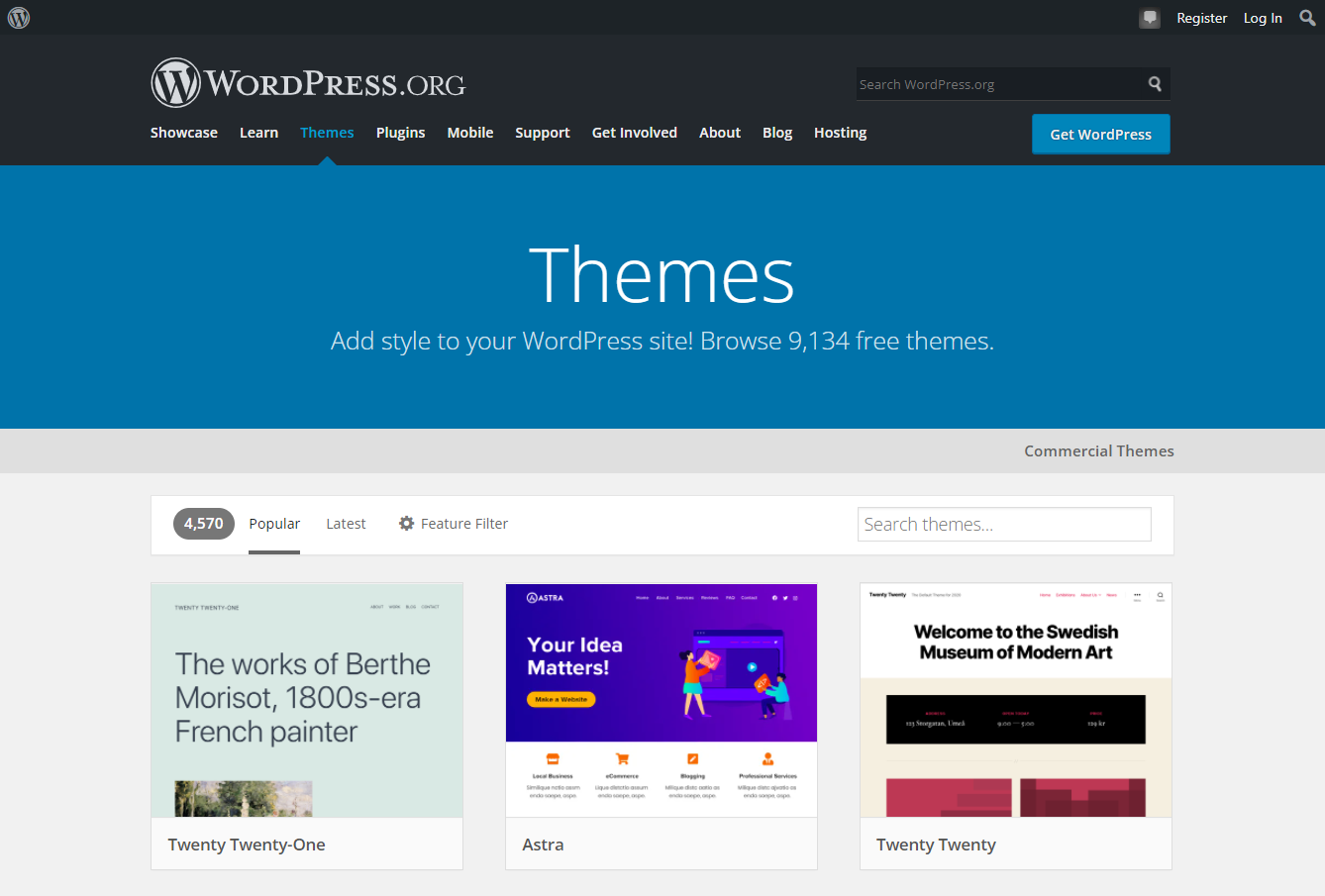 Joomla! vs WordPress: Outstanding functions
Now, in order to give you a clear overview of the differences and similarities between Joomla! vs WordPress, we would like to approach their outstanding features first.
Customization
While Joomla! calling web interfaces Templates, WordPress calls them Themes. If you want to add features to grow and extend your site, Joomla calls them Extensions, and WordPress calls them Plugins.
Currently, in the Joomla extension library, there are more than 8000 extensions. Besides, you can also get more on the marketplaces or developer sites. In terms of templates, you are able to search for many templates from third-party developers.
On the other hand, WordPress is more overwhelming than Joomla! because currently, it has about 59000+ free plugins and 8000+ free themes in WordPress.org. In addition, there are also thousands of premium themes and plugins if you want to get more advanced features. So, you can get one of them on many different marketplaces, including ThemeForest, CodeCanyon, and much more.
In a nutshell, in terms of customization, WordPress is a winner thanks to a large number of plugins and themes, allowing you to edit and design your site simply and easily.
Security
Security is an important factor for any website. Therefore, when choosing a CMS to develop your website, users need to consider security issues. Joomla has more security advantages than WordPress. As you know, because WordPress is more popular than Joomla, WordPress will be good prey for hackers or other potential threats.
It is also worth noting that Joomla comes with a set of security extensions, allowing you to force SSL and two-factor authentication (2FA). Therefore, Joomla website owners can use this to improve the security of their website. In addition, Joomla developers also regularly release small updates (every 30-40 days) and major updates (about once a year) to improve issues that cause bugs and errors and enhance security.
On the contrary, because WordPress is so popular, hackers always see it as a top target for attack. However, WordPress developers are always trying to keep an eye on potential security threats. From there, they regularly release updates to improve and reduce the possibility of attacks. After about 40-50 days, they will release a new update to enhance the security of the website. However, the sad thing is that WordPress does not provide any dedicated features to force SSL or 2FA. Therefore, if you want to optimize the security of your WordPress website, you need to use security plugins.
Search Engine Optimization (SEO)
In the era of the Internet boom, using a website to reach potential customers as well as expand your business plays an extremely important and essential role. Especially, for businesses that have online business projects, attracting a large number of visitors will create favorable conditions to increase sales. Therefore, if your website is in the top 10 of Google or any other search engine, you will have a higher chance of increasing traffic and boosting your business. This is why website owners are always looking for ways to do search engine optimization (SEO). So, for 2 open sources Joomla and WordPress, how is its SEO level?
To be fair, Joomla is a middling SEO-friendly platform. Firstly, by default, SEO is already built in the core. You can access it by going to System -> Global Configuration.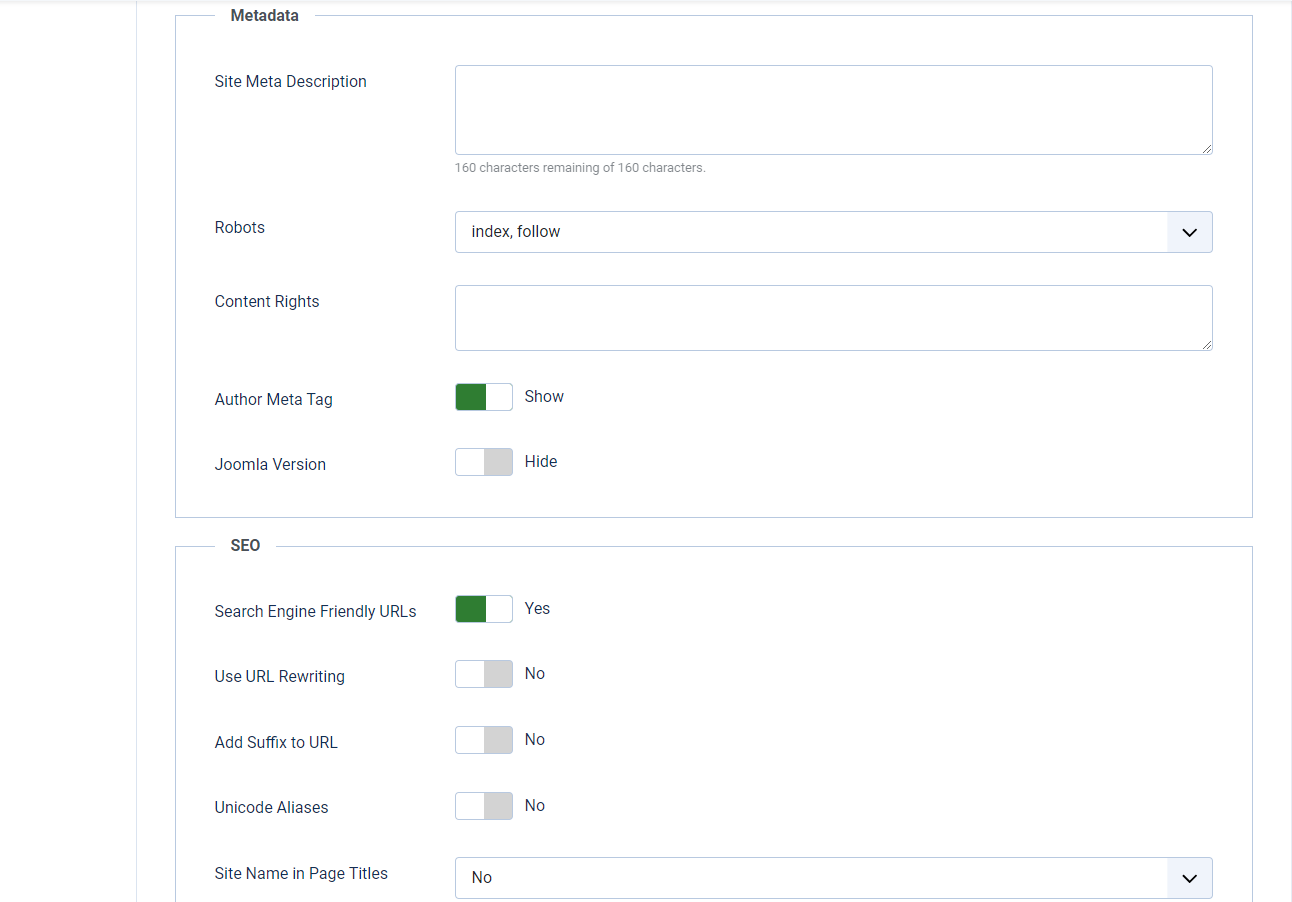 In addition, you can use extensions to support SEO. What's more? It also assists users in creating SEO-friendly content as well as meta descriptions. You can see some common SEO extensions for Joomla in the image below. They are Google Structured Data, SEO-Generator, EFSEO, etc.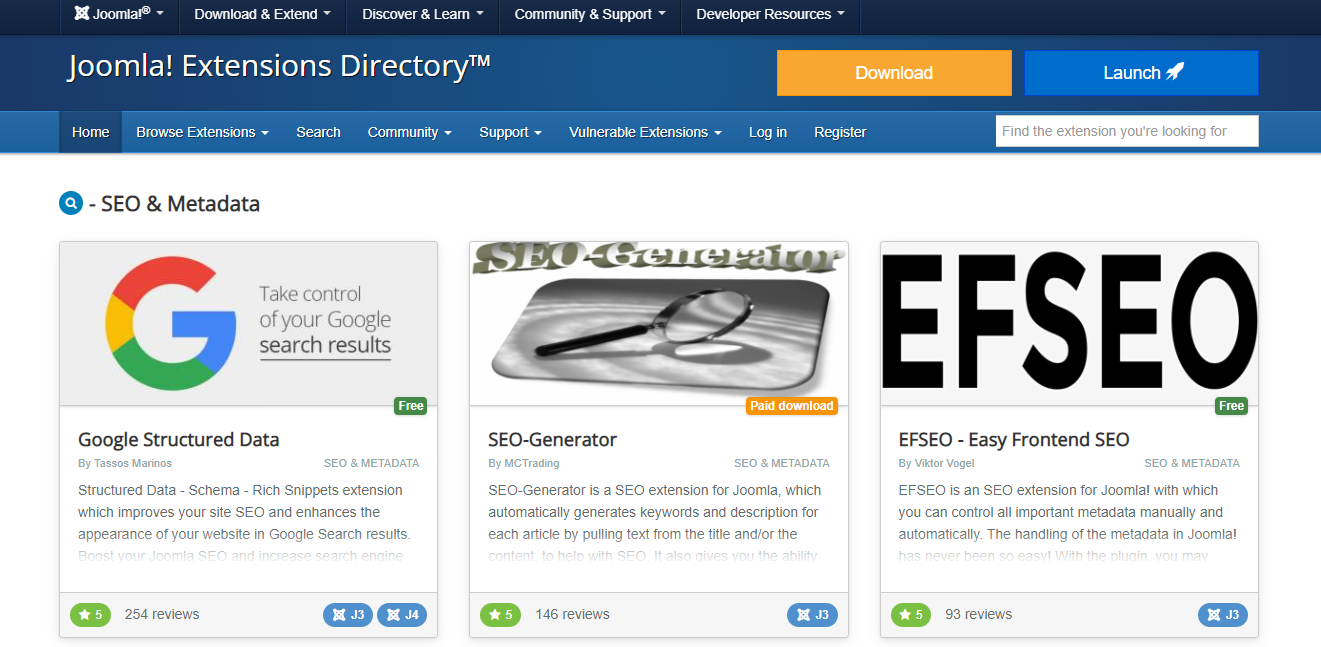 If Joomla is just average SEO friendly, then WordPress SEO performance is extremely good. Although WordPress doesn't have an SEO feature in the core, you can install more plugins to support this issue. By using SEO plugins for your website, you can easily optimize your site from small details like post categories, product categories, product descriptions, etc to bigger sections. Some popular SEO plugins include Yoast SEO, All in One SEO, Rank Math SEO, and much more. You can get more compared information about Yoast SEO vs Rank Math here.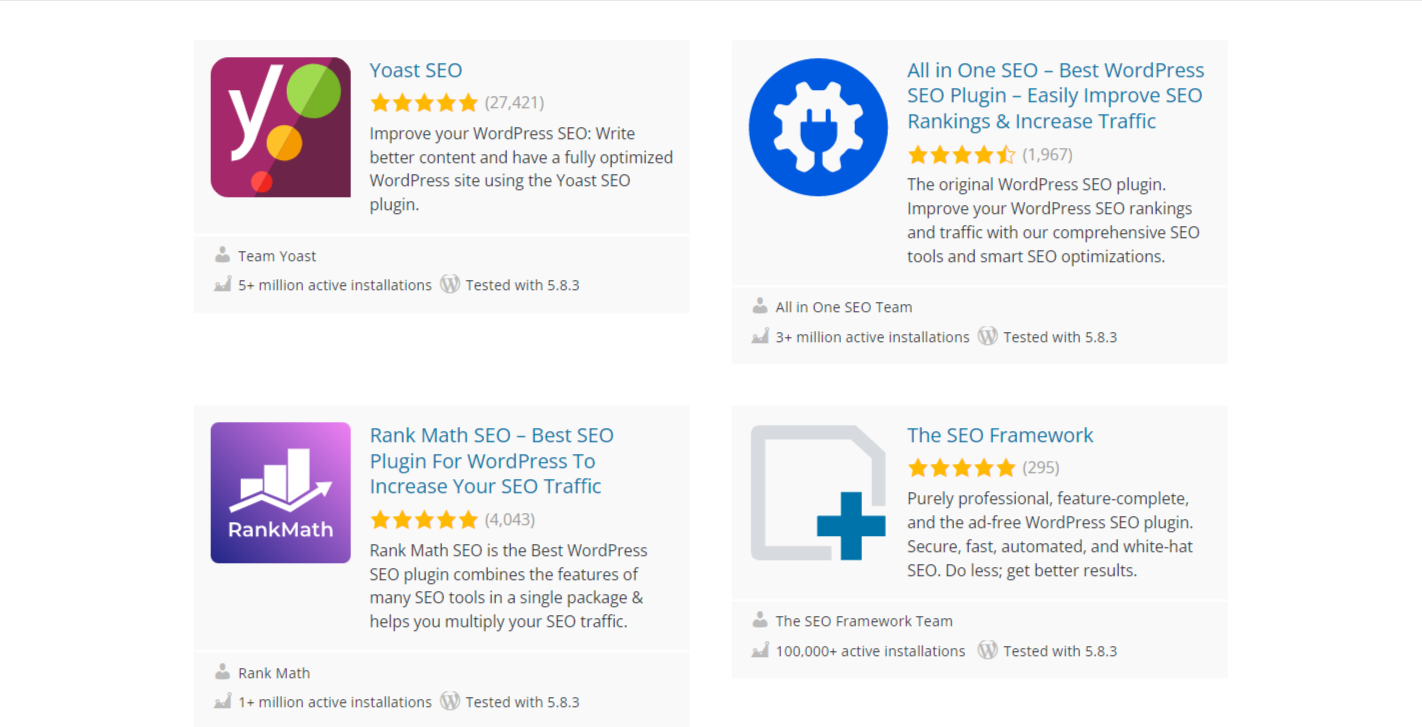 Therefore, in this round, WordPress SEO is better than Joomla one.
Page Speed
There are many factors that contribute to page speed, including CMS, CDN, host, media size, design elements, types of extensions/plugins used on your site, etc.
There was a test that showed the web speed of WordPress is slightly better than that of Joomla. In this experiment, two subdomains were built on the same hosting server. One is a WordPress website, and the other is Joomla. No extensions/plugins have been installed to ensure a fair comparison. And the results have shown that WordPress page speed is better (based on GTmetrix Grade). Also, when comparing mobile page performance, WordPress still has the upper hand over Joomla (based on Google Pagespeed Insights results).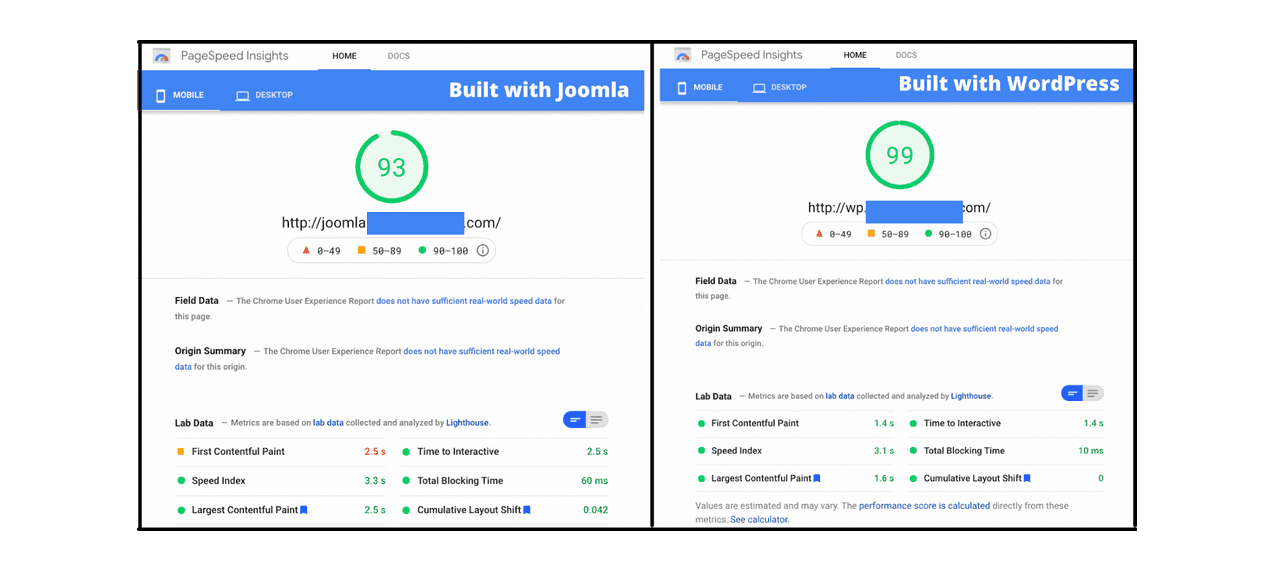 Page speed is also an important factor in search engine optimization. Therefore, it is not surprising that WordPress is chosen by many individuals and businesses.
Responsiveness
Today, the number of people using mobile devices to access websites is increasing. They only need to use a smartphone or a tablet with an internet connection to visit all websites. Therefore, websites need a responsive layout to be able to meet all different screen sizes and resolutions. So WordPress vs Joomla, which one wins the race in responsiveness?
It can be said that both Joomla and WordPress are highly responsive across screen types. However, Joomla has slightly less responsive front-end performance than WordPress. To overcome this situation, you can use the extension for Joomla, SP Page Builder, to improve user-friendliness. On the contrary, you can easily use a good WordPress theme in combination with a page builder plugin to optimize the responsiveness of your website.
Support and Community
When starting to build, design, and develop a website, there will be many difficulties that you must find ways to overcome. And this is where you turn to the community for support. So, for WordPress vs Joomla, is the community support strong and helpful?
For Joomla, there will be forums and multilingual support where you can get help and advice from many other Joomla users. You can ask anything related to the Joomla issue so that other Joomla users can answer you quickly.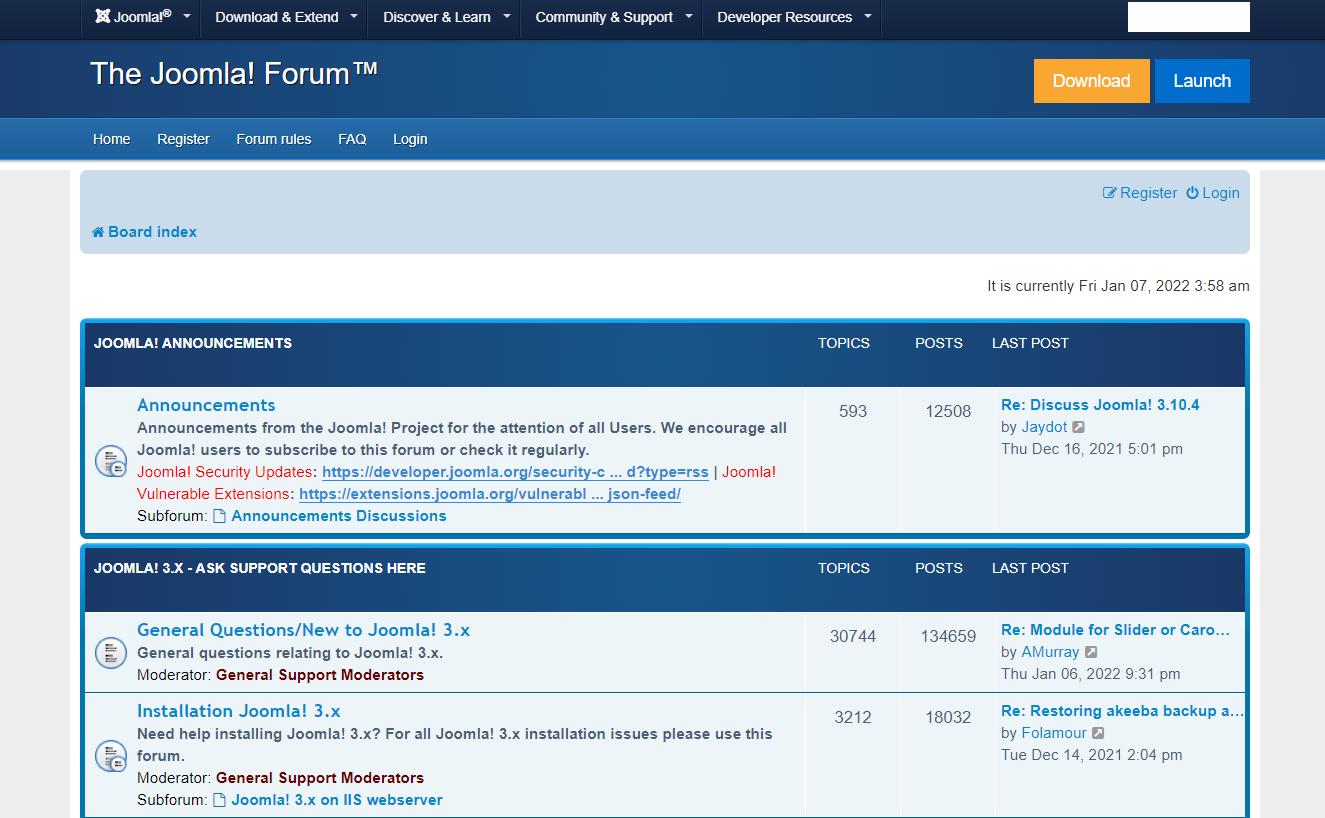 In addition, Joomla also provides you with rich and useful materials/documents so that you can start building your own website.
Moreover, if you want to hire web design services or experts in this field, that is also extremely easy and convenient.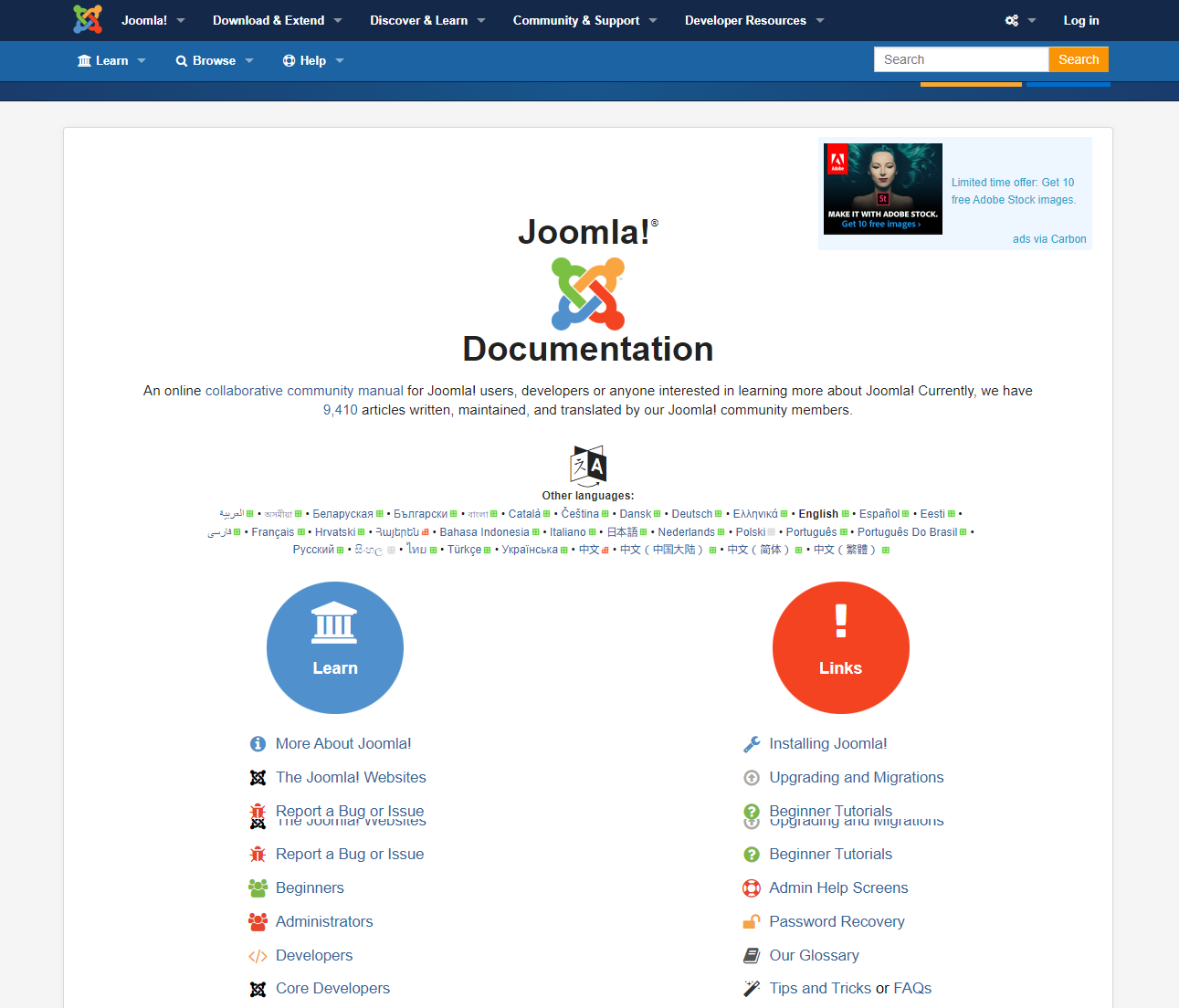 However, if you put Joomla and WordPress in the balance, then WordPress will be slightly better than Joomla. When you visit WordPress.org, you can quickly find documentation and user guides through the Support page. Here, you can learn a lot of knowledge from basic to advanced to be able to create a WordPress website that fully meets all your requirements.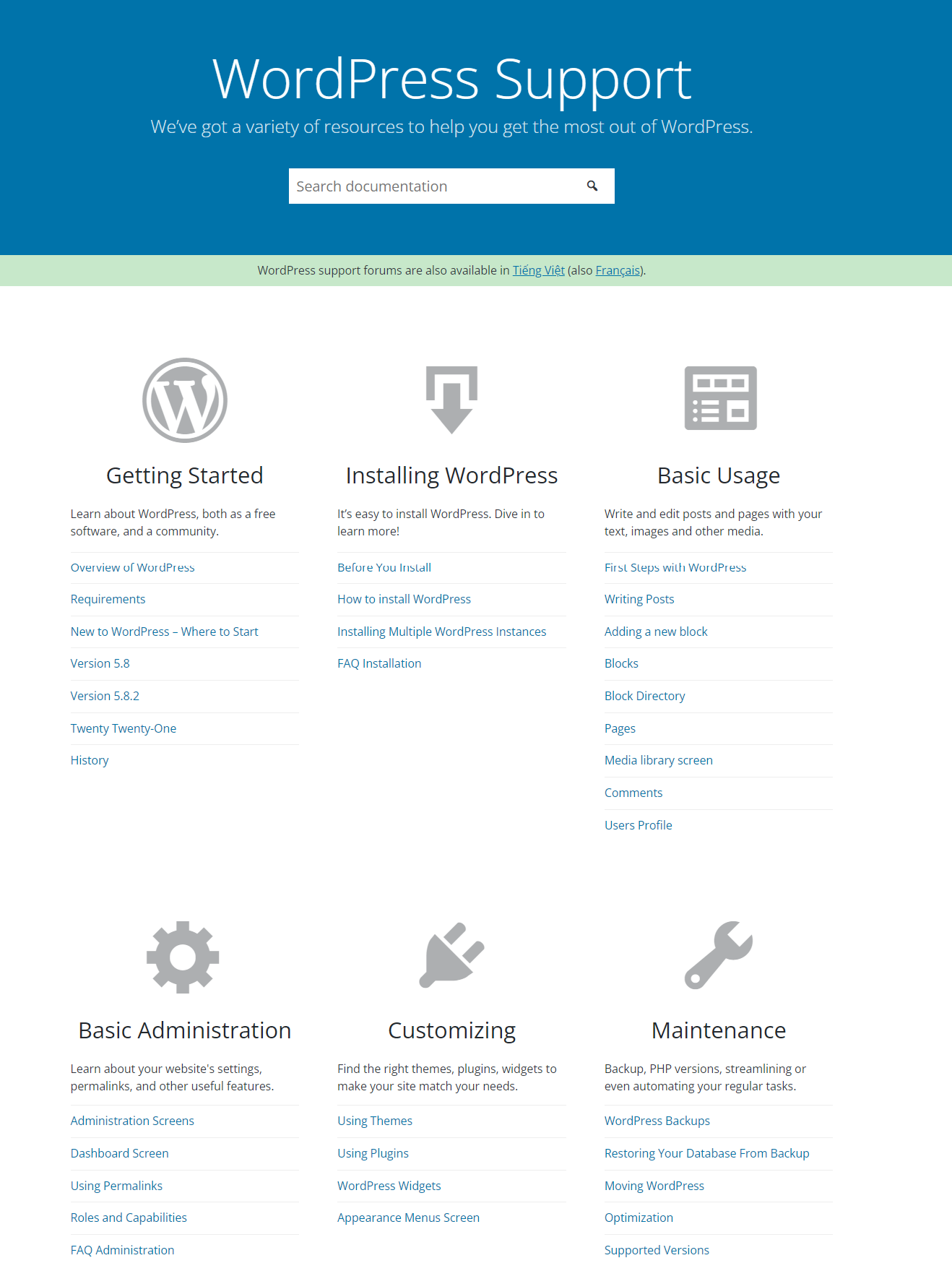 Furthermore, as you know, because WordPress is extremely popular, the community of WordPress users is large and strong. Therefore, you can easily and conveniently ask for help or support from the community. This is a free community so you don't have to worry about money. Besides the support from the community, you can also hire experts as well as WordPress web design companies to help you with complex technical issues in the website building process.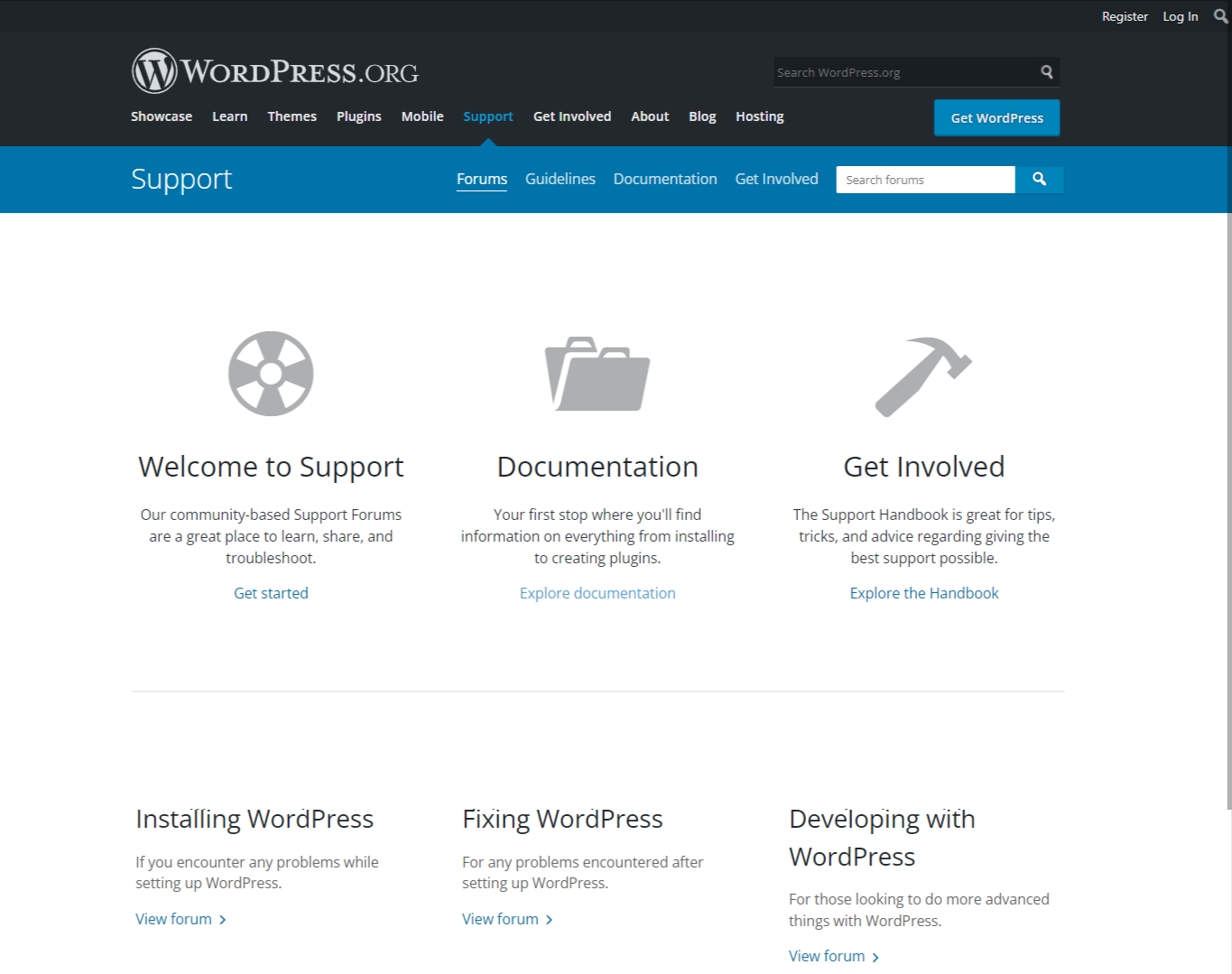 Joomla! vs WordPress: Ease of use
Between Joomla and WordPress, WordPress seems easier to use in some respects. If you love Joomla and want to use it, you need to have patience as well as technical knowledge.
In terms of installation, the two platforms are not too different. However, you will clearly see the difference after installing either. For Joomla, you need to spend more time and effort to be able to build and develop it in your own style. In contrast, using WordPress is somewhat simpler and easier. Sometimes, it only takes 30 minutes – 1 hour to complete your WordPress site setup.
So, let's take a look at the back end of Joomla and WordPress now.
This is the back-end dashboard of Joomla with version 4. Its structure seems neater and easier to use than Joomla 3. However, to understand it well, you need quite a bit of work and time.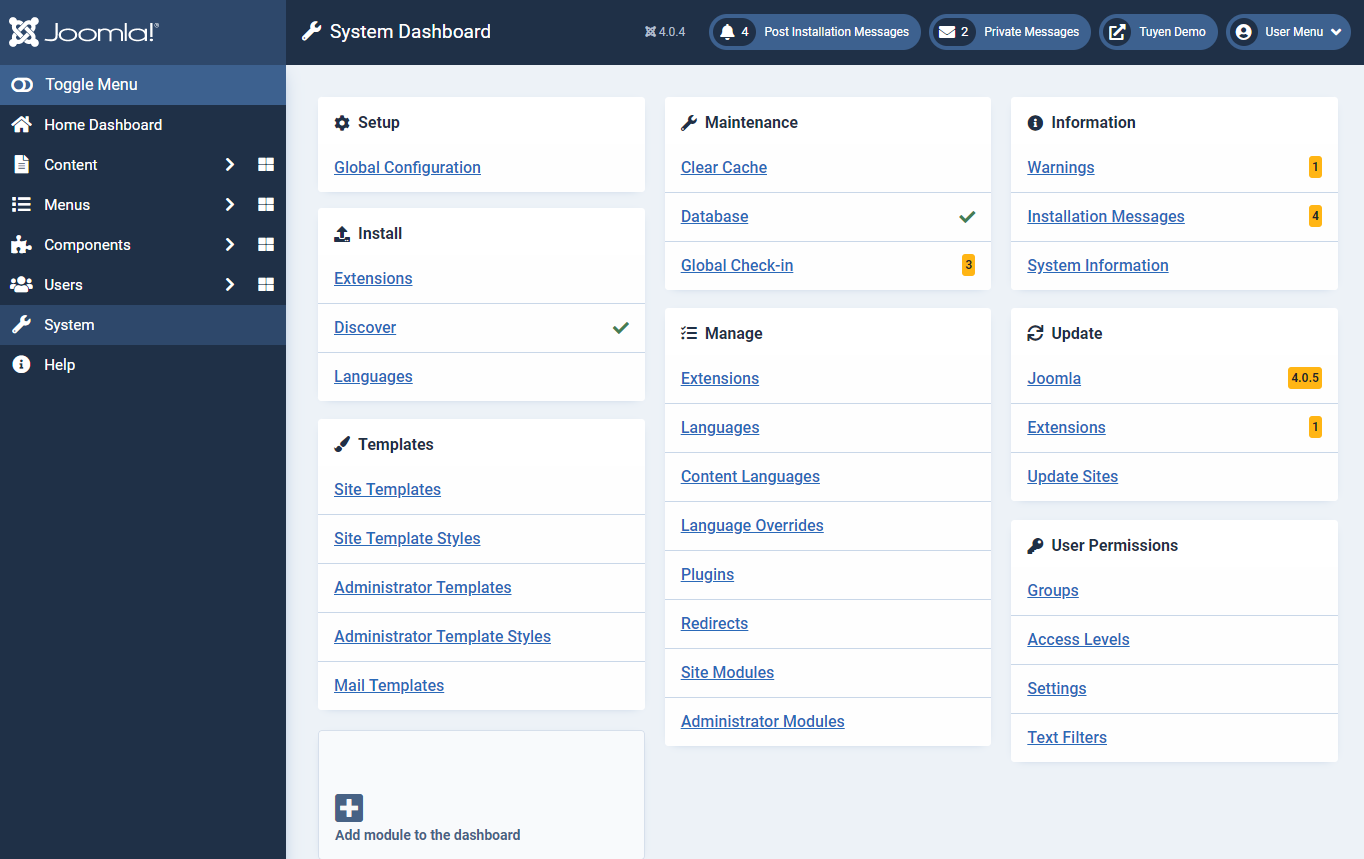 On the other hand, the back-end dashboard of WordPress seems simpler. Thus, you can learn how to use it faster.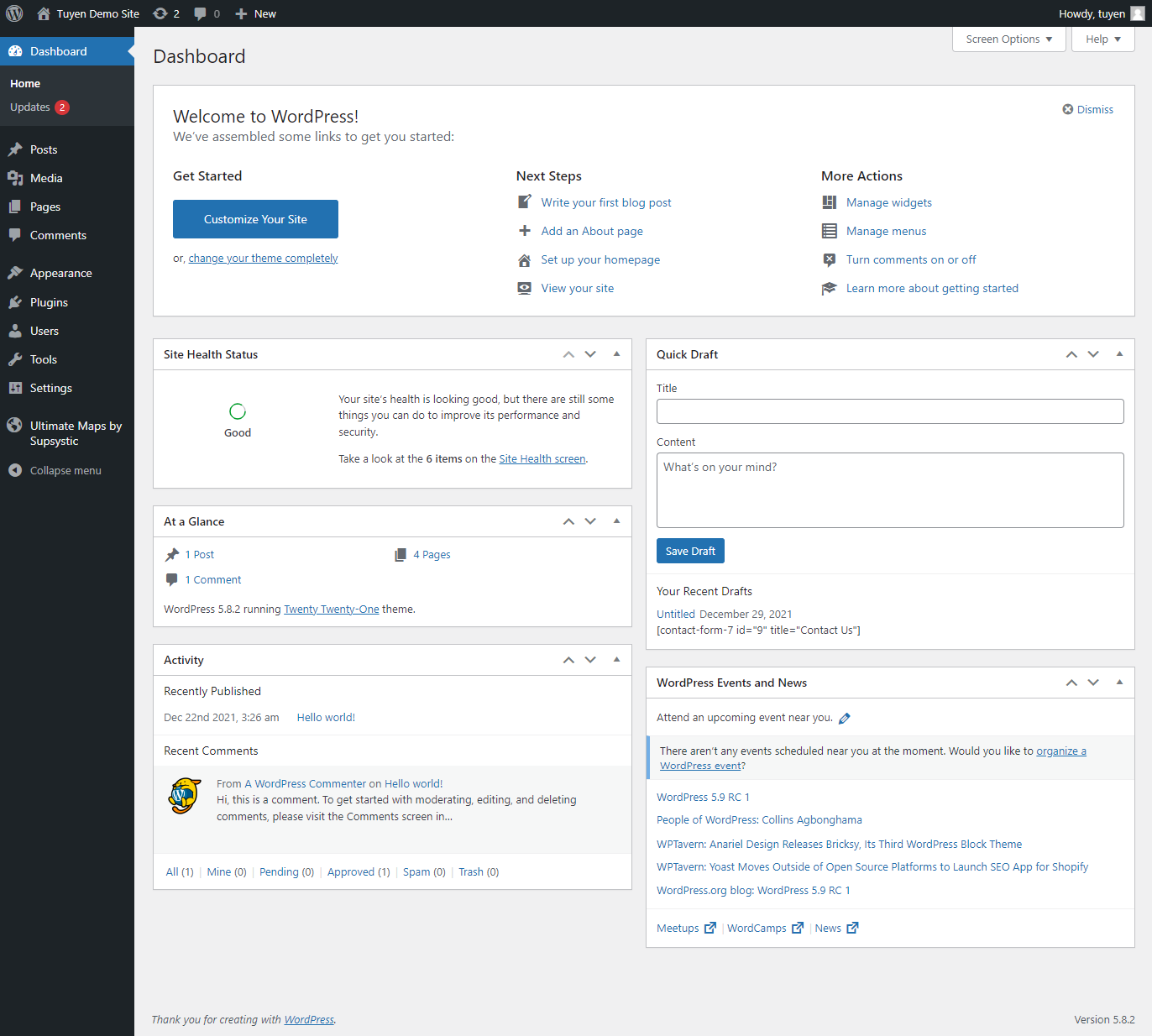 Joomla! vs WordPress: Development Costs
Joomla
WordPress
Domain Registration
An average of $10 per year
$10 per year
Hosting Provider
About $48 per year
$48 per year
Design and Development
$1500 – $3000 for an entire project
$750 – $1500
Maintenance Charges
$1600 – $3100 per year for a small website

$1200 – $12000 per year for a big website

$400-$600 per year for a small website

$3000-$5000 per year for a big website
Based on the above comparison table, it can be seen that the cost to build, maintain and develop a WordPress website is cheaper than a Joomla website. That's why, in this round, WordPress is the winner again.
Joomla! vs WordPress: Final Verdict
Overall, both Joomla vs WordPress have their own highlights. However, if you are just starting out, then WordPress will be the more suitable choice. In case you already have a certain understanding of these two platforms and want advanced features, you can choose to use Joomla to learn and develop. Depending on the purpose of building and developing your website, you can choose WordPress or Joomla. So, let us know what you think about WordPress vs Joomla, which is more suitable for you?
Last but not least, if you are looking for a theme for your WordPress site, let's visit our responsive and Free WordPress Themes here. What's more? We are also offering many high-quality Joomla Templates. So, let's check it out!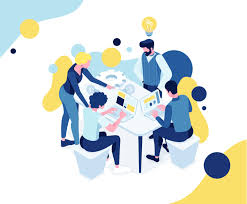 Latest posts by LT Digital Team (Content & Marketing)
(see all)