Are you wondering to choose between Opencart vs Woocommerce? So, don't miss our blog. In this article, we will give you a comprehensive Opencart vs Woocommerce comparison to help you choose the best one for your e-commerce store.
Recommended WooCommerce themes that work well with WooCommerce plugins
Introduction
Nowadays, the eCommerce industry is dramatically growing. Online shopping provides a convenient environment for customers, so they tend to make purchases from home instead of going to local shops. There is no denying that the blooming of online shopping has created many advantages. In addition to that, there are still many challenges for retailers.
Therefore, it requires website owners to need to choose a reputable eCommerce platform that can ensure the quality of various aspects of their online store including security, user experience, traffic, conversion, revenue, and much more.
Whereas Opencart Vs Woocomemrce is considered the two most famous eCommerce platforms in the market. Both come with plenty of powerful features that allow you to easily build an online store. However, which platform is better? In today's blog, we will compare Opencart vs Woocommerce to give the detailed differences between them so that you can choose the best platform for your website.
Now, let's dive into the following sections.
Opencart Vs Woocommerce: Brief background
Opencart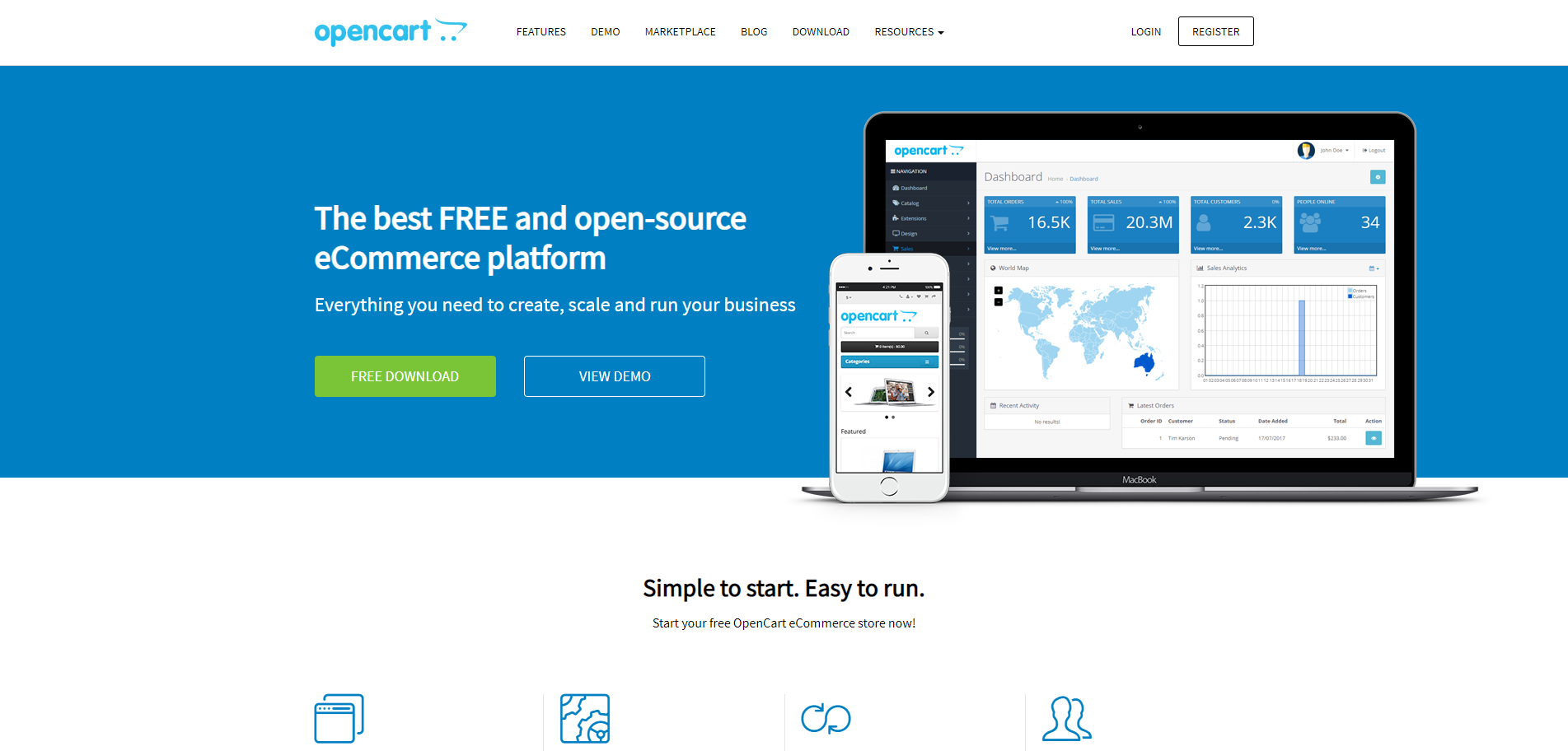 Opencart is one of the most well-known open-source content management systems that is specially designed for E-commerce websites. It is established based on PHP, a MySQL database, and HTML components. This platform has been introduced for 20 years and is regarded as the perfect solution for those who are going to build a professional online store because of its high-quality dedicated features. This platform is created for small and medium businesses. It is very simple, and easy to install. In addition, you can manage multiple stores from a single place and even choose different themes for various stores.
Woocommerce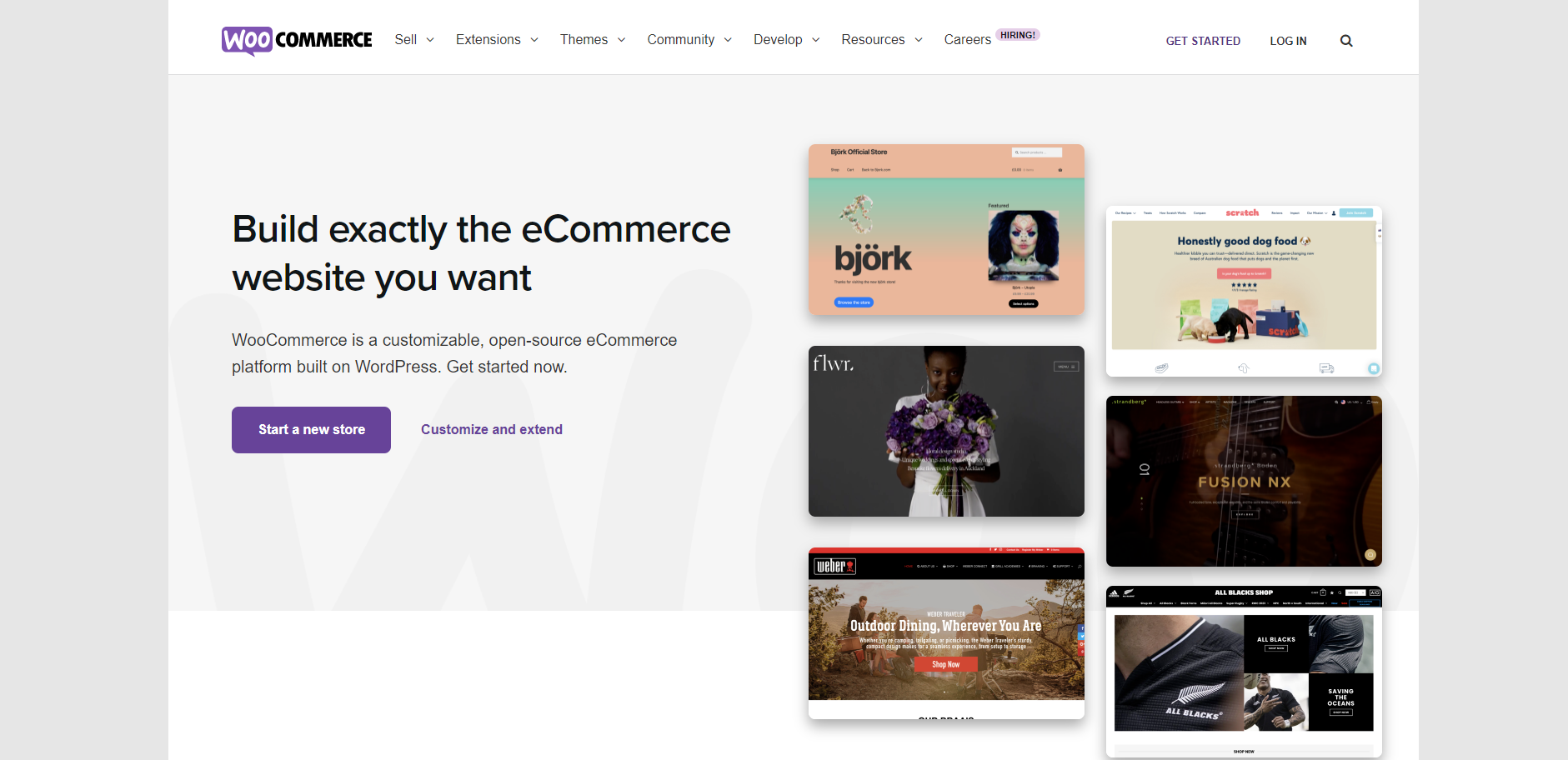 Woocommerce is another serious competitor of Opencart. It is also an open-source E-commerce solution built on WordPress as a powerful plugin. It was built by  Mike Jolley and James Koster in 2011. In 2015 WooCommerce and its sibling plugin WooThemes were both acquired by the parent company of WordPress – Automattic. In January 2020, it is estimated that there are about 3.9 million websites using Woocommerce.
Main features
Let's get down to our head-to-head comparison by exploring how Opencart vs Woocommerce stack up against each other in terms of features. Which solution will offer more diverse features?
Opencart
Similar to other powerful E-commerce platforms, Opencart also has great features that help you easily manage your online store. A list of core features includes:
Unlimited Product, Categories, and Manufacturers
Support Multi-Currency and Multi-Language
Product Reviews and Ratings
Automatic Image Resize
More than 20 Payment Gateways
Over 8 Shipping Methods
Manage multiple shops
Support meta tag and description for SEO well
Woocomemrce
Like Opencart, Woocommerce provides you with a substantial feature set. This platform is used by over 30% of all online stores for its excellent features.
Automatic Taxes Calculation
Shopping Cart Behavior
Reduce Page Loading time
Easily Add/Manage Products
Product Types and Variables
Inventory Management
Multiple Shipping Methods
Taxes based on Geography
Simplified Coupon System
Product Reviews and Ratings
Owner Verification
Reporting
Powerful analytics
Ease of use
This is one of the vital criteria that you need to be concerned about when starting an online store. A platform that is designed with an easy-to-use interface will help you easily set up and operate. In addition, it will assist you to save a lot of time learning how to use it.
Opencart
Opencart is not a plugin, so the process of installing and setting up this platform will be definitely a little more complicated than Woocommerce. You are required to have some technical knowledge to start if you choose the manual installation process. First of all, you have to download the software, then you need to generate the database before running the installation. If this process makes you confused, it is advised to use the one-click auto installation option.
In addition, this platform has a user-friendly interface because it is specially designed for eCommerce websites. Opencart's administration on the left side of the store is where you can upload images, add products, keep track of customers, access multiple features, install extensions, monitor sales, and customer groups and etc.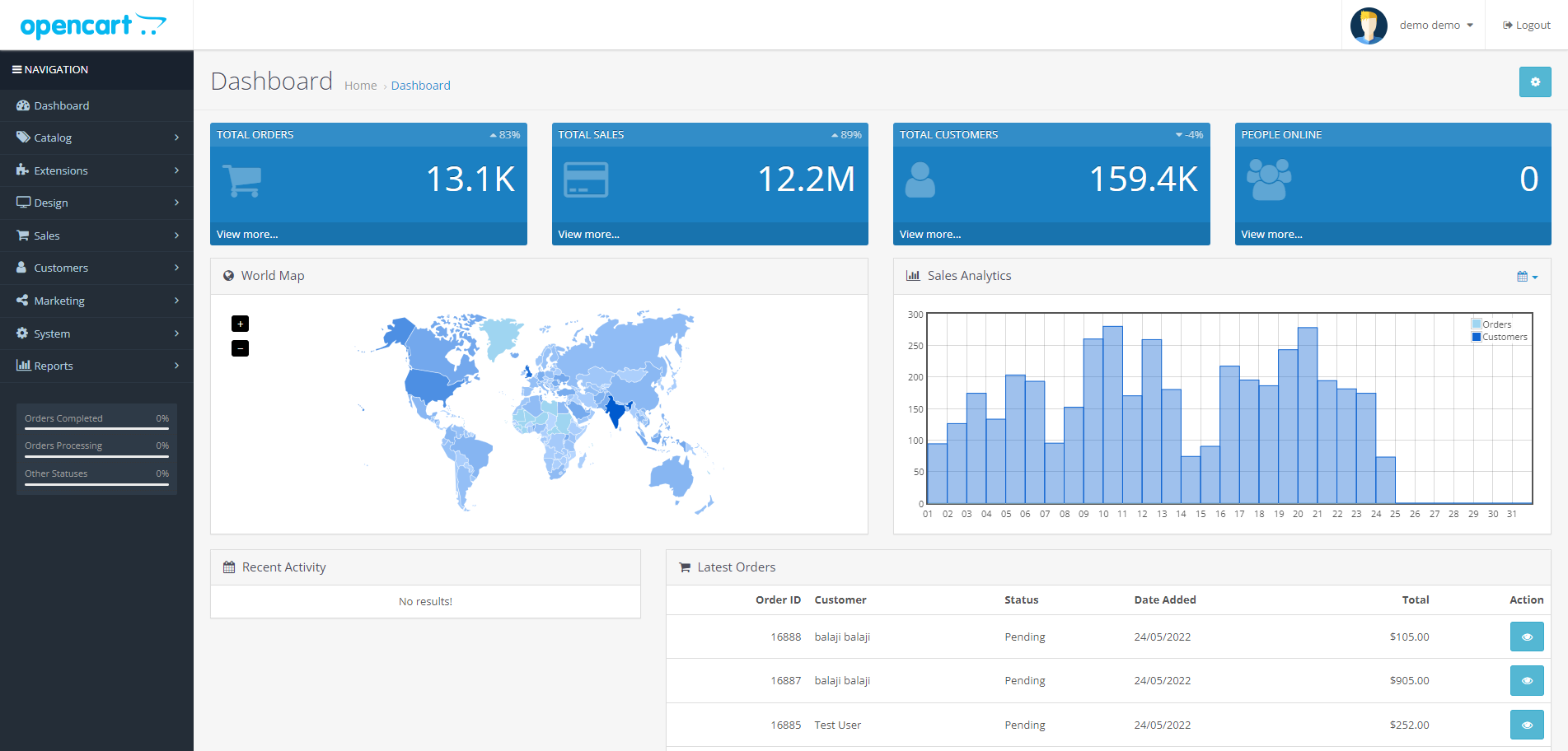 Woocommerce
On the other hand, Woocommerce is a plugin for WordPress, so you only take a few clicks to install and set up this platform like other plugins. After the plugin has been activated, you can start adding your products, creating categories, tags, etc from Woocommerce's dashboard.
Nevertheless, Woocommerce is itself an open-source platform. Thus, you have to manage updates and keep backups and do everything by yourself. To do these tasks, you need to have a certain level of technical knowledge. And sometimes, you have to write some code and use web design skills to modify and customize your website layout.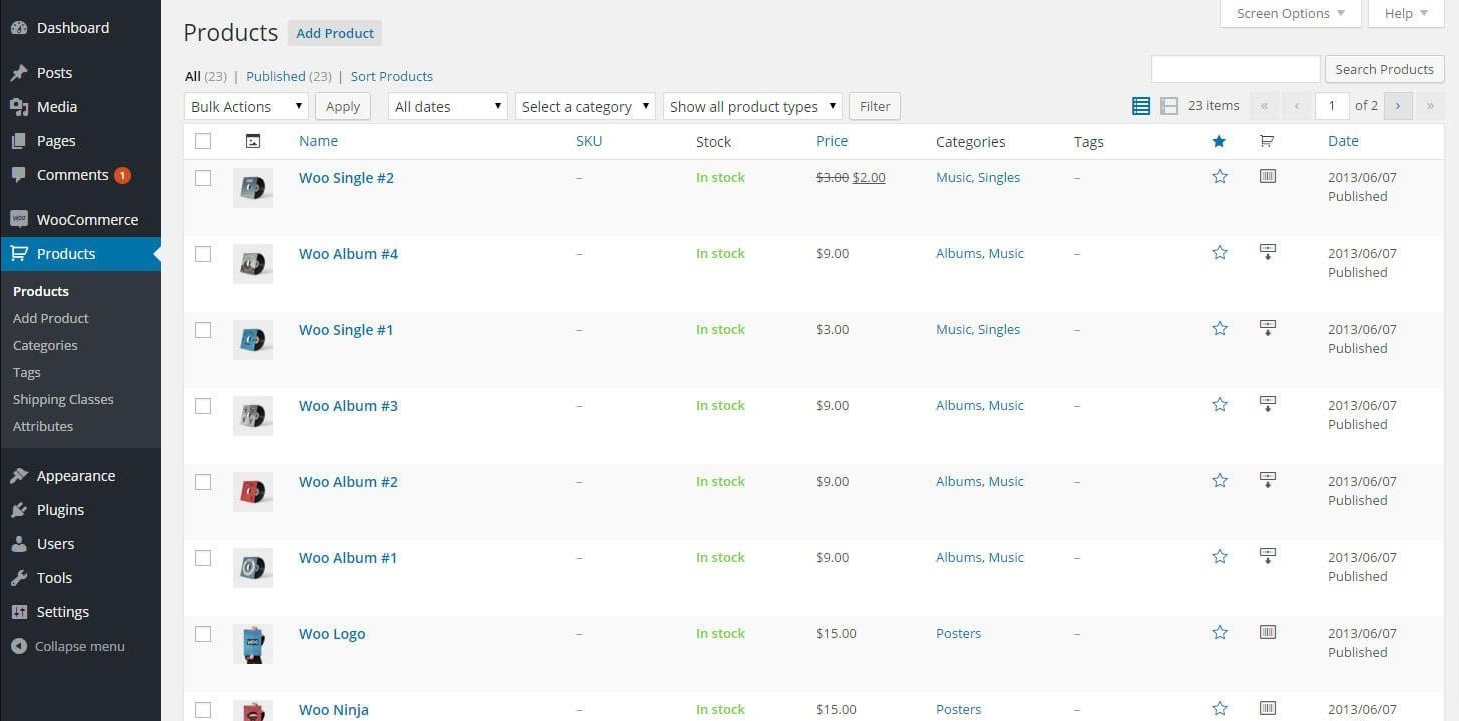 Designs and templates
If you want to make a strong impression on your customers at the first sight, it is important to choose beautiful designs for your website. In addition, using an attractive appearance for your website not only helps your website look professional but also builds trust in your customers. Now, let's see how extraordinary Opencart vs Woocommerce designs are.
Opencart
There are over 500 both free and paid themes on Opencart's marketplace. Each theme has many flexible layouts, customization options, and powerful features. Opencart also provides you with a beautiful demo so that you can see how your website looks like before making a purchase.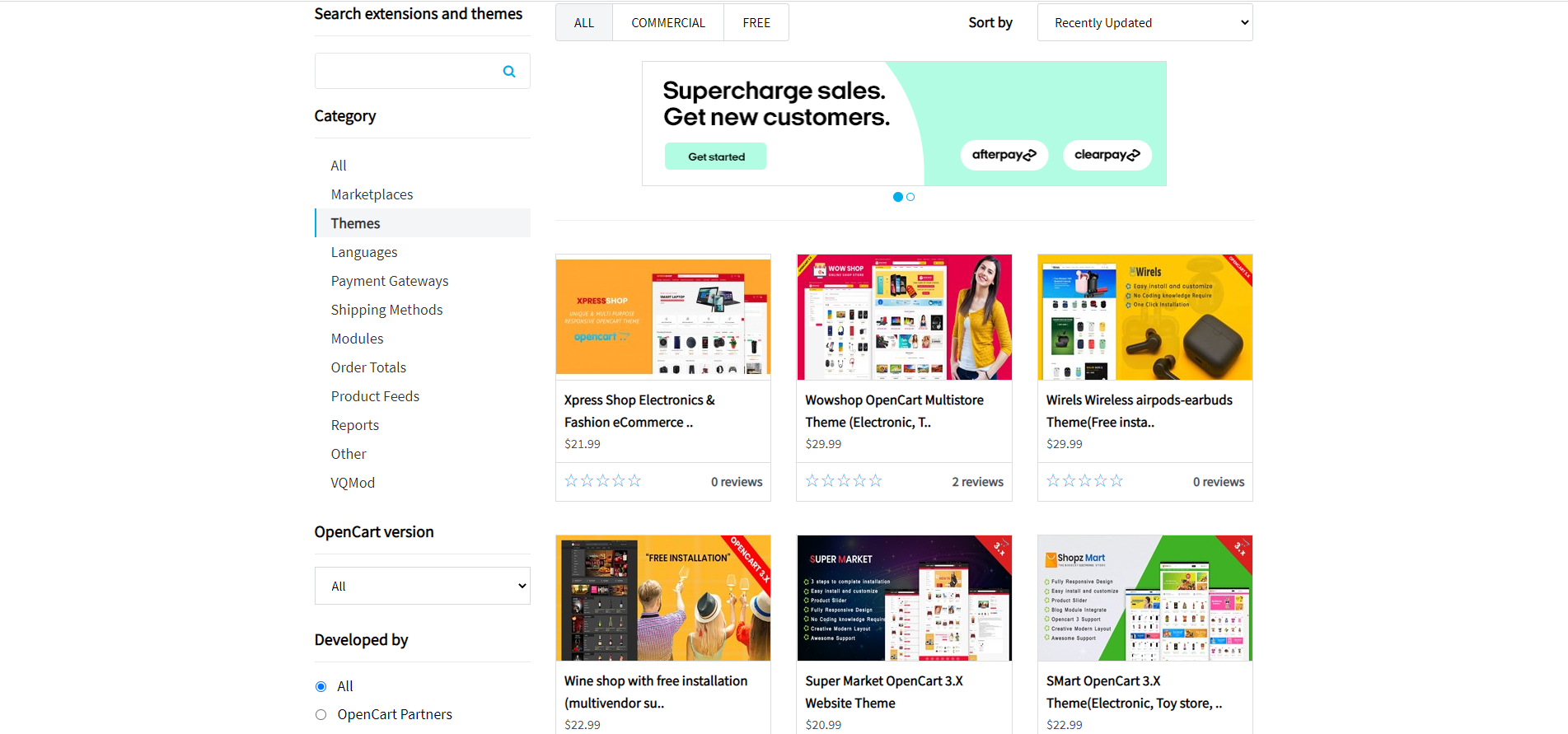 Woocommerce
As you can see in the screenshot below, Woocommerce only has a total of 45 themes. There are three free themes, 14 storefront themes, and 39 responsive themes. The default theme of Woocommerce is free, but if you want to expand its functionality by purchasing the extension bundle, the price is $69 for a one-time payment.
Although the number of themes provided by Woocommerce is less than Opencart, there is a huge collection of free eCommerce themes in the WordPress repository that completely support Woocommerce.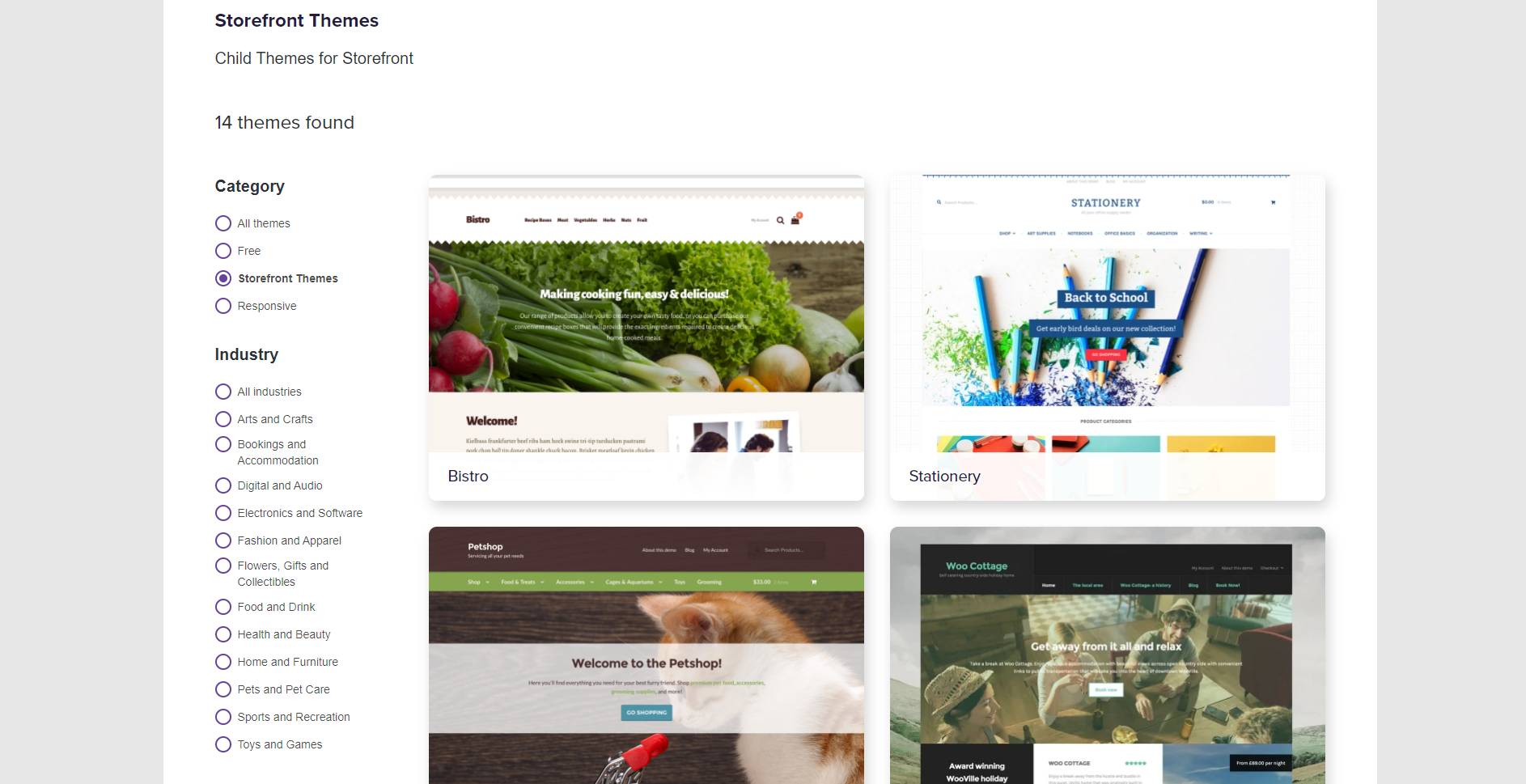 Payment gateways
There is no denying that providing various payment gateways will help you improve the user experience of your online store. Therefore, you need to choose a platform that supports multiple payment methods. Luckily, Opencart vs Woocommerce offers plenty of tools that help you to do that.
Opencart
Currently, Opencart supports 36 different payment gateways and over 900 payment methods via its extension marketplace. This platform offers many popular payment gateways including Paypal, Amazon Pay, Paypoint, Paymate, Free checkout, eWay Payment, LIQPAY, Card connect, etc.
If you want to use payment methods that are available on the Opencart Extension marketplace, you need to edit the supported extensions. Moreover, this platform also provides additional features such as payment method in checkout and payment method in the order history.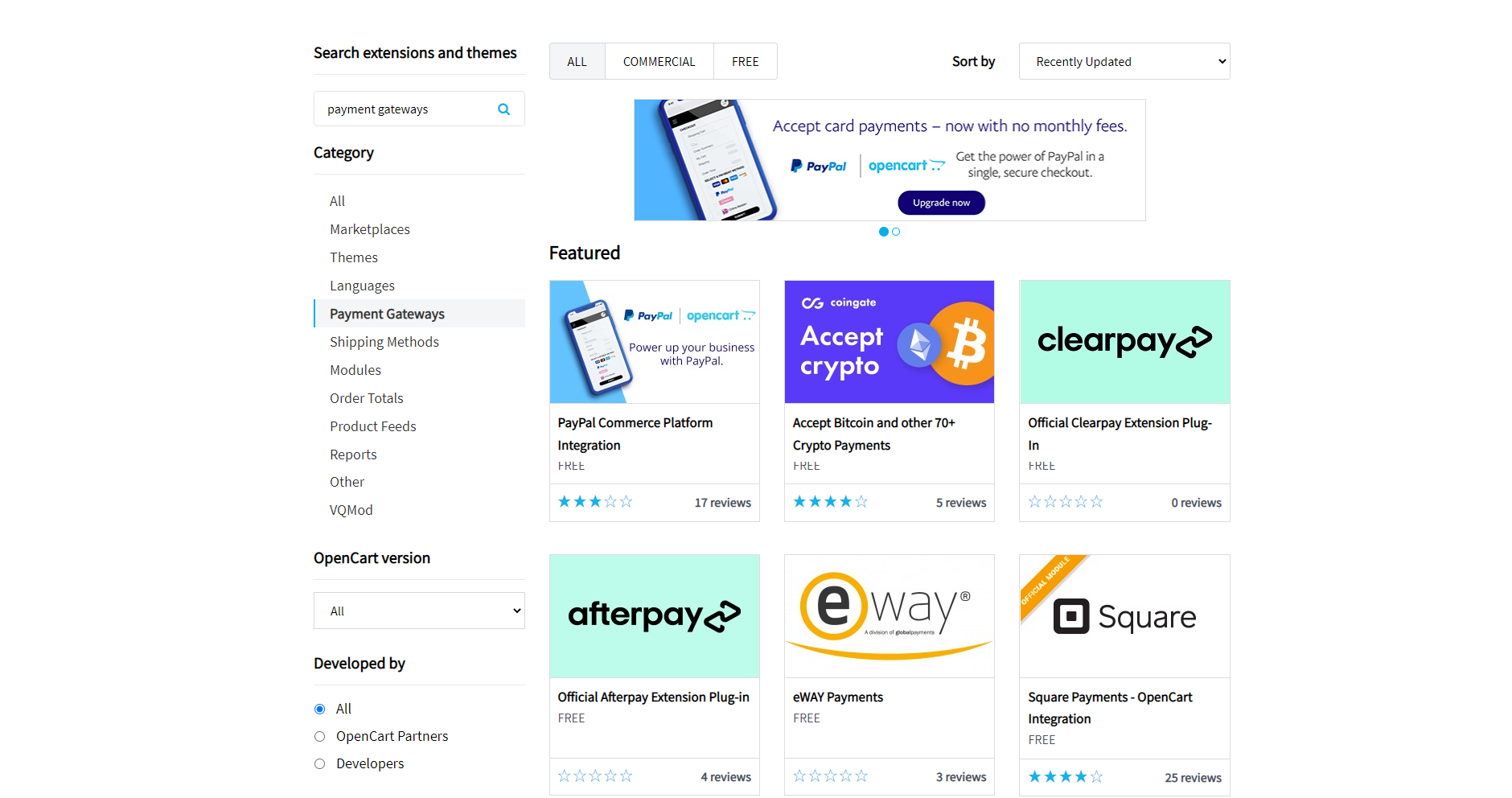 Woocommerce
Woocommerce provides you with the ability to access over 100+ payment gateways. Some great payment gateways integrated with Woocommerce include Paypal, Amazon Pay, and Stripe. One of the advantages is that these payment gateway plugins are available on the WordPress ecosystem. All you need to do is install one of them from your WordPress dashboard and then allow your customers to check and pay via various payment gateways.
These tools will improve the shopping experience on your website by allowing your customers to check directly instead of leaving your website.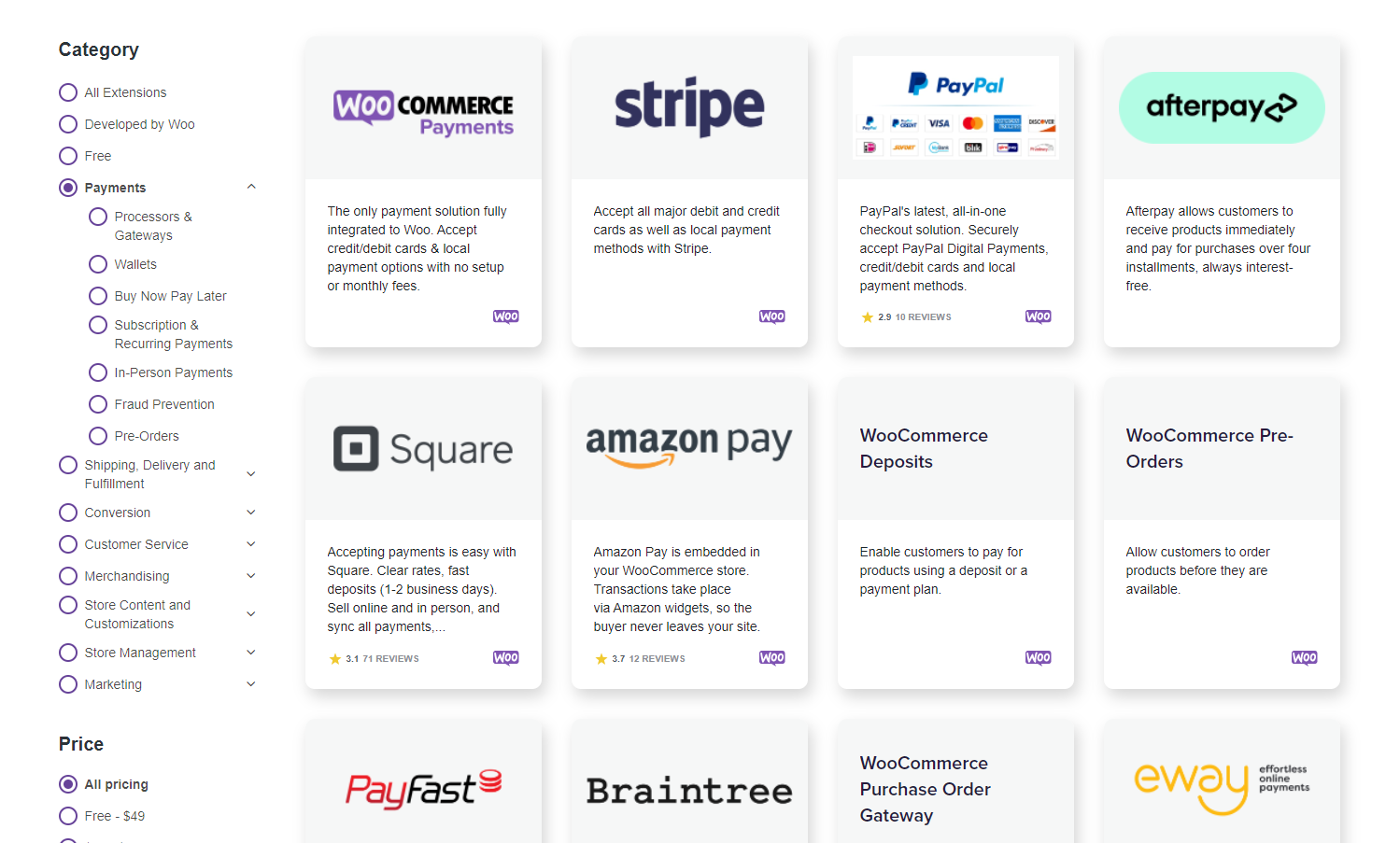 Pricing prices
Opencart
One of the best things is that the Opencart platform is completely free for download. However, to run a professional online store, you at least have to need a hosting plan and a domain name for your store. The price of hosting plans provided by Opencart start at $5/ month. And you pay $10/year for a domain name.
In addition, you can need to purchase an SSL certificate that depends on the needs of the store owner. The price of an SSL certificate will vary.
Woocommerce
Similarly, Woocommerce is also a free plugin, so you can completely download it from your WordPress dashboard. Additionally, there are no particular pricing plans or packages offered by Woocommerce. But, you have to pay for the essential hosting, domain name, powerful extensions, and plugins to expand the functionality of your online store.
We will provide you with estimated prices for each element that you will have to cost if you want to run a high-quality online sort.
| | |
| --- | --- |
|  Woocommerce cost |  Cost estimate |
|  Themes | Woocommerce themes |
|  Plugins |  Free |
|  Extensions |  Free + transaction fees |
|  Hostings |  Start at $311.40/year with Shared hosting |
|  Domain Name |  From $12.99/year (.com site) |
|  Security |  Free |
|  Developer fees |  Free |
|  Annual cost |   $324.39 + transaction fees |
Customer Support
Opencart
Opencart allows you to get in touch via the following options: Submit a service ticket, official documentation, available blog, and video tutorials. You can easily choose one of them to find a solution to your problem. In addition, Opencart also has a big forum with more than 110 000 registered members and 550 000+ blogs where you can easily get community support to troubleshoot your issues. In general, Opencart's Community Forum is considered the main type of customer support service of this platform.
Additionally, Opencart provides you with a dedicated support service that costs $120/per month. This plan is used whenever you want to consult a specialist on your store's technical problems, upgrades, and extension installations. By using this service, your questions will be guaranteed to be responded to within 24 hours and there are expert consultants that will advise you on your technical questions.

Woocommerce
In contrast, Woocommerce doesn't offer a dedicated support service. Therefore, it is difficult for you to handle technical issues. Nevertheless, if you still receive support services that are provided by your website hosting company.
When using Woocommerce, you have to always be ready to take responsibility for solving issues by yourself. In addition, you can find detailed documentation, tutorial videos, and articles that can help you tackle some prevalent problems.
Advantages and disadvantages
After breaking down all of these aspects — features, ease to use, designs and templates, payment gateways, price — it's time to see the strengths and weaknesses of Opencart vs Woocommerce.
Opencart
 Advantages
 Disadvantages

The ability to manage multiple websites simultaneously
Having a gallery of diverse templates and useful modules
Automatically create a backup and restore your database
Allows you to use multiple languages
Offer many basic and powerful features
Dedicated technical support
The ability to integrate payment gateways and e-commerce tools
It has not required too much server space

Lack many advanced features
Modules of Opencart are not flexible
Difficult to customize
Offer a slow checkout experience
Setup requires manual database creation
Woocommerce
 Advantages
 Disadvantages

A quick setup
Limitless customization options
Maximum security
Easy to build a storefront
Diverse themes and apps to choose from
Useful analytics
Sales tax management
Template customization requires technical skills
Grow with your business

Steep learning curve
Need to pay for advanced extensions
It's WordPress Specific
No customer support
Opencart Vs Woocommerce: Who is the winner?
We have just provided a side-by-side comparison between Woocommerce vs Opencart. Each platform has its own good points and drawbacks. Therefore, to conclude, which is the best platform in this battle? The answer to this question will lie in your requirements.
If you have had previous development experience or some technical knowledge, then using Opencart is a perfect choice for your website. This platform will assist you to build a functional and professional-looking eCommerce website, plus the rich features allow you to create a truly unique website. In addition, Opencart is also suitable for those who have little or no budget. However, if you want to use premium features, extensions, and themes to put your website to the next level. Of course, you will need to put some cash down.
Trendy WooCommerce themes that you must try, it's FREE!
In contrast, you can use Woocommerce to start building your unique site. This platform is also highly-customizable, so it is a great solution for eCommerce site owners with some amount of technical knowledge. Besides, Woocommerce is good for large eCommerce sites. Since it is scalable and can manage an unlimited amount of products without making your website slow.
Moreover, although Woocommerce itself doesn't offer as many extensions compared to Opencart, this platform provides you with a huge number of WordPress eCommerce plugins. Hence, you can take advantage of these tools to improve the shopping experience and boost your online store.
Hopefully, this in-depth Opencart vs Woocommerce comparison has given you an insight into the two platforms and helped you to figure out who the winner is. If you have had your favorite selection, don't forget to share your point of view by leaving a comment below. We are happy to get your opinion.
By the way, you might need to see a detailed comparison between Bigcommerce vs Woocommerce. Last but not least, if you want to explore more beautiful free eCommerce WordPress Themes, don't hesitate to visit our website.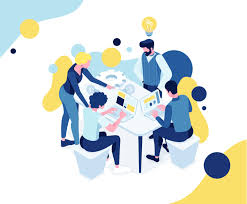 Latest posts by LT Digital Team (Content & Marketing)
(see all)