Are you struggling to choose between PowerPress vs Seriously Simple Podcasting? This blog gives the differences to help you make the right choice for your website. Let's discover the PowerPress vs Seriously Simple Podcasting comparison below.
Why should you use WordPress Podcast Plugin for your website?
Did you know? Podcasting is regarded as one of the most prevalent and fastest-growing media in recent years. According to a recent study showing that in 2020 there are more than 900,000 different podcast shows activating across the world. This figure has doubled compared to the figure obtained in 2018. This shows that a large audience is a big fan of podcasts. It is the reason why you should display multiple podcasts on your website.
Firstly showing podcasts on your blog will be a great way to promote your brand, attract a huge audience and enhance the traffic to your website. In addition, the podcast makes it easy for the audiences to have amazing feelings and a better experience when visiting your website.
However, it is not easy to upload and manage a lot of podcasts in WordPress if you don't have the support of extra Postcast Plugins. In addition, there are dozen of various tools on the internet nowadays, so choosing the most effective tool is also a huge challenge. Therefore, in today's blog, we picked up the most prevalent and excellent podcast plugins to compare. They are PowerPress vs Seriously Simple Podcasting.
Both plugins come with a wide range of features. But we believe that you haven't realized the differences between them. Thus, we are going to compare based on 4 aspects including main features, user interface, pricing plan, pros, and cons. Now, let's dive into the comparison below.
PowerPress Vs Seriously Simple Podcasting: Background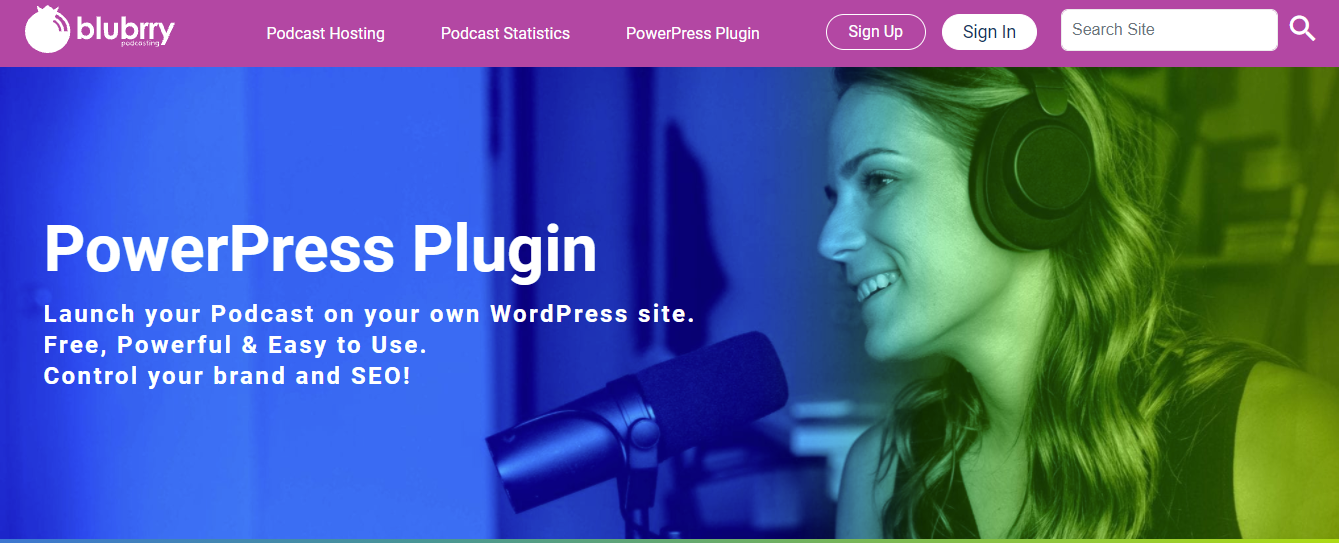 With over 100,000 active users across the world. PowerPress is considered one of the most effective and prevalent WordPress Podcast Plugins. It comes with more than 100 features and useful functionality, so you can use them to publish and control your podcast right from your WordPress site.
One of the remarkable things is that it integrates with Blubrry's hosting and statistics. Thanks to that, it offers you many convenient features such as uploading podcasts easily. Especially, this plugin completely works with any media format that works for podcasting in general including mp3, m4a, m4v, mp4, PDF.

Another serious opponent of the PowerPress plugin is the Seriously Simple Podcasting plugin. This plugin has recorded more than 30,000 active installs and over 200 5-star reviews, so Seriously Simple Podcasting is also one of the top related podcasting plugins for WordPress.
Additionally, this plugin offers a wide range of powerful features to help you generate and manage your unlimited podcasts directly on your dashboard. Moreover, it also allows you to migrate or import episodes from another hosting service to your WordPress site via Seriously Simple Podcasting. Moreover, this amazing plugin gives you plenty of free addons to enhance all the functionality for your show demands as well as to store your media file effectively.
Main features
| | | |
| --- | --- | --- |
|  Features |  PowerPress |  Seriously Simple Podcasting |
|  Manage your RSS feed from WordPress |  ✔️ |   ✔️ |
| Manage multiple podcasts on one website |  ✔️ |  ✔️ |
|  Use a custom widget to create playlists and display them anywhere | ✔️ |  ✔️ |
|  Support video Podcasting | ✔️ |  ✔️ |
|  Simplified import, migrations, and redirects |  ✔️ |  ✔️ |
| Fully integrated with its podcast hosting | ✔️ | ✔️ |
| Having a basic Upload File button in the custom meta box |  ❌ |  ✔️ |
| Customize the embedded media player | ❌ | ✔️ |
| Free analytic add-ons and integrations | ❌ | ✔️ |
User Interface
PowerPress
You can see that there are multiple Settings pages in PowerPress. This design gives the user a messy and outdated feel with too many options in Settings pages.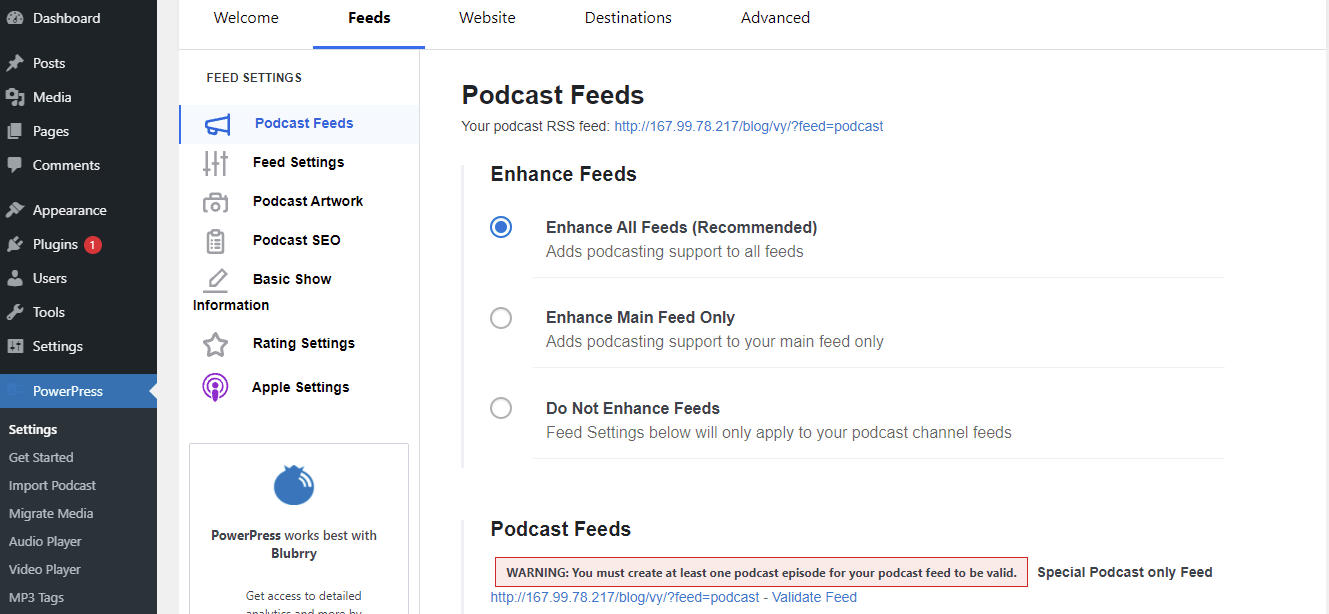 For example, the "Save Changes" button is displayed at the bottom of the settings pages. This button is unstyled or highlighted, so it is easy for the users to miss this button if they don't scroll down the screen and take a look at this button. In addition, other pages look unstyled and unfinished too.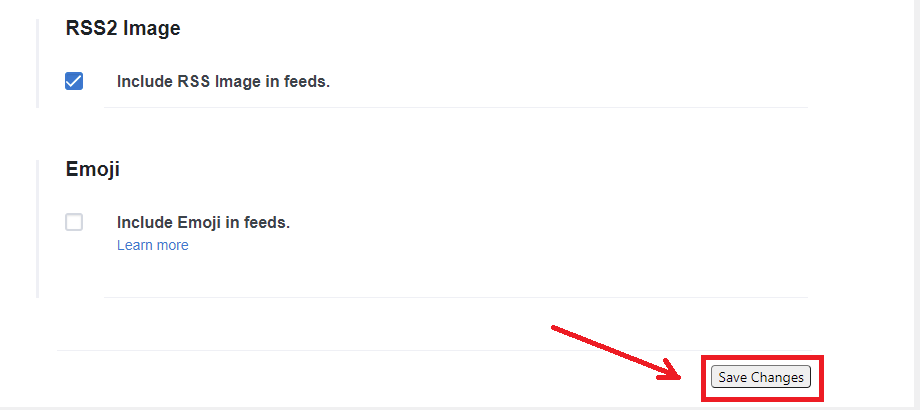 Seriously Simple Podcasting
Whereas the settings pages of Seriously Simple Podcasting utilizes the standard WordPress admin design and styles. Therefore, you will see that the design of this plugin is organized better and look more intuitive.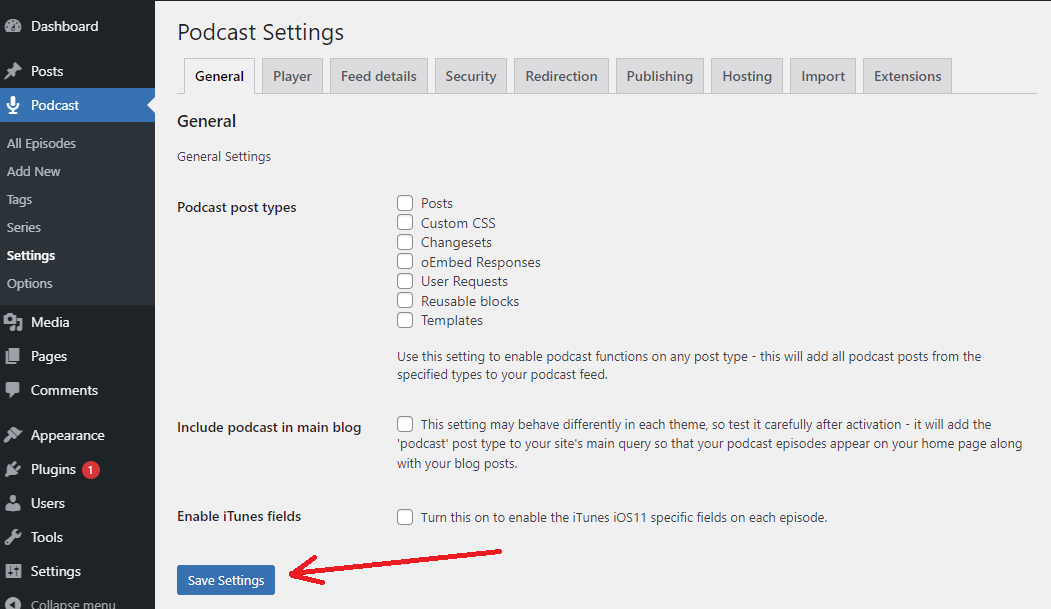 Moreover, it is not hard for you to create a Podcast episode because it offers a basic Upload File Button. On the other hand, this button is not displayed in PowerPress. One of the outstanding things is that on the front end, the default media players in Seriously Simple Podcasting look better organized than in the opponent.

Pricing Plans
PowerPress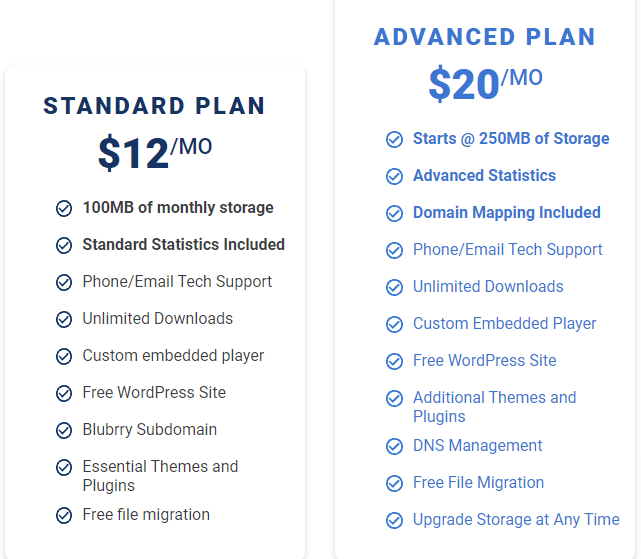 In addition to the free version, PowerPress also offers you the paid version to use the Blubrry Hosting. The standard plan starts at $12/ per month for 100 MB storage. In addition, it has an advanced plan that is priced at $20/ per month with 250MB of storage. If you have a rich budget and need large storage, you can upgrade to the pro hosting to get unlimited storage and other advanced features. All plan includes unlimited bandwidth and enables access all features except the storage limit.
Overall, the paid version of the Seriously Simple Podcasting plugin is more expensive than the PowerPress. However, all features of this plugin are more useful and valuable for your website compared to other podcast plugins.
Seriously Simple Podcasting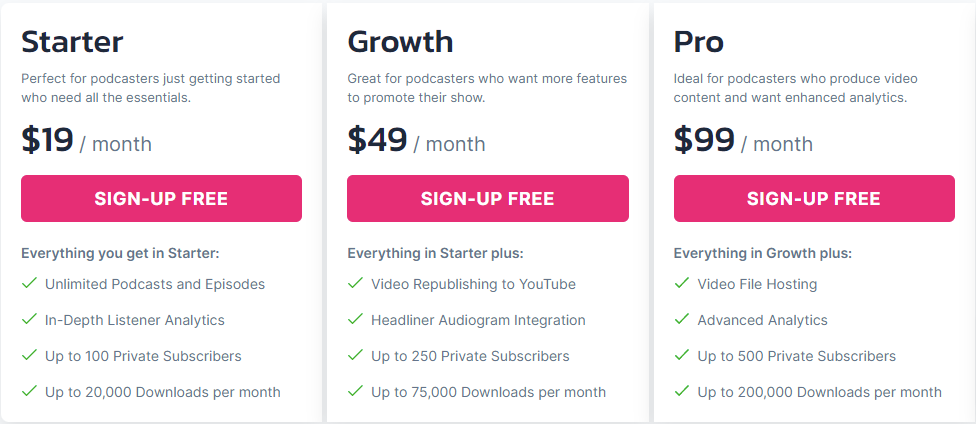 Seriously Simple Podcasting also includes the free version and the pro version. The paid version comes with three available plans including Starter ( $19 per month), Growth ( $49 per month), and Pro ( $99 per month). Each plan offers a wide range of features that suit different demands. For example, the Starter plan is suitable for those who need all the essential features. And when you purchase the Growth plan, you will get all features including the features of the Starter package plus extra features.
Pros and Cons
PowerPress
 Pros
 Cons

Free to use
Gutenberg friendly
GDPR ready
Affordable and powerful analytics features
Compared to others the price is reasonable

Complicated settings for beginners
Seriously Simple Podcasting
 Pros
 Cons

Simple plugin with a host of options
Gutenberg compatible
GDPR compliant
Free to use
Offer a lot of advanced features

The interface is too plain
More expensive than other plugins
PowerPress Vs Seriously Simple Podcasting: the final verdict
In general, each plugin has its own strengths and weaknesses. However, if you choose any one of them, this plugin can also bring a lot of valuable benefits to your website. In our perspective, we tend to favor Seriously Simple Podcasting rather than the rival because of the following reasons: it has a better user interface, so it is extremely suitable for beginners. In addition, the advanced features of the Pro version are also more diverse than the competitor's paid features. Moreover, we realize that the Castos plans offer a better value for the money.
Nevertheless, it doesn't mean that the PowerPress is not worthwhile. If you are looking for a simple and reliable solution, PowerPress is a perfect choice for your website. Since it comes with many significant features including Apple and Google podcast support.
And what is your point of view? Do you prefer to use PowerPress or use Seriously Simple Podcasting? Don't hesitate to share your opinion by leaving a comment below. Or if you have any queries, please let us know.
Moreover, there are still other options, you can refer to WordPress Podcast Plugins. By the way, our free WordPress Themes has a lot of beautiful, responsive themes that are suitable for multiple topics. Let's visit and choose the best one for your site.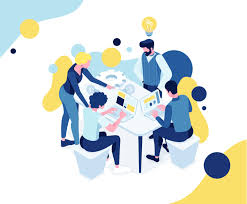 Latest posts by LT Digital Team (Content & Marketing)
(see all)