For those who start building websites on the WordPress platform, choosing a suitable hosting provider is the most priority. However, it's quite difficult for you to choose the best WordPress Hosting provider among dozens of good-reviews ones. To help you deal with this problem, we have hand-picked the Collection of 12 Must-see WordPress Hosting In 2022 after comparing some features like speed, security, SSL, and more.
In case you want to learn more about WordPress Hosting, it's advisable for you to read "What is WordPress Hosting?" to understand its definition, types, and more.
Why should you install WordPress Hosting for your site?
Thanks to the assistance of WordPress Hosting, you can improve your site performance and promote the speed loading time significantly. In addition, with some clicks of the mouse, you enable to add the SSL certificates and enhance the security of your WordPress sites at ease. What's more? WordPress Hosting is also optimized for not only performance and security but also for caching and plugins compatibility. So, it's unnecessary for you to install many plugins and manually update them. Last but not least, this provider service always offers a skillful and expert customer support team who are willing to help you solve any problems related to your WordPress sites immediately.
It is the reason why in today's blog we provide you with plenty of high-quality WordPress Hosting for education, business, agencies, and much more. Now, let's check them out.
Top Well-know WordPress Hosting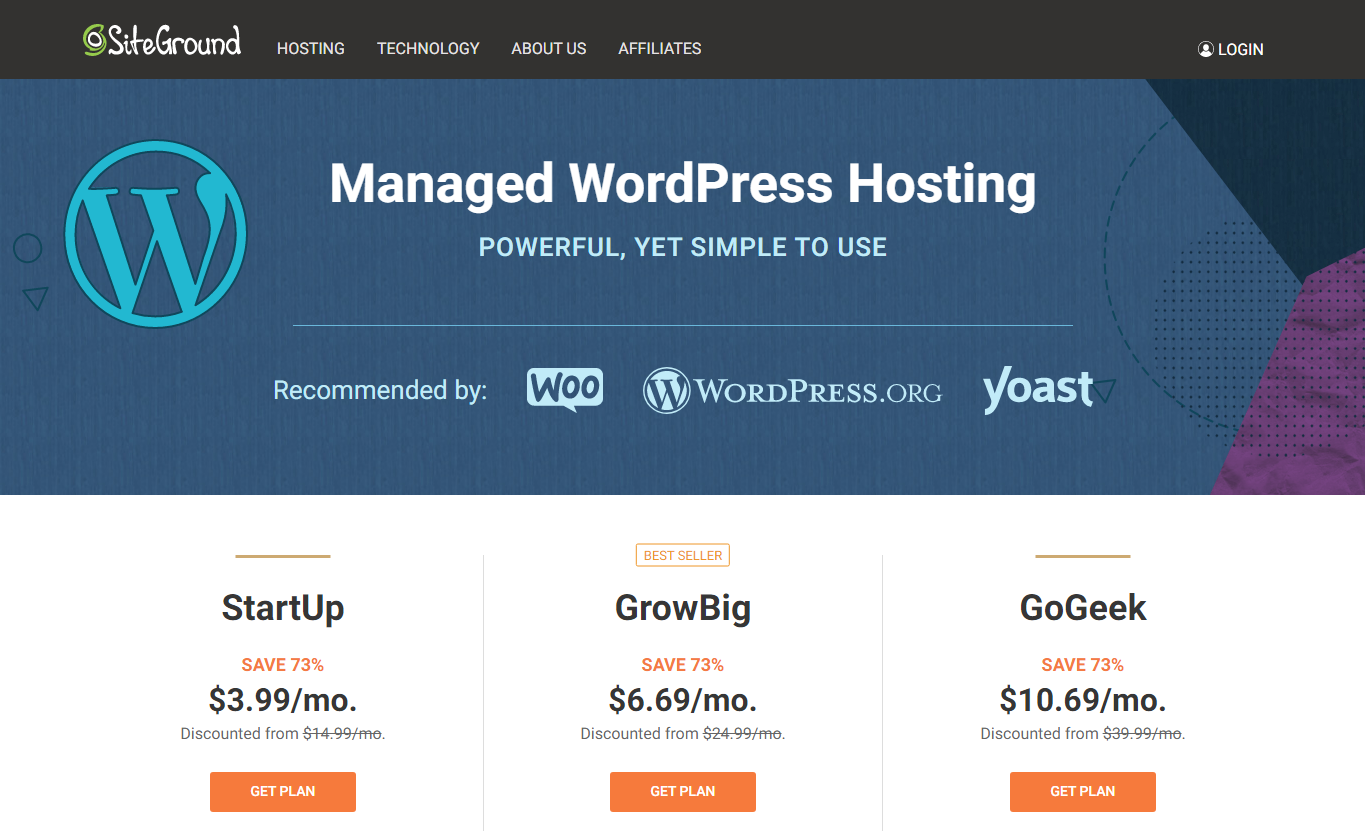 Firstly, we would like to introduce the top-rated WordPress Hosting provider services in this collection, named SiteGround. This is a full-service WordPress Hosting for any kind of website. Thanks to its assistance, you can own a robust site in no time with automated WordPress installation and updates. In addition, SiteGround also helps you to speed up your site performance via free CDN, SiteGround optimizer plugin, PHP version control, etc. You may need to access our detailed comparison between Siteground vs Bluehost to get more useful information.
Provided features:
30% faster PHP service
Available 24/7
Fast WordPress Launch
Smooth WordPress Transfer
Managed Security & Updates
Free SSL Certificates
Daily Backups
Email Service
And much more
Highlights:
Dev Toolkit
30% faster
Great support
Bluehost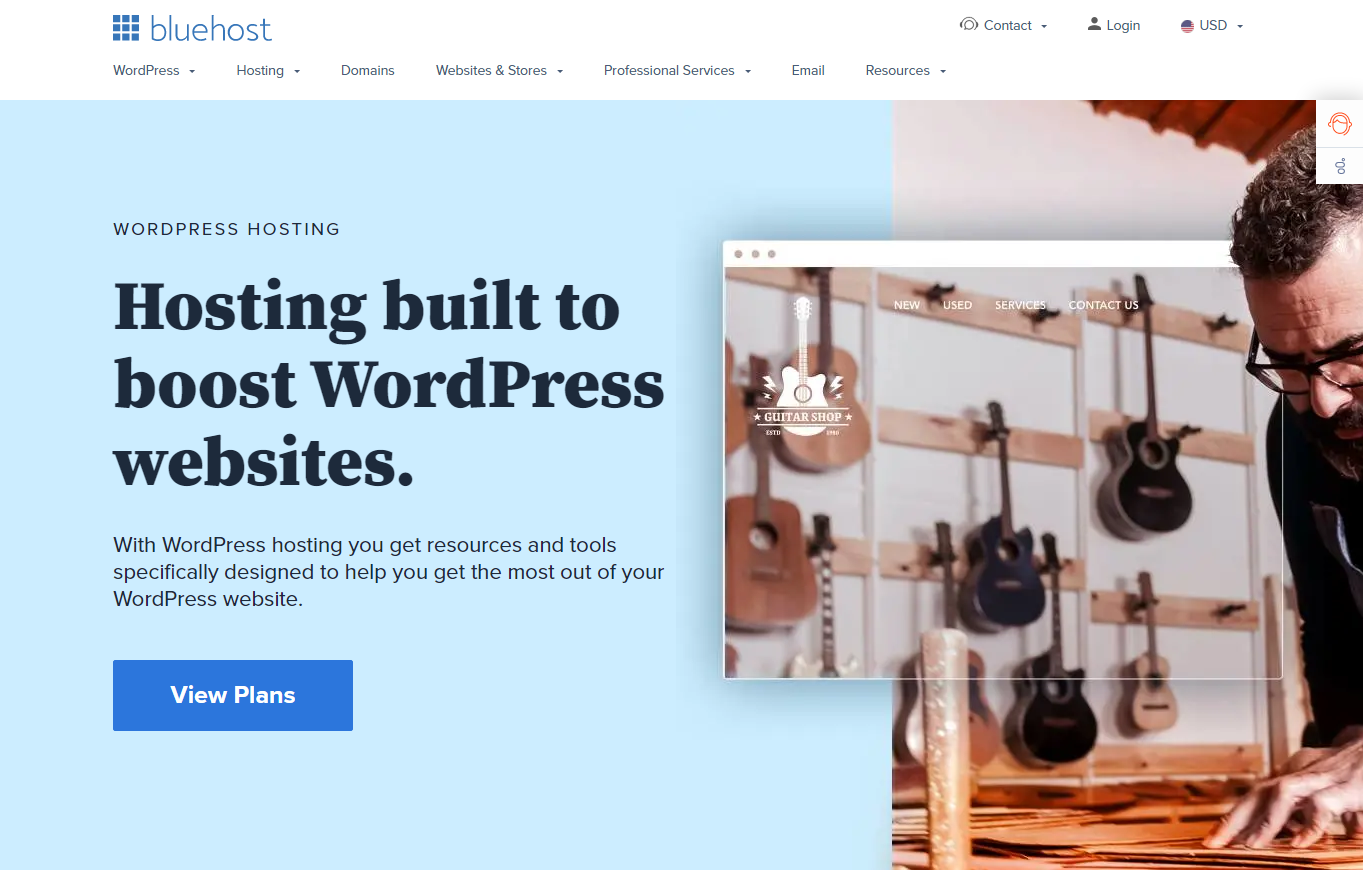 Using Bluehost, you can boost your WordPress sites significantly. It's because this tool comes with numerous exclusive resources and tools for WordPress users only. No matter you are running a blog, website, or even ECommerce stores, Bluehost always offers a special plan that fits your business type. On top of that, this provider also provides plenty of customizable themes and plugins, so that you can customize your site look and feel in your own manner.
Provided features:
Automatic WordPress Installation
Microsoft 365 available
Free Domain Name for 1 Year
Automatic WordPress Updates
Secure setup of login credentials
Get Verified on Google My Business
Highly customizable themes and simple-to-use plugins
24/7 WordPress Hosting support
And more
Highlights:
Useful themes and plugins
24/7 support
Auto-update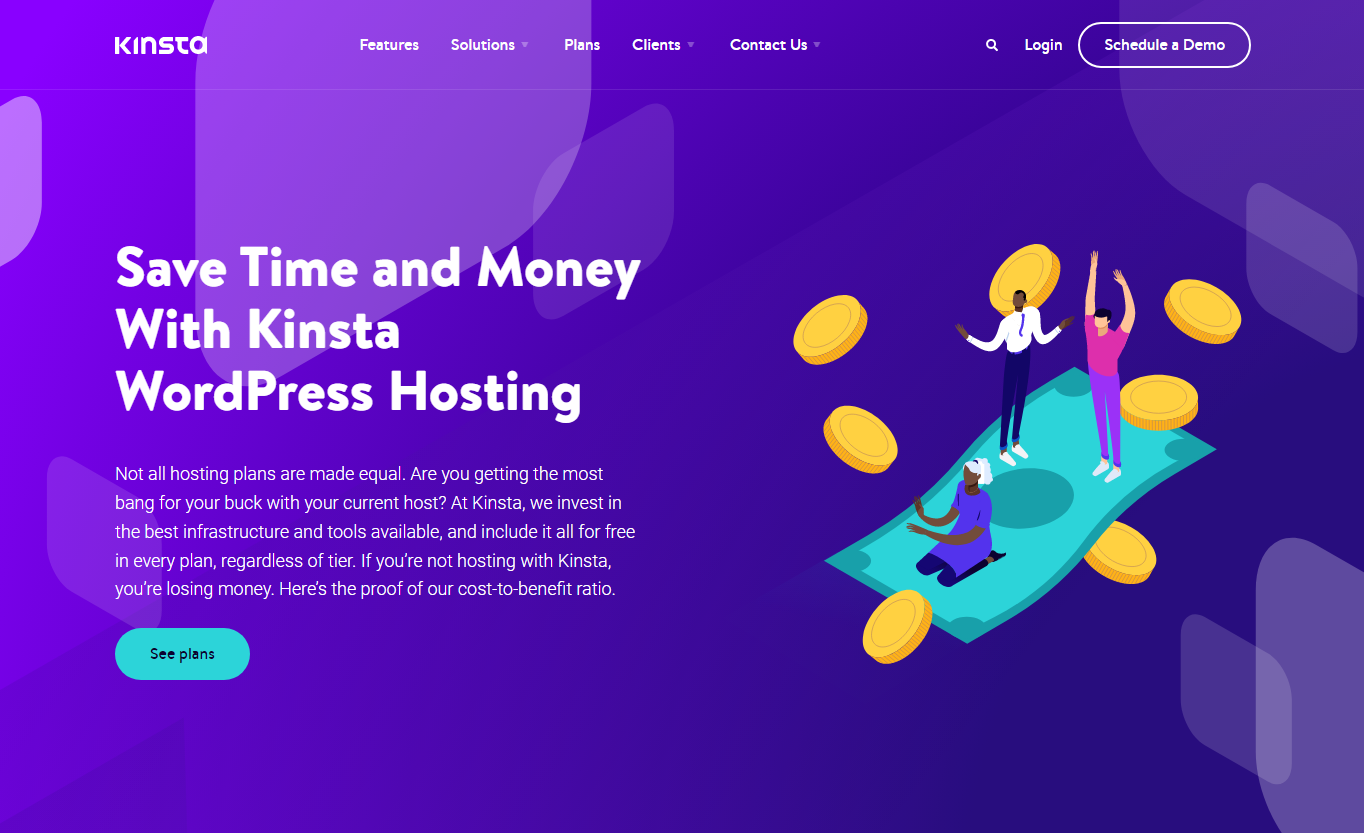 Kinsta is one of the usable WordPress Hosting that can help users save much money and effort to create and manage their WordPress sites. Along with that, Kinsta gives you a chance to take full advantage of its top-level features and infrastructure built on Google Cloud Platform(GCP).
Provided features:
Premium Tier Network
C2 Machines
29 Data Center
Cloudflare integration
Firewall protection
Enterprise-level DDoS protection
High-performance and HTTP/3-enabled CDN
Free local development tool
Free APM toolServer-level caching
And many more
Highlights:
Automated and manual backup options
Single-tier support available 24/7/365
Speed-oriented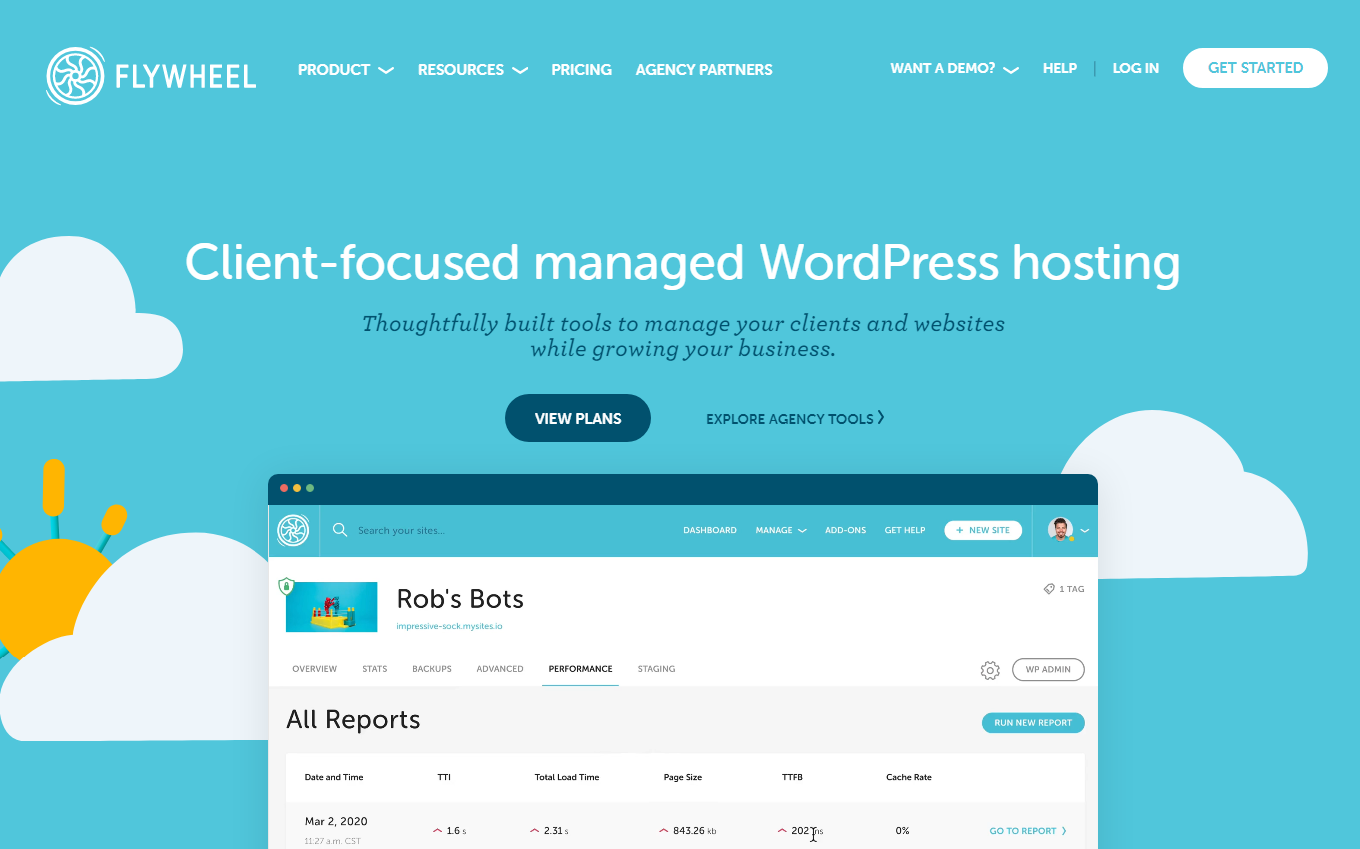 This WordPress hosting will help you to control and manage both your sites and customers with ease. On the ground of that, you can focus on developing and extending your business. This tool also comes with dedicated and expert engineers who are willing to give support for not only you but also your websites and customers 24h/day.
Provided features:
Blazing-fast site speed
Hacker-free security
Easy SFTP access
Free CDN + custom caching
Free SSL certificates
Staging for every site
Optimized for WordPress
Powerful dev tools
And more
Highlights:
Great assistance
Intuitive dashboard
Easy to manage from 1 to 100+ sites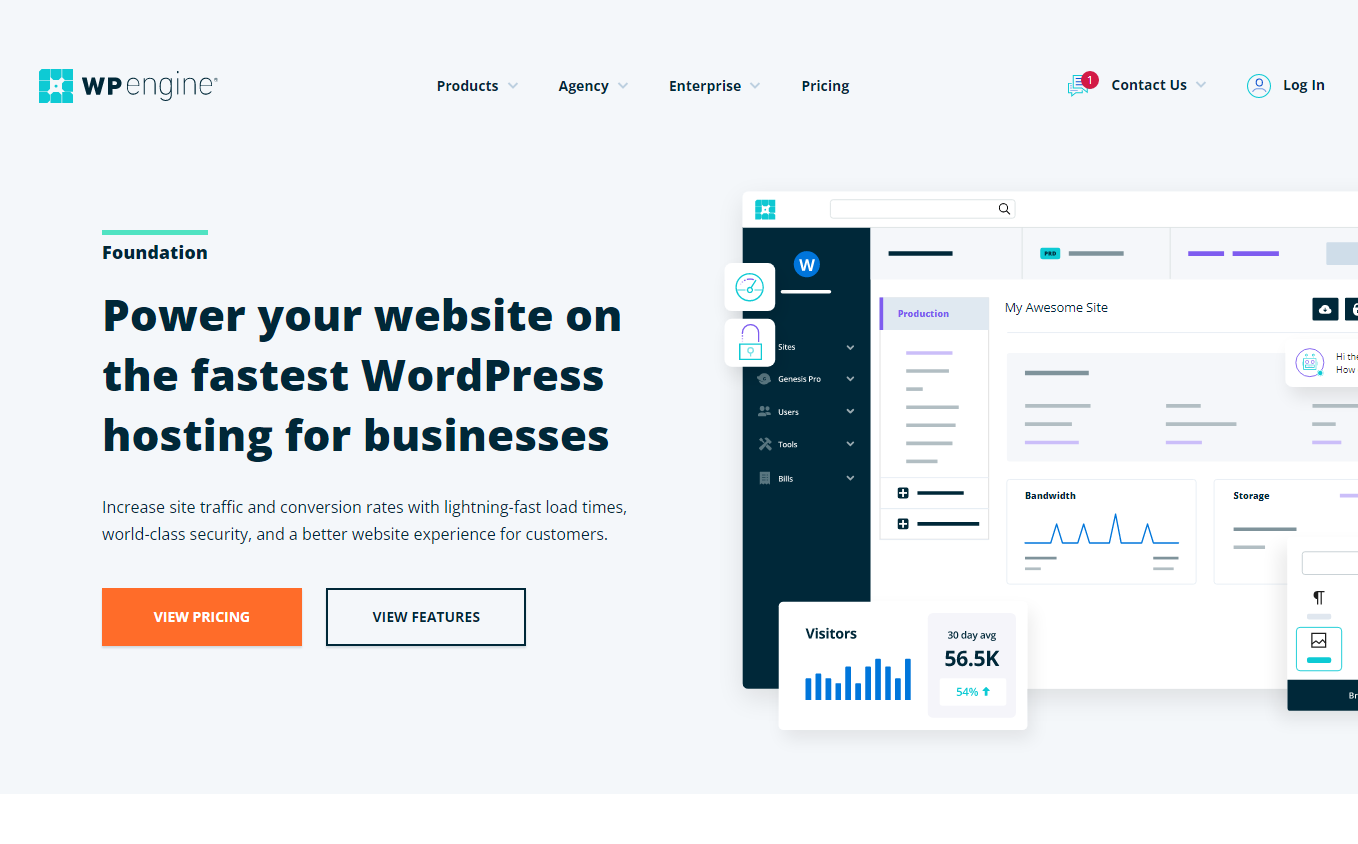 WP Engine is the next WordPress Hosting that we want to highlight. Utilizing it, you enable to boost your site traffic and conversions rates as well as speed effectively. Moreover, this provider also supports you to improve customers' experience and security so you can win clients' trust easily. Another plus point is that your site speed can be enhanced by up to 40% water migrating to this provider. It might need to see a SiteGround vs WP Engine comparison to get more useful information.
Provided features:
Automatically migrate your business from another host in minutes
World-class Hosting Infrastructure
Dedicated &Advanced Security
Easy-to-use Wordflow tools
Simple local development
Premium blocks and tools
And much more
Highlights:
Expert support
Automatic WordPress installation
Free SSL certificates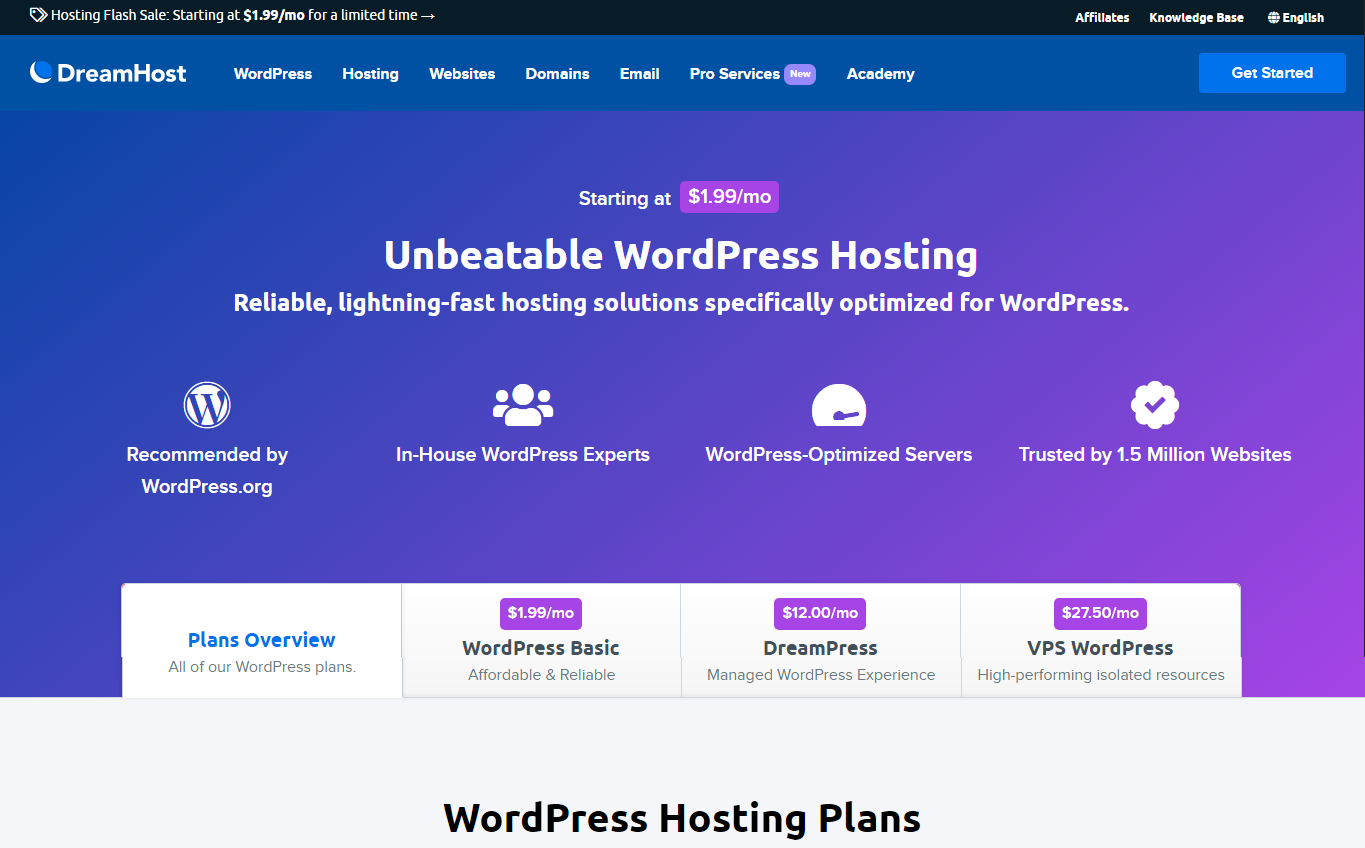 DreamHost is also one of the prevailing WordPress Hosting with more than 1.5 million websites trust. With this provider, you can build and keep track of your WordPress sites, blogs, small businesses, or even e-Commerce gaming sites smoothly. Similarly, it's possible for you to reach thousands of eye-catching and elegant themes and plugins to modify your sites for your own purpose. It is necessary for you to see our Siteground vs Dreamhost comparison to get an insight into them.
Provided features:
Instant WordPress Setup
Auto WordPress Updates
24/7 Award-Winning Support
Free Domain/Privacy Protection
Free SSL CertificateAdvance
Easy-to-Use Panel
Free Email Hosting
Automated Backups
And so on
Highlights:
Auto backup
Free SSL certificates
24/7 support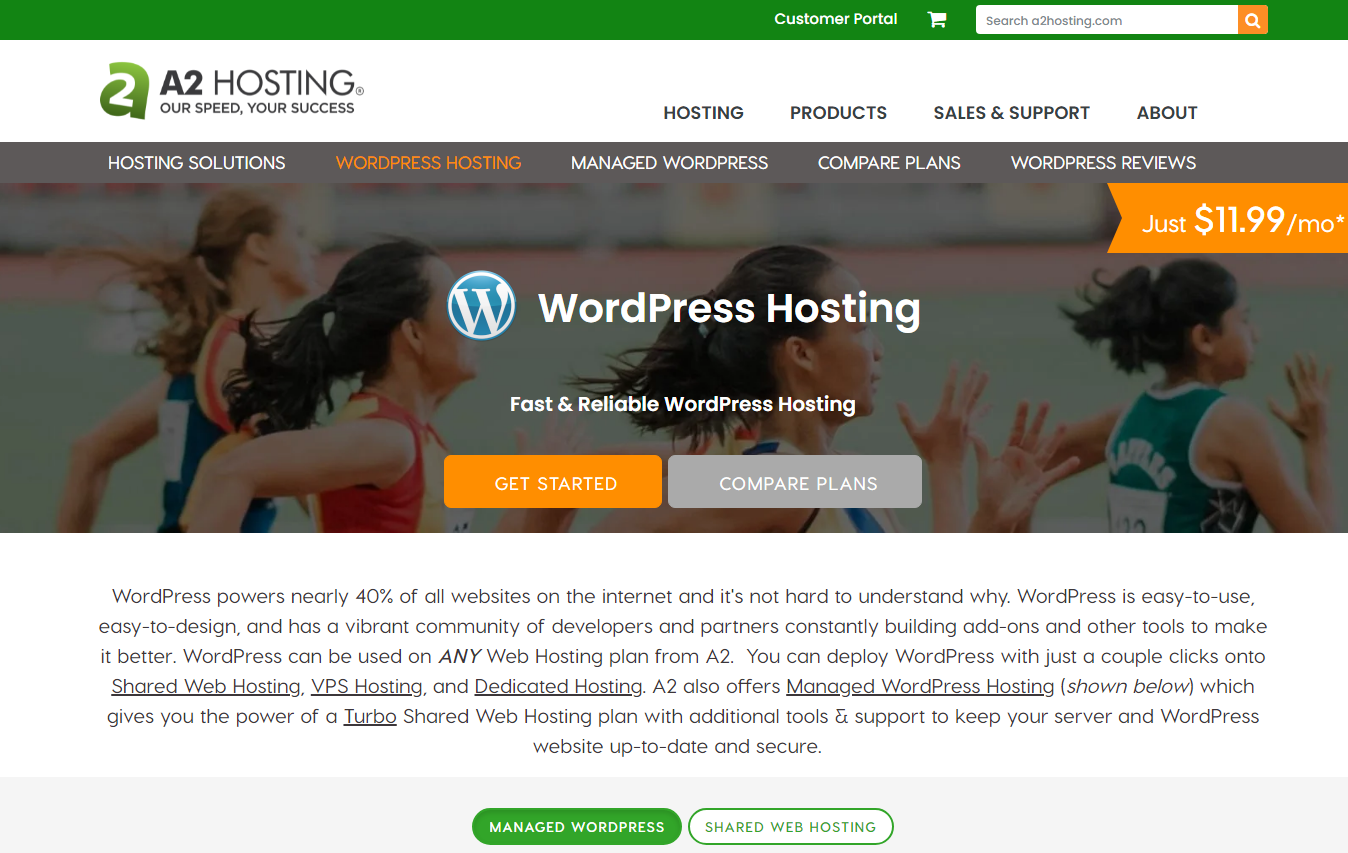 A2 Hosting brings a wonderful Managed WordPress Hosting with various useful tools to help you protect your WordPress sites from any threatens. By using this provider, you can enjoy its unique features to optimize your site speed and performance. On top of that, it's so simple to set up and improve your customers' experience with the following features.
Provided features:
Auto set up
Up to 20X faster
A2 Optimized Plugin
Free SSL Certificate
Global servers
bbPress, WooCommerce, and other popular plugins compatible
And so on
Highlights:
20X speed-up
Auto set-up
Popular plugins and page builder integrations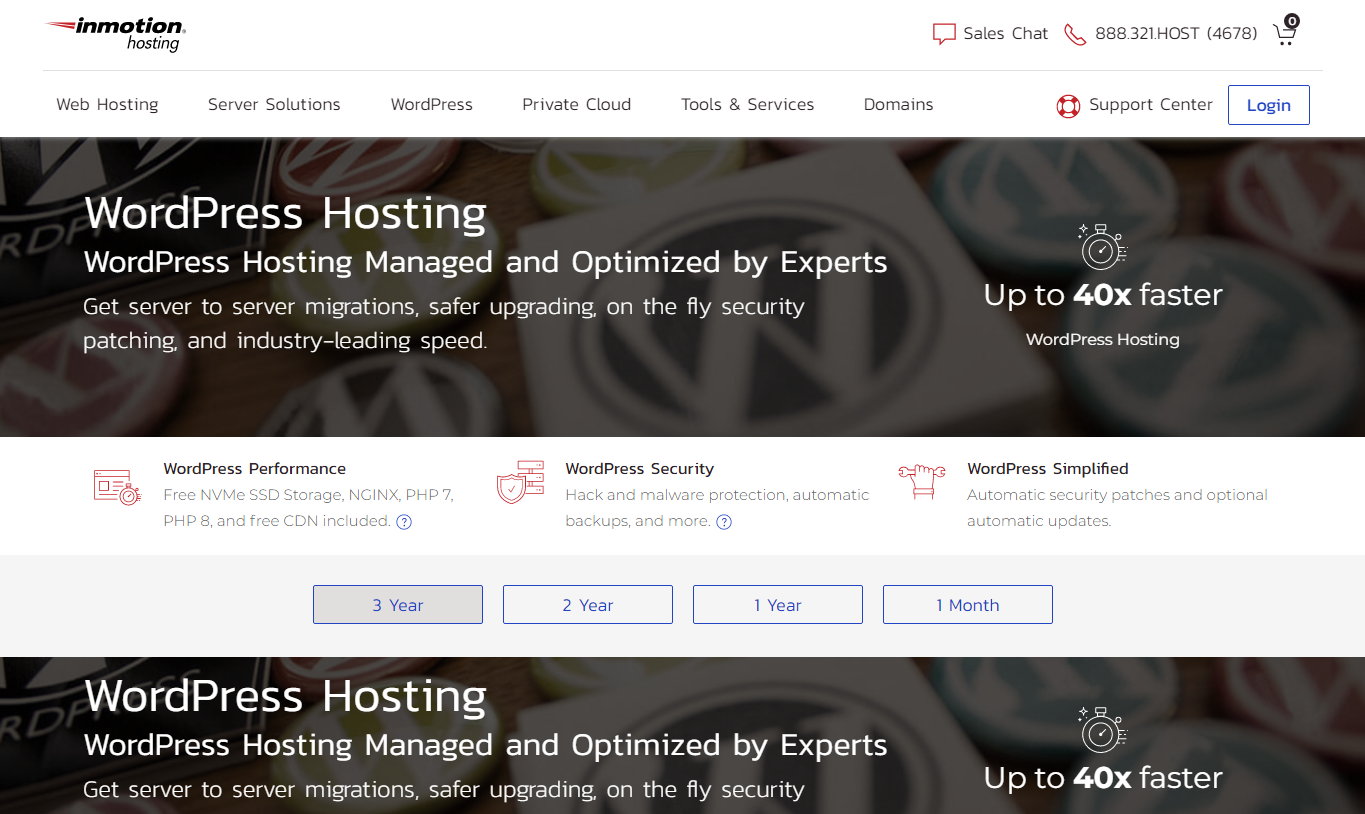 Another WordPress Hosting in this collection is Inmotion Hosting. Thanks to the support of this plugin, you are able to manage all WordPress sites simply. And, it also makes your site become more secure and stay away from hackers. Therefore, it's a good idea for you to use this provider for eCommerce and large WordPress businesses sites.
Provided features:
WordPress Pre-Installed
WordPress Website Migration
Optimized for WordPress
Free WordPress Themes
Premium WordPress Plugins
Money-Back Guarantee
And more
Highlights:
Easy to create WordPress websites
High-performance management
Web-developer friendly
Hostinger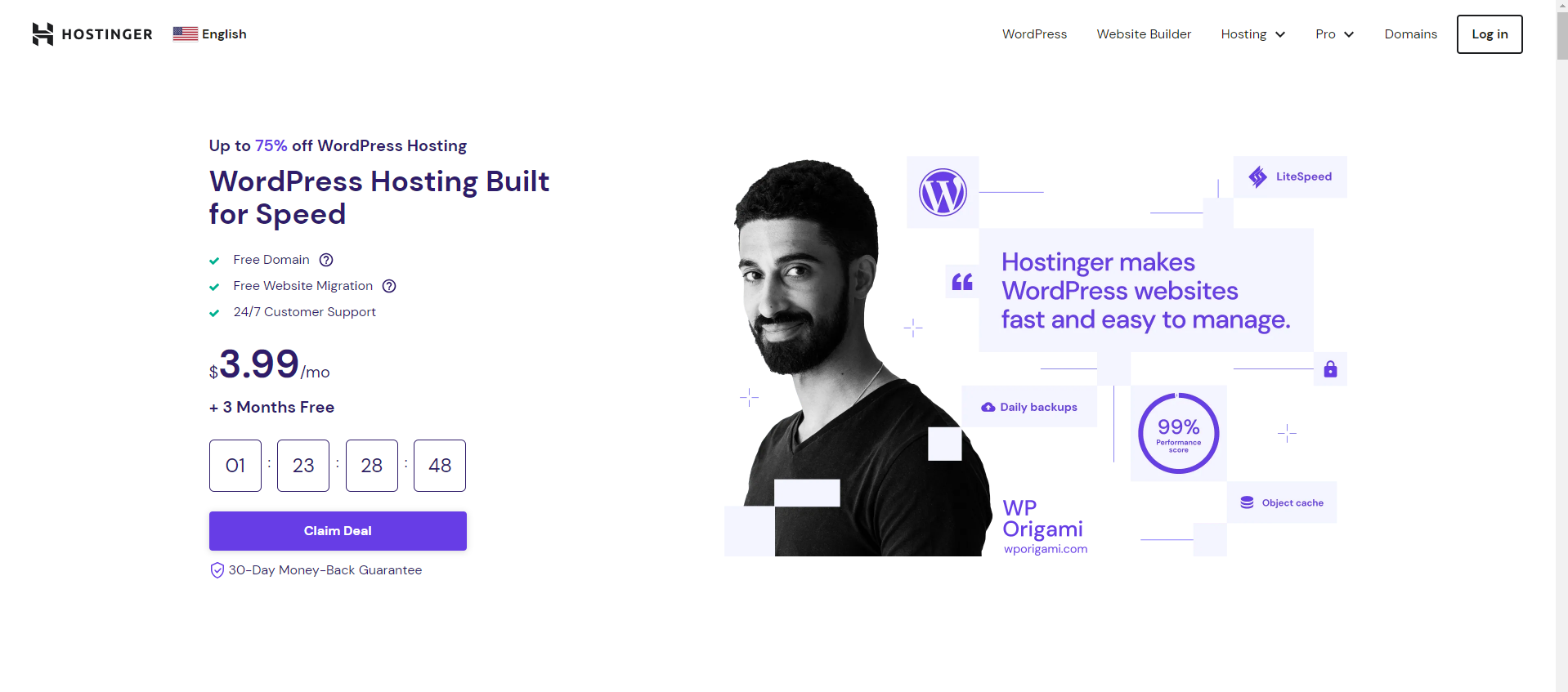 Hostinger is a wonderful foundation on which your business can focus on developing remarkably. This is a feature-rich WordPress Hosting provider that is suitable for both professionals and beginer. It provides LiteSpeed's cache engine, Cloudflare's protection, and SSL certificate so that you can keep your site safe easily. Furthermore, Hostinger also comes with tons of beautiful themes and powerful plugins for you to extend your site functions and express your styles.
Provided features:
Dedicated WordPress Teams
LiteSpeed Enterprise Servers
WordPress Accelerator
1-Click WordPress Install
SSD Storage
And much more
Highlights:
24/7 Availability
Easy to use
Safe and security
Hostgator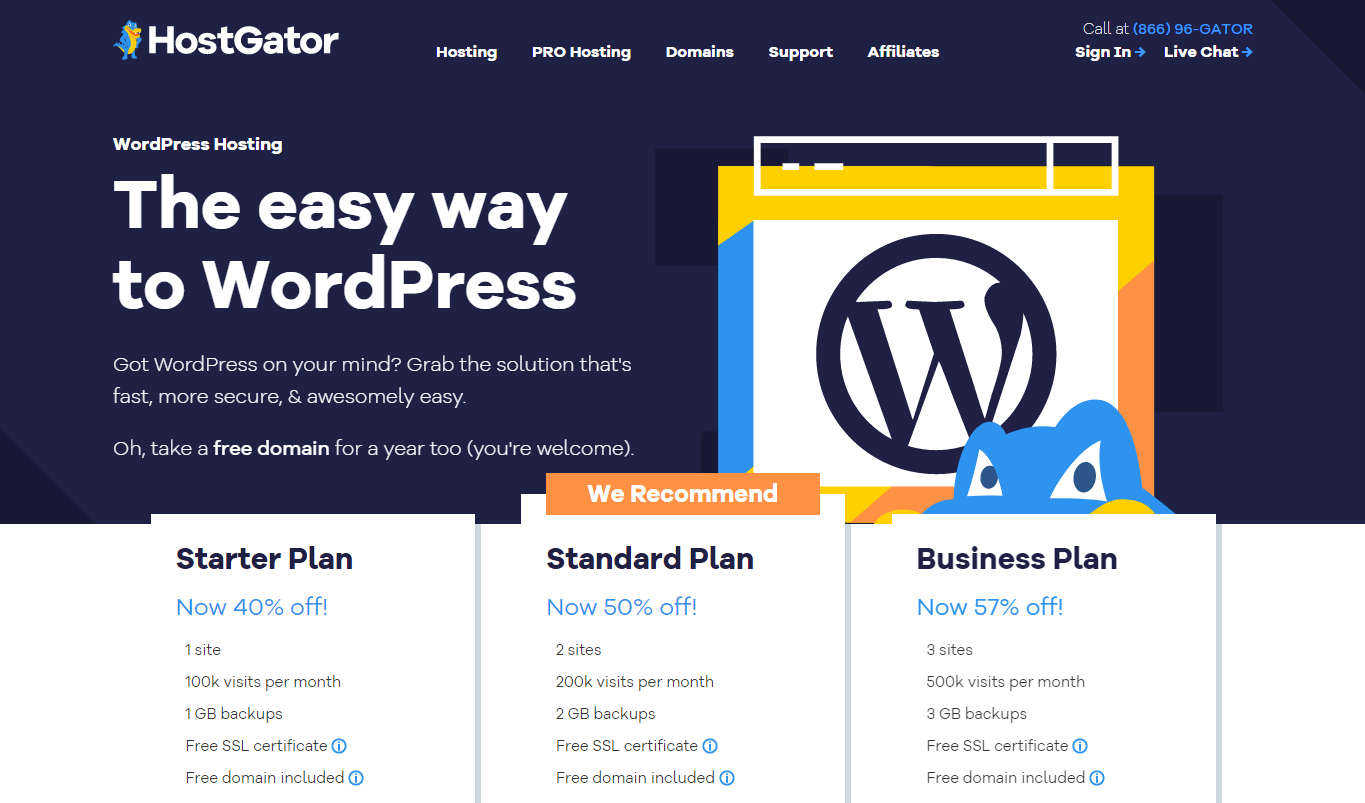 This solution features fast, secure, and ease of use for WordPress users to generate and manage their sites. When finishing the process of setting up this provider, WordPress will be automatic-install. This plugin offers you malware protection, backups your data, and helps you to control accounts, resources, and other elements in a simple way.
Provided features:
Ready-to-go WordPress
Advanced Security
Simplified control panel
Free site migrations migrations
Free WordPress domain
24/7/365 support
45-day guarantee for a refund
And so on
Highlights:
Ease of use
Great support
45-day guarantee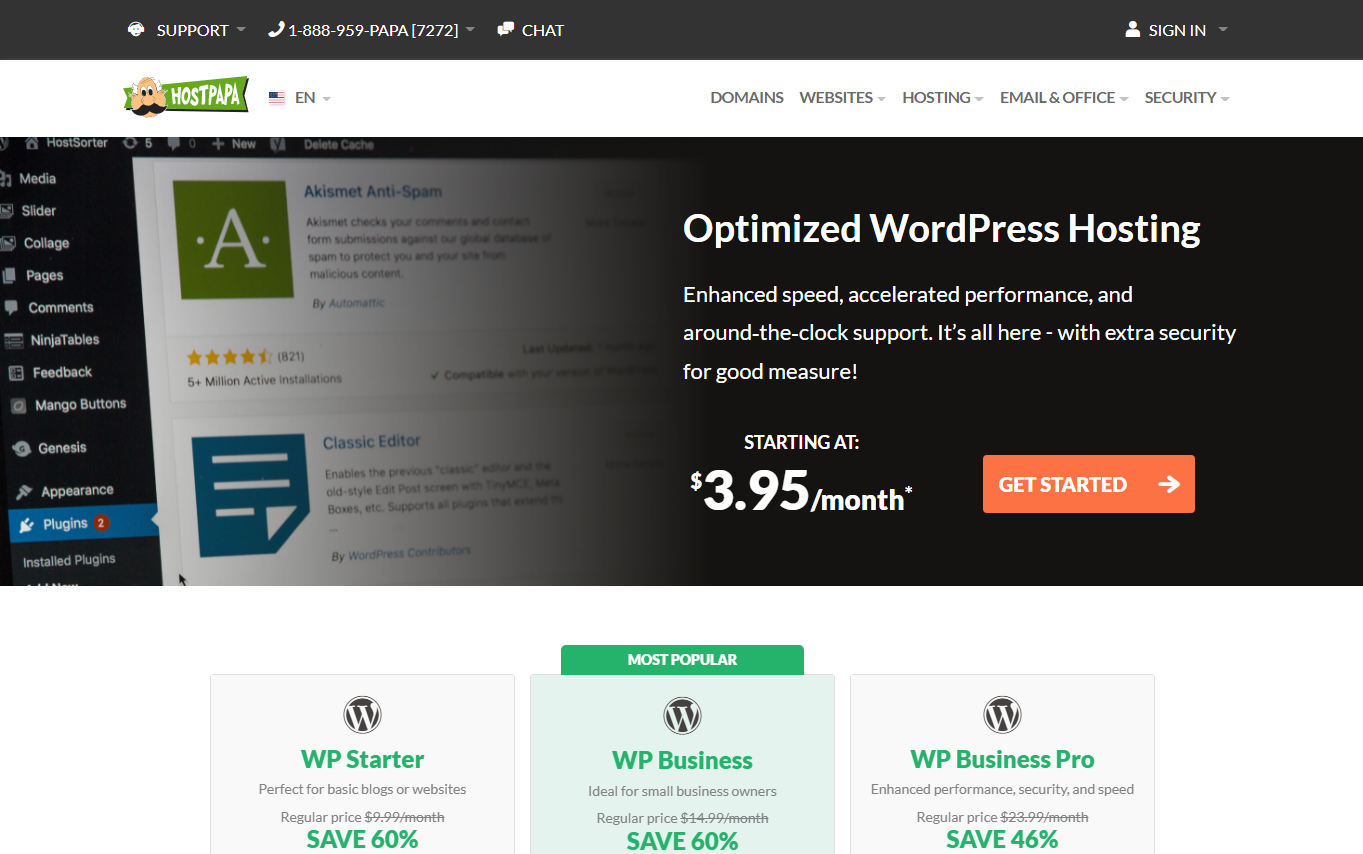 Hostpapa consists of everything that you can improve your site speed and performance with a guarantee of 99.9% uptime. This is a free domain transfer, so it's totally free for you to transfer from another domain name to Hostpapa. Plus, it also comes with a Free WordPress Migration feature, which helps you to move your site without concern about losing data or low time.
Provided features:
Optimized performance
Cutting edge security
Optimized WordPress Experience
Get Faster with WordPress Caching
Auto-Detect and Remove Malware
Automatic WordPress Updates
Global Speed and Performance
Secure WordPress Hosting with Advanced FirewallStay Safe
Automated WordPress Backup from Jetpack
And much more
Highlights:
Free SSL Certificate
Auto-Detect and Remove Malware
Auto backup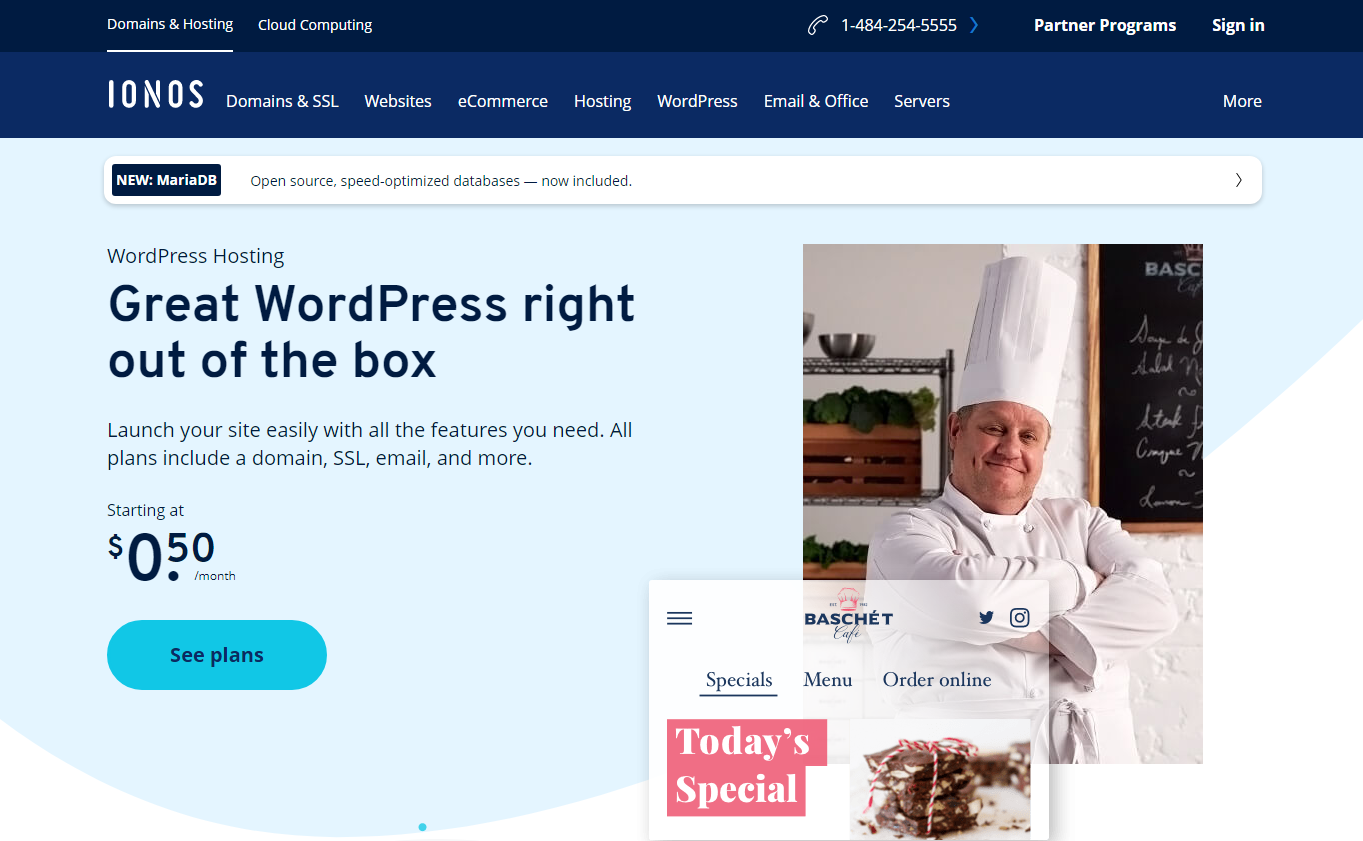 The final WordPress Hosting that you should pay attention to is Ionos. This tool comes with many out-of-the-box features for you to build and manage all kinds of WordPress sites. By using it, you are likely to get the best out of 5000+ stunning themes, more than 58 000 useful plugins, and Gutenberg compatible. On the ground of that, you can design your site in your own way with SEO-optimized and pre-installed plans.
Provided features:
Databases, email, and SSL
Worry-free security features
Traffic monitoring
99.9% uptime
Money-back guarantee
Cloudflare Railgun
DDoS protection
Traffic sources and keywords
And many more
Highlights:
One-click WordPress
Auto-updates
Assist to create over one million WP websites for all kinds
Final Thoughts
To sum up, each WordPress Hosting comes with different features and price plans. Therefore, you should consider carefully and decide which is suitable for your business to take full advantage of it and save your budget.
If you want to profession your site design, let's go to Free WordPress Themes and install one of our advanced but modern WordPress themes and templates. Thanks for your attention and have a good day!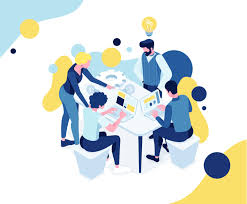 Latest posts by LT Digital Team (Content & Marketing)
(see all)